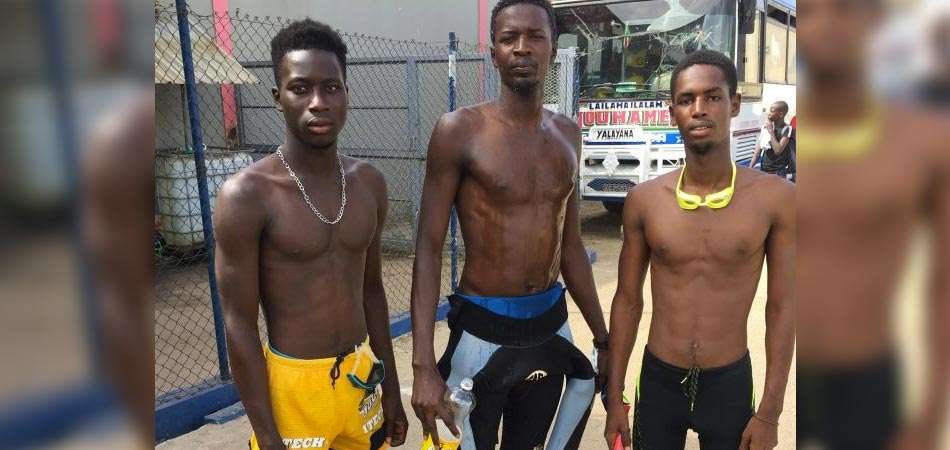 Swimming is Freedom: The 32nd Annual Dakar-Goree Swim
Four hundred years ago, the first enslaved Africans arrived in Jamestown, Virginia in the United States. To celebrate the Year of Return, Black Kids Swim traveled to Dakar Senegal to witness the annual Dakar-Goree swim. We went, we thought, to capture an event; to meet some Senegalese swimmers, take some photos, and enjoy Senegal.  What we found was inspiration. We became convinced that swimming is more than a pathway to summer employment or a collegiate scholarship. Swimming is more than a shot at joining an Olympic team. Swimming is freedom.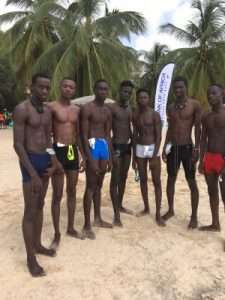 The day before the "Dak-Go" swim, Black Kids Swim visited Les Dauphins, a learn-to-swim and water aerobics club that meets weekly on Ngor beach. The organization taught more than 70% of all of Senegal's lifeguards, swim coaches, and competitive swimmers how to swim. We donated some kick boards and pool noodles to support their efforts and spoke with the co-founder, Dudu, about his work to change lives through aquatic activities. At the end of our conversation, he said he was going to meet some friends for lunch on the Island of Ngor – about 1.2 kilometers away across the ocean. He shook our hands, walked into the water, and swam all the way to the island.
The ability to swim is freedom. Freedom to board a boat without fear. Freedom to enjoy snorkeling or a simple dip in the ocean. Regular swimming can lead to freedom from health concerns and it's an aerobic activity that we can do at any age, from infancy into our 90s. Swim skills also breed confidence stemming from the knowledge that if something goes wrong while you're on the water – you will survive. And, if someone you love is drowning – you can save them.
Not so long ago, the ability to swim helped enslaved Africans reclaim their freedom. Some crossed the Ohio to escape Confederate states. Others crossed the Atlantic, swimming from Goree Island back to the mainland of Senegal in West Africa. Rescuing themselves, and all of their descendants, from slavery in the Americas.
In celebration of this act of liberation, every year in October amateur and professional swimmers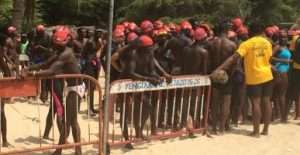 gather in Dakar for the 5 Kilometer Dakar – Goree swim. Some competitors complete the swim as a team, others face the challenge alone. When the race begins, Black swimmers of all ages run into the Atlantic ocean and swim. Retracing the same path enslaved Africans traveled some 400 years ago. The sight is unforgettable- an entire beach full of Black people unafraid of the open water swim ahead of them.
Watching the crowd of swimmers from across the diaspora inspired us.  In America, swimming is an obstacle, a barrier for many in the Black community. We, too easily, accept the stereotype that Black people can't or don't swim; and our lack of swimming ability separates us from a universe of opportunities. But on that day, swimming was a unifying force. Hundreds of Black people ran into the ocean, with no fear, and swam. Swimming is something that Black people are doing together, and Black Kids Swim wants to be a part of bringing more Black people to this special event symbolizing our ability to overcome and providing an opportunity to enjoy the shared confidence in our freedom.
The annual Dak-Go swim is a competition, these swimmers are literally racing across the ocean. However, some swimmers focus on the symbolism of the event and completion, rather than competition. The event is closely monitored with lifeguards in kayaks and boats all along the well-marked course. Swimmers of all skill levels are welcome to join.
In October 2020, Black Kids Swim invites YOU to join Team BKS for the Dakar-Goree swim. Wether you choose to swim the 5K, or traverse the route on a boat – we want you to take this journey with us. We have organized a week of events for you to explore Senegal and build relationships in the international Black swim community. This is our way of creating unity in the African diaspora. If you are interested in joining this special excursion to strengthen the bonds between the African diaspora through swimming please email info@blackkidsswim.com
Itinerary
Day 1 – Arrival and Welcome Dinner with Black Swim community
Day 2 – Language and History Classes, Tour of Dakar
Day 3 – Dakar-Goree Swim, African Diaspora Unity Celebration
Day 4 – Tour of Goree Island
Day 5 & 6 – Excursion outside of Dakar (Popenguine)
Day 7 – Depart
Photos from 32nd Annual Dakar-Goree Swim
More Gorée Project? Yes please!