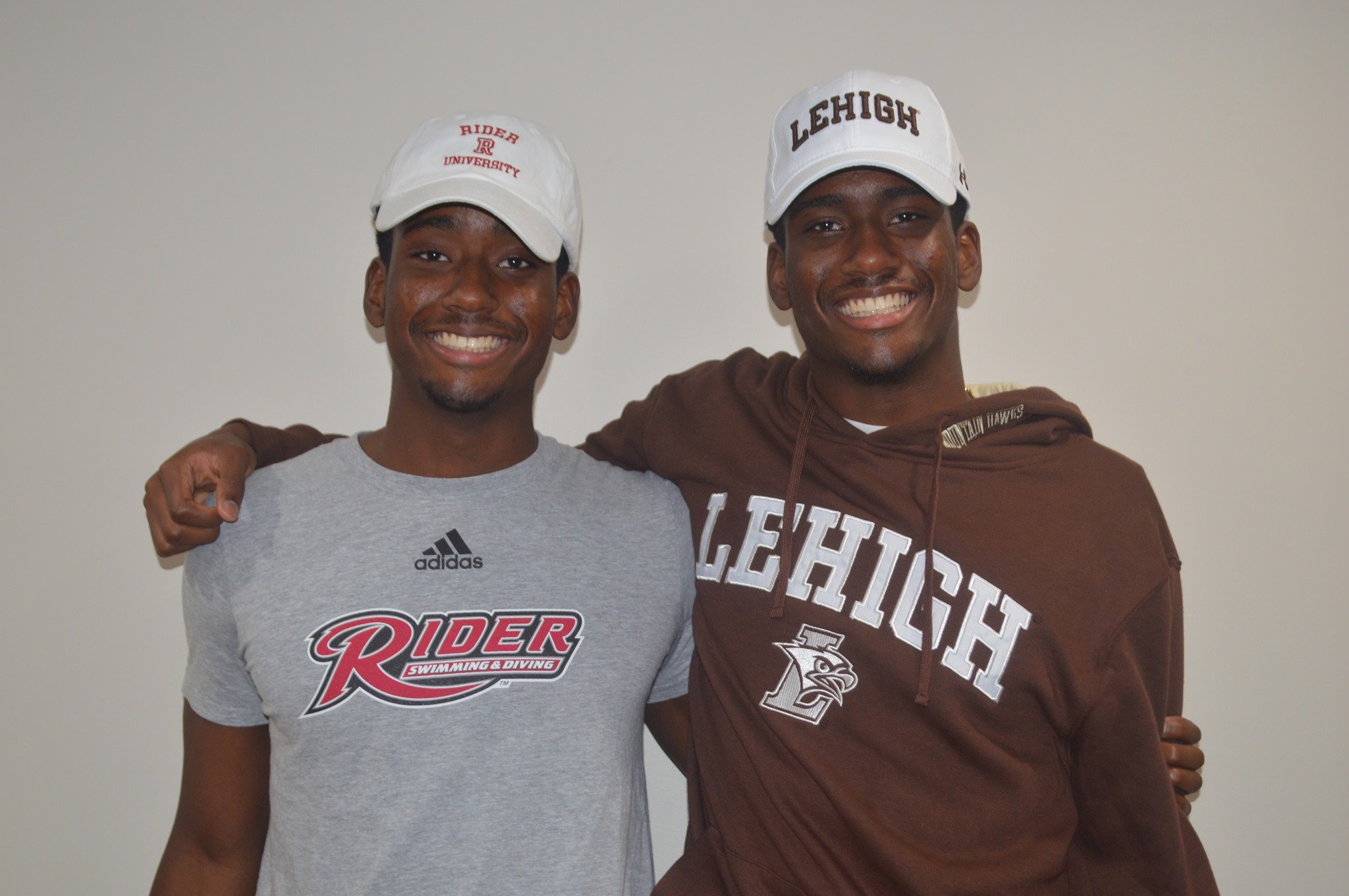 BKS Scholarship Winners Reuben and Aaron Williams Commit to Division I Swim Teams
BKS Scholarship winners Reuben and Aaron Williams love the sport of competitive swimming.  Thanks to a Black Kids Swim scholarship and support from their family, community and coaches, they are on their way to swim for Division I collegiate swim teams.  
Reuben committed to Rider University and Aaron will attend Lehigh University in 2022.  The twins' swimming excellence will be on a national stage as the beginning of their Division I swim journey takes full effect next fall.  Aaron and Reuben rank in the top 50 of New Jersey swim recruits, placing 22nd and 47th, respectively.
The two BKS scholarship recipients are passionate about the world of competitive swimming and believe the sport can open doors to educational and professional opportunities. From learning valuable swim techniques to connecting with professional swim coaches, they've acknowledged their BKS scholarship prepared them to reach higher heights in pursuing their swimming goals.
The brothers joined the YMCAs swim team at 8 years old. Now, nine years later, they serve as mentors. The brothers plan to pass their experiences on to the next generation of swimmers through their close-knit community at their local YMCA in Vineland, New Jersey.
"My goal is to be that person that people look up to and go to," Reuben said. "Me and Aaron are fostering change in our team by really connecting with the younger kids on our team and making them feel comfortable with the older kids."
The brothers continue to demonstrate excellence both in and out of the pool. Aaron is a two-time finalist at the 2020 USA Swimming 18 & Under Winter Championships. He placed fifth in the 100-yard butterfly and seventh in the 50-yard freestyle, setting a record for the Greater South Jersey Swim League. Reuben has accomplished his share of victories as well. He placed within the top five of three events at the 2021 USA Swimming New Jersey OCY Summer Classic and placed second in the 50-yard freestyle and 100-yard breaststroke and third in the 100-yard butterfly.
"Minds sharpen minds" is a statement that constantly resonates with the brothers, and the competitive swimming pair admit they wouldn't be in the position they're in without each other and the people who have helped them from the beginning.
When It All Started
The potential to become a top competitive swimmer didn't cross Reuben and Aaron's minds when they began to swim as kids in their New Jersey home.
"My parents thought it was very important for us to learn how to swim since we were from New York, and we moved to a house that had a pool," Aaron said. "My parents were very adamant and wanted us to be safe around the water."
The water soon became a comfortable environment for the two, especially when they entered the competitive swimming space. Luck would be on their side when their mother, an occupational therapist, connected with their future YMCA coach while providing care for him after he experienced a stroke. While instructing the coach on exercise techniques, he noticed her arm length and asked if she had children who might be interested in swimming. The brothers tried out for the team and have been members ever since.
Since then, the mentorship they received from their peers on the team enabled them to achieve many milestones as they advanced through the sport. By the time they were 12 years old, they had started to gain more traction and became recognized as reputable swimmers as a team and as individuals.
Two notable milestones of Aaron's career include winning the New Jersey YMCA 13 & Over Championship, where he beat swimmers across the state, setting a record in the 100-yard butterfly. He also became a part of the 2021 USA Swimming Scholastic All-American Team. He said the opportunity presented a demanding task having to maintain a high GPA with constant practice. Still, it was worth it in the end because it showcased his perseverance to succeed in competitive swimming.
Reuben achieved his first major accomplishment by reaching a YMCA record in the 50-yard freestyle. He decided not to participate in competitive swimming a year before because, in his words, "I wasn't enjoying the sport as much as I should have." But after competing in the event, he realized how beneficial swimming would be for him moving forward.
Support from Black Kids Swim Opens Doors
Reuben and Aaron loved the sport of competitive swimming. The Black Kids Swim scholarship awarded in 2019, provided the brothers with the opportunity to enhance their swim techniques and connect with more coaches and swimmers.
"That scholarship allowed us to train for an additional three months… It really helped us, and we really appreciated it," Reuben said.
The funds afforded them the chance to practice at the Greenwood Park-Bells Lake Community Club, a swim club in Blackwood, New Jersey, where they formed a close connection with coaches Julie Pedersen and Nick Fondacaro. The twins explained the two helped them perfect their skills in the pool and led them to explore opportunities outside of swimming, such as work and training for long course certification.
"Coach Nick and Coach Julie have gone above and beyond as coaches for me and Aaron," Reuben said. "It's crazy that we've only known them for about two and a half years now, but the relationship that we've already built with them is something that I think is going to last a while."
The BKS scholarship opened up another door the following year when they were selected to participate in the YMCA Swimming Emerging Leader Virtual Academy. The program works with 22 YMCA National level swimmers to develop their leadership expertise through communication skills, decision-making, and community service.
They befriended swimmers from across the country through the academy in states such as Nebraska, Idaho, and California. They spoke about their experiences in competitive swimming and learned more about a coach's role in the sport, varying from the different techniques they teach their teams to daily routines.
"Leadership is not about who's the loudest, but understanding who you're working with and trying to make the situation the best for everybody as you possibly can," Aaron said.
Still More Ahead
The Williams twins are ready to see where the future will take them as upcoming high school seniors in 2022. College is on the horizon, and both will swim at the collegiate level.  Both brothers are committed to colleges and will swim on Division I swim teams. 
Their achievements are especially unique as the NCAA includes few Black swimmers. The NCAA has 22,501 swimmers across all divisions and conferences. Only 1.6% of collegiate swimmers identify as African American.
"I just feel grateful that I've had the option to swim with people from New Jersey and the YMCA, and I've accomplished a lot so far," Aaron assured. "I'm still not where I want to be, and wherever I go to college, I still want to make my presence there. The job's not done yet."
The brothers want to instill the values they cherish into the next group of upcoming Black swimmers. To succeed in competitive swimming, they insist the key is to be consistent and have people in your corner who see the best in you.
"My advice would be to say persistent [and] have determination," Reuben said. "There's a lot of outside [pressures] that can get into your mind and make you feel like you're not good enough. Find that good group of people that can give you that push to be the best that you are."
Black Kids Swim provides an atmosphere for young Black swimmers to thrive in competitive swimming. Learn more about the BKS swim scholarship and other BKS programs here.