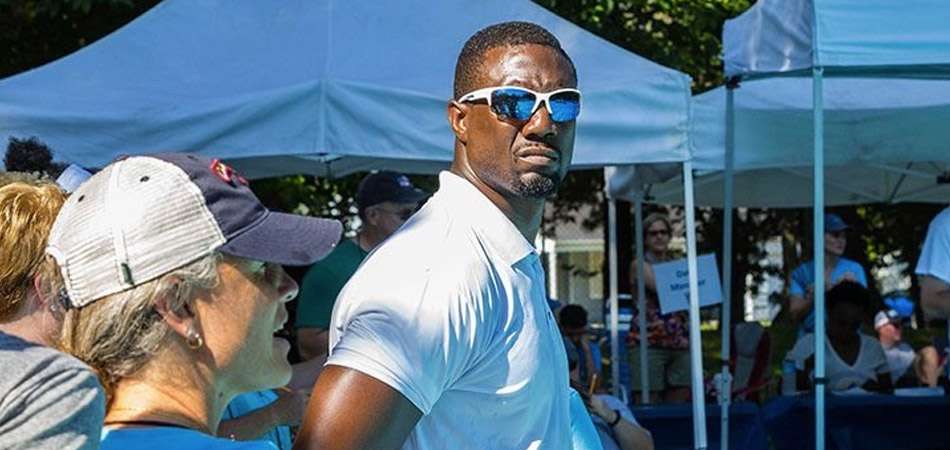 Meet Swim Dad and Fitness Expert Joseph Koroma
Meet Swim Dad and Fitness Expert Joseph S. Koroma Jr. 
By: Brianna Rhodes
Swim Dad extraordinaire and professional fitness expert Joseph S. Koroma Jr. is all about health and fitness. 
Whether it's training a professional athlete or helping a new mom get her mojo back, the owner of fitness company, MaxFit LLC, loves helping people get strong and in shape. Koroma is a former professional football player in the arena league and has used his more than 12 years of knowledge to develop customized speed, conditioning, strength and power regimens for amateur and professional athletes.
Athleticism is in his blood, but above all,  Koroma is a swim dad who is committed to helping all swimmers excel in the sport and he will be using his expertise as the fitness specialist at the TABONO Competitive Swim Skills Clinic on May 9 to help competitive swimmers learn all they need to know. The father of three was first introduced to competitive swimming through his eldest daughter, Sophie, when she started participating in the sport at the age of six. Although all three of his kids swim, Sophie, who is now 12, is the only competitive swimmer.
Growing up, Koroma played various contact sports such as basketball, track and football, but he admits that if he received more exposure to swimming he would have participated in it. "I wish I knew about it or I wish I knew more people that were doing it and it probably was something that I might've been interested in…," Koroma said. "I think I would've done pretty good in the pool, but I was never exposed to that. So that was one of the main reasons why I exposed my kids to the sport because I always thought it was a great sport. It doesn't put a lot of wear and tear on your body.
Over the years, Koroma became committed to being a swim dad and helping Sophie and other athletes train for the sport through dryland training to help them stay in shape outside of the water through stretching, resistance training and more. As a non-swimmer, Koroma says he encourages his daughter by motivating her. He supports her in various ways by loving her, pushing her, and helping her with her health and nutrition intake, which is important in his family.
"As a non-swimmer, I've learned through my education in fitness about the biomechanics of the body and I'm able to train all athletes because every athlete wants to be bigger stronger, and faster," Koroma said. "Although there's a bigger stronger faster part, there's also the sports specific part that comes into play."
"When it comes to Sophie, her core has to be strong," he added. "Her legs have to be strong. She has to have explosive movement. She has to be very flexible and has to have a very strong back and strong core. So those are the things I help her with, but it's not overwhelming. It's age appropriate."
Sophie swims for the Nation's Capital Swim Club in Bethesda, Maryland. As a swim dad, Koroma says he supports Sophie and her team by showing up for both practices and swim meets and trying his best to give her every opportunity to succeed. 
Previously serving as a timer and now a U.S. swim official as a stroke and turn judge, Koroma thinks it's specifically important for Black swim parents to volunteer on deck because representation is important and he believes African American kids need to see their parents participating. "It's makes a difference when you see someone who looks like you in and around what you're doing because we're a tribal people," he said. We're community people and when it comes to being able to advocate, I teach my kids to advocate for themselves but sometimes when you're in situations, when you see no one like you,  It's harder to advocate for yourself."
When on deck volunteering, Koroma says he motivated other Black swimmers by giving them positive affirmations such as a high-five and telling them that they're doing a great job. "That made them feel really really good about themselves," he said. "Some of them were scared to get in the water and I would kind of push them from that perspective. Like you can do this. You got it…"
That's why Koroma thinks initiatives like Black Kids Swim's TABONO clinic are essential for African American swimmers and their parents.
He said that the clinic stands out from others he has attended with his daughter, because it is specifically targeted to African American swimmers.
"What I loved about the TABONO clinic was the foundation of 'let's take it back to Africa'," Koroma said, who is a first generation Sierra Leonean born in the United States.  "You know, let's take it back to something that we all can resonate with and build a community," he added. "I love that about the TABONO creed and them using the Adinkra symbols and giving a kind of call and response."
Koroma said he also liked the TABONO pledge and the Black Kids Swim TABONO report, which laid out a long term guide for young swimmers who are serious about excelling in the sport. The TABONO report also includes notes on setting goals and an accountability chart which provides details on how much sleep a swimmer should get, how many meals they should eat per day, how often to practice, and more. The clinic also gave attendees information on the history of swimming and how it ties to their African heritage. Parents also had the opportunity to engage with one another and ask questions.
"It really was a one-stop-shop and it was unlike anything else that I've been to with my daughter in the world of competitive swimming," Koroma said.
For this year's TABONO clinic, attendees can expect a lot of enthusiasm and motivation during the dryland course. The fitness specialist says he wants parents to understand how important health and wellness is for their swimmer. "I'm really trying to get the parents to understand it's not just about taking your kid to the pool, dropping them off and picking them back up," Koroma  said. 
Karoma acknowledges that being a swim dad is more than cheering loudly at swim meets. "It's more being
in it and understanding why my kid should be taking five to10 minutes before they go to practice to stretch so they can get more out of their body and also it can reduce wear and tear. It can reduce extra pain in the body, reduce their chances of getting injured or help them bounce back from recovering from an injury faster.
That's what I want to bring to this year," he added. "Just a lot of knowledge, a lot of fun and engaging with the kids and their parents. I want it to be a loving family atmosphere. That's what I want to bring to this year's TABONO clinic." Koroma's main goal is to help as many swimmers as possible. Specifically those who are a part of the Black community because of the stigma that comes with Black swimmers being in the water.  "We want to break those barriers and we want to give our kids what other communities give their kids to be able to be successful in the sport because a lot of our kids can do very far."
To learn more about Koroma and his business, MaxFit LLC, visit his website here and follow him on all social media platforms @maxfitllc.