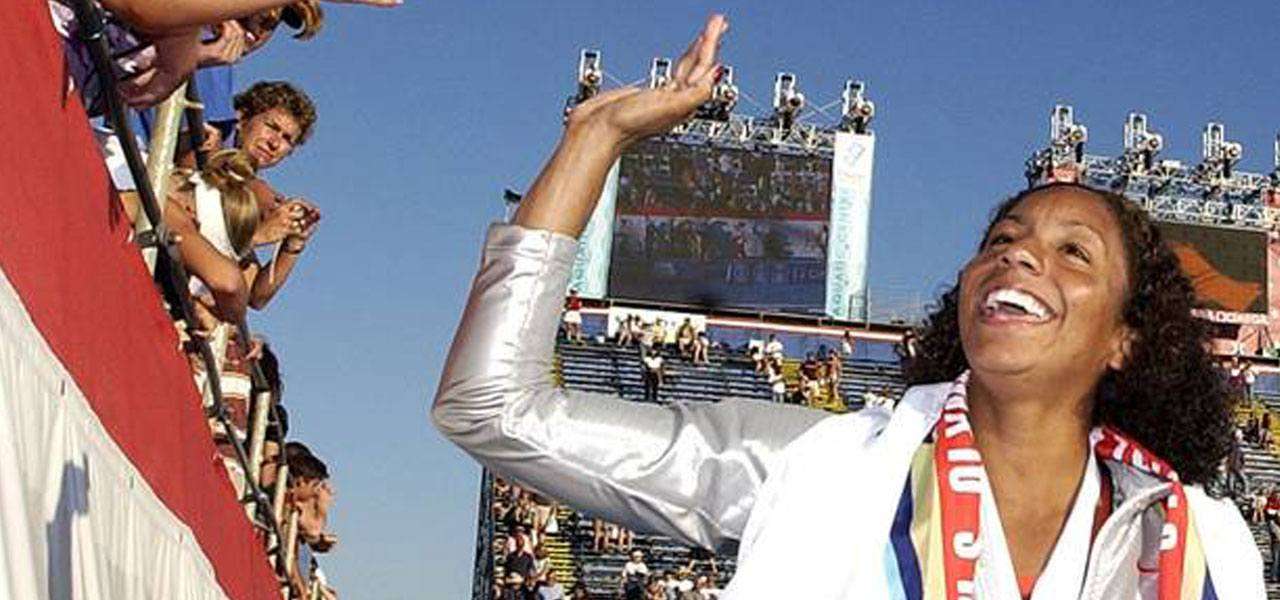 Maritza McClendon, inspiring another generation of Black Swimmers
Maritza (Correia) McClendon, in 2004, was the first Puerto Rican of African American descent to earn a spot on the U.S. Olympic swim team and win a silver medal. As part of the 4×100 free relay team, she swam in the preliminaries, helping her team qualify for the finals. Maritza McClendon is also the first African American swimmer to set an American and World swimming record. Since her historic win in 2004, she has worked tirelessly to encourage African Americans to learn to swim and enter the sport of competitive swimming. Most recently through Swim 1922 a partnership between USA Swimming and Sigma Gamma Rho Sorority Incorporated. After the historic performances in the Olympic trials and Olympic games of 2016 – she can confidently say that her work is paying off.
Swimmers like Anthony Nesty, Sabir Muhammad, Jim Ellis, Anthony Ervin and Maritza McClendon paved the way for a new generation of swimmers including Lia Neal, Cullen Jones, Reece Whitley, Natalie Hinds, Justin Lynch, Ariana Vanderpool Wallace, Alia Atkinson, Mehdy Metella, Cason Wilburn, and of course – Simone Manuel. The Black swimmers who broke down barriers for this generation did not do it for themselves alone, they do not want to go down in history as the first and the last. Maritza spoke with Black Kids Swim to share her thoughts on Simone Manuel's accomplishments in the 2016 Olympic games and her hopes for the future of the sport she loves.
Black Kids Swim: When Simone won Gold, what were you thinking?
Maritza McClendon: I just saw the whole world connecting with her. What she did, she took it to an emotional level. That has never happened before. What I did in 20o4 was a great feat, but what Simone has done, she's taken what I started and now she's created a movement. She's part of a generation that I inspired, a generation of swimmers and kids who never would have considered swimming before. Simone is saying to the world "Hey, we swim and we swim fast. Come on ya'll and try it out!"
I think Simone wants people to understand that she is Simone Manuel, an Olympic Gold medalist – full stop. She's not trying to avoid being Black, but that's not the first thing you should notice.
BKS: You've worked for years to expand the sport of swimming and encourage diversity. Now that an African American woman has won Gold in an individual swim event, how wil this impact your work?
MM: When I made the Olympic team in 2004 I wasn't aware of what I'd done. When Sigma Gamma Rho brought me in as one of their own, that's when I realized I'd really broken barriers, and more importantly, that I could do more. Simone's victory has put me in the limelight and that makes me more impactful. We're going to be a powerhouse team, to inspire more Black swimmers together.
BKS: Simone, and other Black swimmers, have said that at times they feel as if they are carrying the weight or the hopes of the entire Black community on their shoulders. Black Kids Swim is here to support and encourage swimmers and tell the world about their successes. What do you think?
MM: I understand how Simone feels. I'm a swimmer and the color of my skin doesn't define me as a swimmer. I think Simone wants people to understand that she is Simone Manuel, an Olympic Gold medalist – full stop. She's not trying to avoid being Black, but that's not the first thing you should notice. She's a swimmer first. She's not 'that Black girl who swims.' I was honored to make the team, it was a dream come true. And it's icing on the cake to make history as a Black woman doing that. I think Simone feels the same.
BKS: What do you hope the changing landscape of competitive swimming does for young Black swimmers?
MM: I hope it inspires them to reach higher. I want to inspire them to know that they can do it, not just hope.
Well said Maritza! They definitely can. You, Simone, and a growing number of elite Black swimmers are proving that every day.
Together,we will CHANGE THE TIDE.