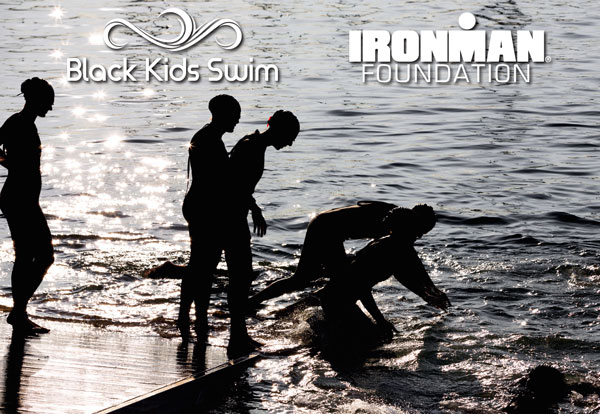 Black Kids Swim Partners with IRONMAN Foundation To Promote Diversity in Triathlons
Black Kids Swim is participating in an initiative to break down racial barriers in triathlons. The nonprofit organization is proud to partner with the IRONMAN Foundation and their Race for Change initiative to create an Ironman relay team for Black and minority athletes to compete in the sport.
According to the IRONMAN Foundation, Black athletes represent less than 1% of Ironman athletes in the United States and Canada. The foundation's mission is to create "positive, tangible change in race communities through grant funding and volunteerism."
The IRONMAN Group partnered with the IRONMAN Foundation and their grant program, Rock This Town, to combat the disparity by creating the Race for Change initiative. They made an initial pledge of $1 million to support access for Black athletes in the sport and increase participation within the next five years. 
"Through Race for Change, we are teaming up with diverse communities to collaborate on how to best remove participation barriers from our sport at the grassroots level in order to recognize, empower and sustain diverse competitor involvement long term," said Audra Tassone-Indeck, the executive director of the Ironman Foundation.
The IRONMAN Race
The race will be a Half Ironman relay known as the Ironman 70.3. The relay consists of a 1.2-mile swim, a 56-mile bike ride, and a 13.1-mile run. Three upcoming races will also commemorate the event. They include:
The Sunbelt Bakery Ironman 70.3 Chattanooga presented by McKee, A Family Bakery triathlon in Chattanooga, Tennessee, on May 22, 2022

The  Maytag Ironman 70.3 Steelhead triathlon in Steelhead, Michigan, on June 26, 2022.

The St. Jude Ironman 70.3 Memphis triathlon in Memphis, Tennessee, on Oct 1, 2022.
Nonprofit organizations, Major Taylor Cycling and Black Runners Connection, are also participating in the relay and initiative with Black Kids Swim. Worcester, Massachusetts, residents formed the Major Taylor Association, Inc. to celebrate and memorialize athlete Major Taylor. Taylor became the first internationally recognized Black American professional cyclist after winning the 1-mile sprint event at the 1899 ICA Track Cycling World Championships. The organization hosts events and educates the masses to keep his legacy alive.
Additionally, Black Runners Connection seeks to increase Black representation in distance running and promote an overall healthy lifestyle. The organization builds community with distance runners and other like-minded individuals to connect on health and fitness, training, and coaching tips and opportunities.
Triathlon is a high endurance and highly competitive sport. But for some, this sport is viewed as highly exclusionary. According to recent studies from the Triathlon Industry Association, around 2% of triathletes are Black, Asian, and minority ethnic, and the male-to-female ratio is 70-to-30.          
Black Kids Swim's IRONMAN Swimmers
Black Kids Swim and IRONMAN Foundation aim to curb the disproportionate statistics through the Race for Change relay race. Three of Black Kids Swim's swimmers: Marcus Fitts, Hollie Adejumo, and Darien Edwards, will participate.
Fitts is a Washington, DC-based athletic coach and recreational endurance athlete. He is also the founder of the nonprofits District Triathlon and GRIT USA, an adult and high school endurance and multisport development program.
"I think the more people get involved in the sport, the more people will talk about it," Fitts said about triathlon. "It's going to bring more awareness to triathlon within the Black community, but outside of the Black community, it will be showcased and talked about."
Adejumo, a triathlete, believes this relay and initiative will help promote triathlon to a broader audience.
"I'm excited to join Black Kids Swim and love to increase Black participation in competitive swimming," Adejumo said. "I really love for Black kids and adults to see that it's possible to swim. It's fun. I'm so excited to be a part of the Race for Change."  
Adejumo is a Ph.D. student at the University of Michigan College of Engineering and has participated in several races. Some include  the 2021 Detroit Cycling Championships and Debaets-Devos Pro-Am Memorial Bicycle Race in Ann Arbor, Michigan.
Edwards, a United States Marine Corps veteran, says the race will be a great segue to increasing Black representation in swimming and triathlon. The endurance athlete holds personal bests in events such as the sprint triathlon at the 2021 Rev3 Williamsburg Triathlon in Virginia and the 70.3 triathlon at the 2022 CLASH Endurance in Miami.
"It shows that Black people can swim competitively," Edwards said. "I know participation is three percent when it comes to competitive swimming for Black people, but for those of us who can swim, [it is good] just introducing the sport to more people."
Black Kids Swim is excited about these triathletes joining the Race for Change Initiative. The organization is actively recruiting swimmers for the upcoming races. Please contact Black Kids Swim at info@blackkidsswim.com  if you are interested. You must be 18 years or older and be able to complete a 1.2-mile open water swim.
We can't wait to see our swimmers and triathletes compete! To keep up with updates on the swimmers, visit our site!
Black Kids Swim provides a comfortable and inclusive atmosphere for Black swimmers to thrive in competitive swimming. Visit our website to learn more about our mission and opportunities.