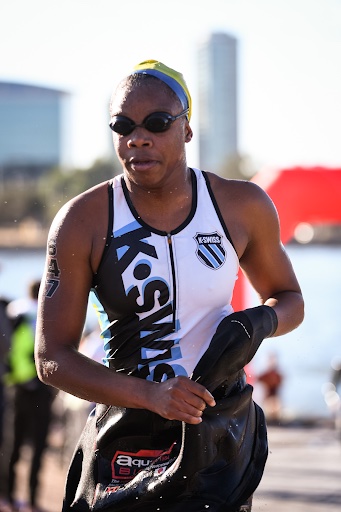 Inclusivity Matters: Engineering Student Hollie Adejumo Advocates for Representation in Triathlons
Ph.D. student Hollie Adejumo has a sincere passion for making a difference in people's lives. Her primary focus is researching how environmental factors impact communities' health as an engineering major at the University of Michigan. 
Making an impact on marginalized groups also extends to her advocacy for Black representation in competitive swimming. Hollie will represent Black Kids Swim in the IRONMAN race in Chattanooga, Tennessee in May.
The IRONMAN Foundation's Initiative, Race for Change, will encourage more Black and minority athletes to participate in triathlons. Adejumo believes the initiative will motivate minorities to expand their participation in athletic events. She is thrilled to witness this event come to fruition.
"Diversity is one of the challenges [in triathlon]," Adejumo said. "That's why I was so excited and honored to be a part of representing Black Kids Swim. I know that Black people can reach a competitive level in swimming and triathlon, but the representation was something that I hadn't really seen."
Adejumo's Personal Experiences
Adejumo has experienced the lack of inclusivity firsthand. She became involved in sports at a young age and participated in swimming in elementary school.
"I joined a summer swim team [at the Greater Baltimore Swim Association]. After my mom saw how much I loved that, she enrolled me into a swim club called Retriever Aquatics in Baltimore," Adejumo mentioned.
She soon immersed herself in the competitive swimming community. But even then, she noticed there weren't many Black people involved in the sport. She wanted the opportunity to swim with and compete against more swimmers who looked like her.
Circumstances changed when she participated in the National Black Heritage Swim Meet in North Carolina. She saw another side of the swimming community, which opened new doors for her to connect with other swimmers who looked like her. The meet helped her grow as a young, Black swimmer.
Adejumo became involved in other sports such as running and biking as she got older. But it wasn't until college that she became interested in triathlon. Since then, she's competed in several triathlon races, including the 2021 Detroit Cycling Championship and the 2021 Debaets-Devos Pro-Am Memorial Bicycle Race in Ann Arbor, Michigan.
The triathlete knows how fun and beneficial the sport is for Black athletes. She knew she could attract more Black individuals to triathlon by joining the Race for Change initiative. 
Support in the Sport
"I think one thing that could help is mentorship and resources," Adejumo said. "Sometimes, when Black [people] want to get into triathlons, they don't see too many people who look like them. That can be a challenge."
The sport must also address gender disparity. The majority of triathletes are white and male. Being a Black woman has affected her experiences in the sport. Hair maintenance is another issue. 
"I think haircare is one of the hardest [parts of triathlon]. I can recall experiences growing up and even now, just the stress that comes with it," Adejumo explained. "Figuring that out and navigating the additional challenge for both swimming and triathlon. There are so few Black women in the sport, so I would love to see more."
She admires the current crop of Black women triathletes. She looks up to Khadijah Diggs, the first Black American and Hijabi woman to join the U.S. Long Course Triathlon Team and represent the country in any multisport event.
"Just [from] my time interacting with Khadijah, I know her heart," Adejumo said. "She genuinely cares about people and increasing representation. It's so inspiring to see the impact she's making with her decisions."
Sika Henry, the first Black American woman pro-triathlete, and Max Fennell, the first Black American pro-triathlete, also inspire her. Adejumo appreciates that these women use their positions to help increase representation.
She also advises athletes to find a support system that will allow them to grow as a competitor and a companion. Support and guidance have helped Adejumo throughout the years.
"There's an amazing community within triathlon," Adejumo said. "I think finding a community where they can fit into is important so they can connect with individuals [who can provide] them resources."
To keep up with her triathlon journey, follow her on Instagram. Stay tuned as Adejumo and our fellow triathletes make their debut at the IRONMAN in May.
Black Kids Swim provides a comfortable and inclusive atmosphere for Black swimmers to thrive in competitive swimming. Visit our website to learn more about our mission and opportunities.