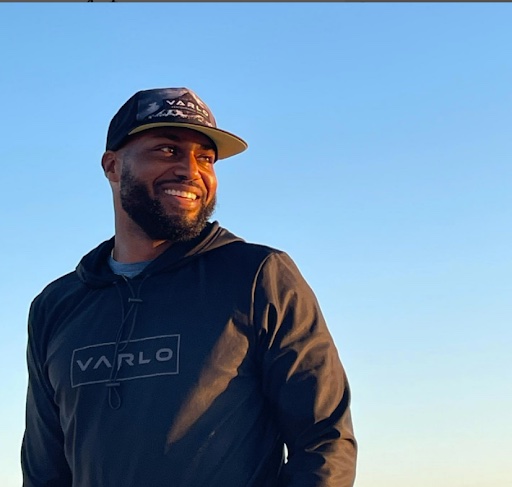 Marcus Fitts Plans to Lead by Example in the IRONMAN Race For Change Relay
Triathlete Marcus Fitts aims to make an impact wherever he goes. The TABONO swim clinic coach plans to showcase his talent at another one of our events, the Ironman Foundation's Race For Change Half Ironman relay.
Black Kids Swim has partnered with IRONMAN Foundation on their initiative, Race for Change, to create an opportunity for Black and minority athletes to compete in a triathlon race. The event hopes to bring awareness to the lack of Black representation in the sport and advocates for more Black athletes to join.
"One of the gateways to triathlons are relays," Fitts said. "I think it [Half Ironman relay] reinforces that people, even if they're new to the sport, don't have to do all three disciplines [swimming, running, and biking]. So, if they're not a strong swimmer, they may be a strong cyclist. They can still compete in the triathlon without doing the whole thing."
Fitts is the founder of two triathlon-based non-profit organizations, District Triathlon and GRIT USA. The latter is his current organization, which focuses on a multi-sport development program designed for adult and high school endurance athletes. GRIT USA's mission states that it "advances athletes to new limits, inspires communities, and enacts socio-cultural and economic change." It's a cause that's close to his heart.
"As we started introducing more people of color to the sport, there became this void of space where they could accelerate their growth," Fitts explained. "We wanted to bridge this gap between elite-level training and recreational training. We created a development program to allow athletes to advance to the next level of triathlon."
He has developed some methods to build stronger talent. Some include more rigorous coaching and training, providing proper triathlon gear, and creating relationships with sponsors and partners. In addition, he collaborates with facilities and professional businesses like bike shops as well. For Fitts, it's all about providing the proper tools and support so athletes can thrive.
Fitts: Athletic Background
These resources were beneficial to Fitts's growth as an athlete, and he has his mother to thank for that.
"It [swimming] was important because my mom didn't know how to swim, and it was a life skill that she wanted me and my sister to know," the triathlete said.
Swim training paid off over the years. He became an accomplished competitive swimmer and served as the captain of his high school varsity swim team. He also received an NAIA athletic swim scholarship to attend Savannah College of Art and Design. But, it wasn't until 2015 that he competed in his first triathlon race.
"I wanted something different to train for because I was going into knee surgery," Fitts said. "The doctor wanted me to go into surgery strong, so I just looked for something I could train for, and I ended up picking triathlon."
He competed in his first triathlon, the Nation's Triathlon, in 2015 in Washington, D.C. He says his most memorable race is the La Habana Triathlon in Havana, Cuba. The eye-opening experience became a turning point for him. It showcased the diversity and the lack of access to bigger opportunities.
"What was cool about it was that it was the very first diverse race I went to, but it was also sad because they had so much talent, and most of them don't leave Cuba to compete," Fitts expressed. "It's a bunch of Black and brown athletes that the world doesn't know about."
The experience and many others inspired Fitts to change the perception of triathlon in the United States. He wanted to create a space where athletes from various backgrounds were better represented. He did this to eliminate barriers to entry for the sport. 
The triathlete agreed to participate in the relay when Black Kids Swim founder, Ebony Rosemond, informed him about it. He believed it would be an opportunity to support Black triathletes. It will also help him train for two upcoming Ironman relay events he will be competing in later this year.
"[I thought] it would be nice to represent my community and bring some of my teammates into the mix," Fitts said. "And I also get some training and support from an organization I enjoy at the same time."
Fitts has witnessed athletes face many obstacles trying to get into the sport. Time commitment, financial obligations, and access to coaches and pools are the most common. But one barrier that might not be on some people's radar is triathlon suits. Most suits fit slim body types, which is a disadvantage for individuals with bigger or curvier body types.
"We have a hard time finding suits and suits that primarily fit bigger or Black bodies," he said. "Most of the suits are made for that European build. Even I have a hard time finding suits."
The triathlete decided to create custom-made tri suits for varying body types to combat this issue. He's made suits for the past three to four years, going up to a size 4X. This endeavor is another lane he's tackling to make the sport more inclusive.
He is also currently working on getting more high school athletes involved in triathlons. He says involvement in the sport has decreased since 2019, and he believes younger athletes will be the main factor in keeping triathlon strong and growing.
"I think the survival of triathlon depends on getting more high school athletes involved," Fitts said. "We need more people at the higher levels lobbying with the Board of Education and making sure that schools can properly fund programs."
He encourages Black athletes to do the necessary research to connect with individuals in the sport and keep an open mind.
"Utilize your resources within the community if you're interested in starting," Fitts said. "There are resources out there where you can learn how to swim. You're going to have to look for them."
You can learn more about Fitts on Instagram and his website to keep up with all things triathlon. Make sure to follow Marcus Fitts and the rest of our participants as they compete in the Race For Change relay in May.
Black Kids Swim provides a comfortable and inclusive atmosphere for Black swimmers to thrive in competitive swimming. Visit our website to learn more about our mission and opportunities.