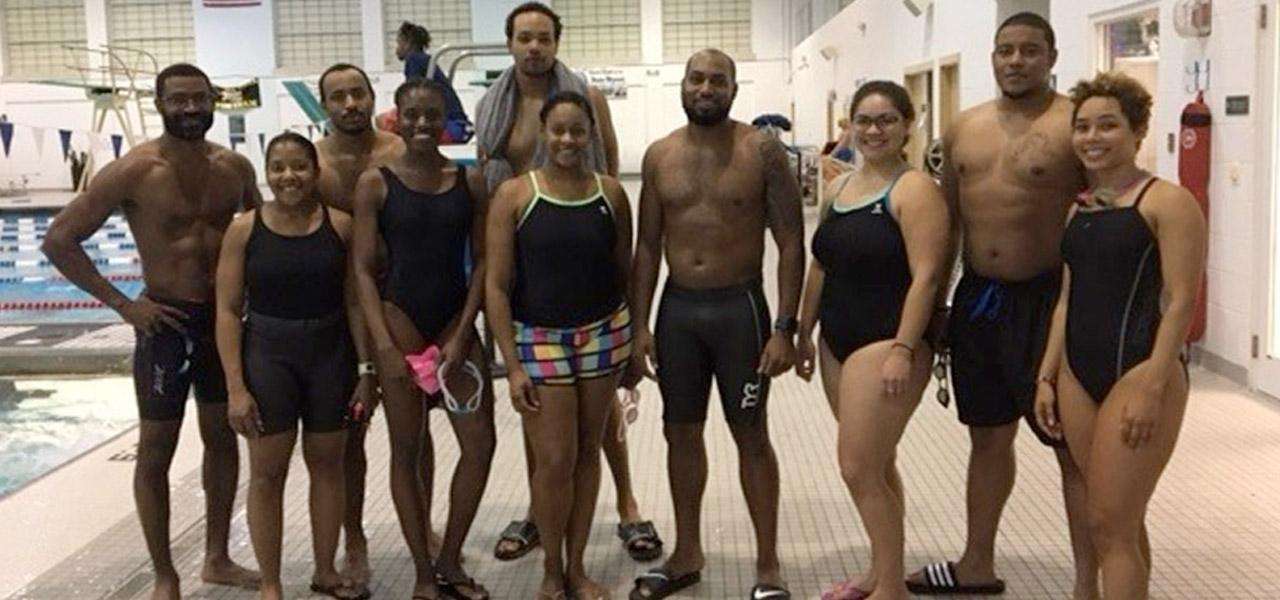 Black Triathletes Welcome a Swim Mom
As a swim mom I spend most of my pool time in the stands or on deck – I rarely get in the pool. And I don't think I'm alone in this. I've met a surprising number of swim parents, especially in the Black community, who cannot swim. And their lack of swimming skills, and in some cases fear of the water, is what inspired them to enroll their children in swim classes and place them on swim teams.
I've never been on a swim team. My swimming is purely recreational; snorkeling, scuba diving, water skiing and other fun things. I tried to swim laps a few times in the past and was exhausted after 50 meters. I just assumed it wasn't for me.
Attending a swim practice led by District Triathlon changed my mind. This friendly group of experienced and novice athletes meets Monday's and Thursday's at the Takoma Aquatic Center in Takoma Park Maryland. The group is majority African American and led by Marcus, an elite Black triathlete. All of them hold a common goal – to complete triathlons; the challenging race which involves swimming, biking and running. These athletes put themselves through grueling practices in order to perfect their technique and improve their endurance for long distance swims in open water. They also meet up for weekly runs and bike rides.
I initially went to interview the participants and take pictures for the Black Kids Swim website. The group is extremely unique as African Americans make up less than 1% of elite triathletes. I wanted to share with Black Kids Swim readers the story of Black triathletes committed to diversifying the sport. Somehow, Ariel, Black Kids Swim member and assistant swim coach for North Western High School, convinced me to get in the water and give it a 'tri.'
I'm so glad I did. Practice began with a 400 meter freestyle swim at the pace of your choice. In a typical 25 meter pool this involves going back and forth 16 times.  As usual, after the first 2 laps I was exhausted. I was clinging to the edge of the pool, heart racing and gasping for breath.  I told the swimmer I shared a lane with, David, that I simply lacked the lung capacity for the sport.  "I can't do this."  David swam in high school for St. James and also coached the Prince George's County Maryland summer swim team King Fish. He is great at ignoring whiners.  "You just need to relax.  Push all the air out before you come up for air again.  Relax."
I decided to try a few more laps. After all, I'd only been swimming for about 5 minutes. I slowed down and started taking a long breath every 5 strokes – being careful to breath out through my nose until my lungs were empty before coming up for air.  I hummed songs in my head, I let my mind wander, and before I knew it I'd completed three laps! And I wasn't gasping for air.
Practice was long and gave me a real appreciation for what our kids put themselves through during swim team practices.  The complete workout required swimming a total of 2500 meters while focusing on a variety of swim techniques.  I tried my very best and was proud to complete 800 meters by the time practice ended.  Not surprisingly, Marcus and several other members completed the entire workout with ease.
District Triathlon member Colin swims two times a week with the group for exercise. She prefers swimming because it's a low-impact sport.  She told me "It's all in your mind.  You think that because you're underwater that you need to breathe – that you're suffocating.  But you're not."  After swimming 800 metres for the first time in my life – I'm certain she's right.
You can find DC Tri online at DistrictTriathlon.com and on instagram at district_triathlon.