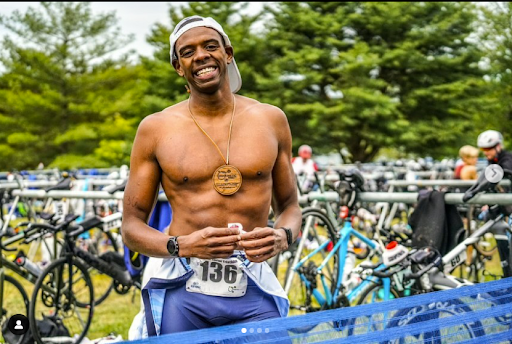 Triathlete Darien Edwards Joins the IRONMAN Foundation's Race For Change
Darien Edwards stands by his life motto: the #storycontinues. The Marine Corps veteran's hashtag reminds him of how far he's come and his goals for the future.
The push for growth led the triathlete to represent Black Kids Swim in the IRONMAN Foundation's Race For Change initiative. For Edwards, this event will acknowledge the importance of triathlon and Black representation in the sport.
Edwards acknowledges that, regardless of race, few people know about triathlons. Lack of training, resources, and finances are contributing factors. If those obstacles didn't exist, Edwards believes more people, especially Black athletes, would be able to enjoy the sport as much as he does. That's why he supports the Race for Change mission. It will give Black and minority athletes the chance to compete in a triathlon race. 
Darien Edwards: "The PR King"
His dedication to the sport knows no bounds. He has a seven-day-a-week workout routine. It includes a combination of swim, bike, running, and strength sessions. It's no wonder why his friends crowned him "The PR King." The acronym "PR" stands for "personal record."
"Eventually, I took it on because I felt like it was more than just about times, but it was about inspiring people and letting them know not to put limits on themselves," Edwards said.
Edwards reveals that it's been a work in progress. He doesn't have a perfect track record of personal bests and award-winning achievements. Before exploring the sport, the triathlete had a minimal athletic background. He participated in football and wrestling. But, he had no experience in long-distance running, such as cross country.
It wasn't until he moved to Miami and joined the Marine Corps that triathlon came into his life. During this time, Edwards worked odd jobs and felt a loss of direction. He wanted to find a way to make a better life for himself. Once he discovered the sport, it became his passion.
After seeing him run, his Marine Corps roommate convinced him to sign up for his first triathlon. Edwards participated in his first race at the Marine Corps Base in Quantico, Virginia, in 2018.
"I've run a lot of good races, but I always try to tell people I didn't start here," Edwards said. "It's fun to think about the fast times, but I always fall back to my first triathlon because I was just going for it."
His first race reaffirms that, if you're dedicated, you can become the best you can be.
Edwards' first triathlon was a complete train wreck. He recalls when the announcer commented, "better late than never," when he finally came out of the water at his first triathlon because he was such a slow swimmer.  Edwards also remembers going a mere 12 miles per hour on a used bike he found for free at a garage sale.
That first race represented the humble beginnings of his triathlon journey. Since then, he's competed in many sprint triathlons, as well as short course, and long course open water swimming events. He still reminisces about the hard work and constant practice it took to get to his current level of proficiency.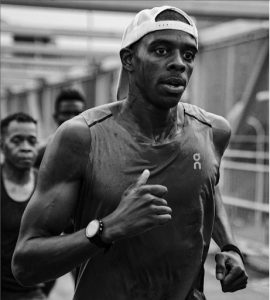 Photo credit: Darien Edwards
Embracing Triathlon
Triathlon is a high endurance sport. But, Edwards believes it shouldn't be something to fear. Instead, people should embrace it because many start at different experience levels. 
"When I talk to new people, [I tell them] you don't need to start and be the absolute best," Edwards insisted. "The thing about the sport is, if you train for it, you can get better. And I try to use myself as an example."
The participation rate for Black people in triathlons is less than 1%, and he wants to make the sport a more accessible space for people like him to join. There are several barriers to entry, but money is a significant factor that doesn't get discussed often.
"I don't just feel like it's because of the barrier of knowing or not knowing how to swim. I feel like there's more than that," Edwards said. "There's the cost of racing as well because when you go to race somewhere, it's not just entry price. It's paying for lodging and transportation."
Edwards says that he's spent between an estimated $10,000 to $13,000 on triathlon expenses, including entry fees for races, purchasing a bike, buying and updating necessary equipment, triathlon bike shoes, and insurance.
According to Triathlon Budgeting, triathlon costs range between $265 for beginners, all the way up to $17,000 for advanced triathletes. The website also explains that experience level: first-timer, beginner, enthusiast, or advanced, also determines the price. 
Along with participating in the Race For Change relay, Edwards is currently working on creating more content to get more people involved in the sport through his partnership with VARLO Sports. He also participates in races in the Washington, D.C. area to encourage individuals to participate in their first triathlon or sign up for the sprint distance.
"I've run a lot of good races, but I always try to tell people I didn't start here," Edwards said. "It's fun to think about the fast times, but I always fall back to my first triathlon because I was just going for it."
"Last year in August, I actually got 20 to 25 people [to participate]," Edwards said. "I would say 70% were pretty new to triathlon through either their first sprint or relay-style triathlon. That's my main focus."
He also gives advice for swim workouts, which helps people new to the sport feel more comfortable about taking that leap of faith to get in the pool. He believes it's important to meet individuals where they are.
To learn more about Darien Edwards, follow him on LinkedIn and Instagram.
Look out for Edwards and other swimmers representing Black Kids Swim in the IRONMAN Foundation's Race For Change here. 
Black Kids Swim provides a comfortable and inclusive atmosphere for Black swimmers to thrive in competitive swimming. Visit our website to learn more about our mission and opportunities.[/vc_column_text][/vc_column]
[/vc_row]