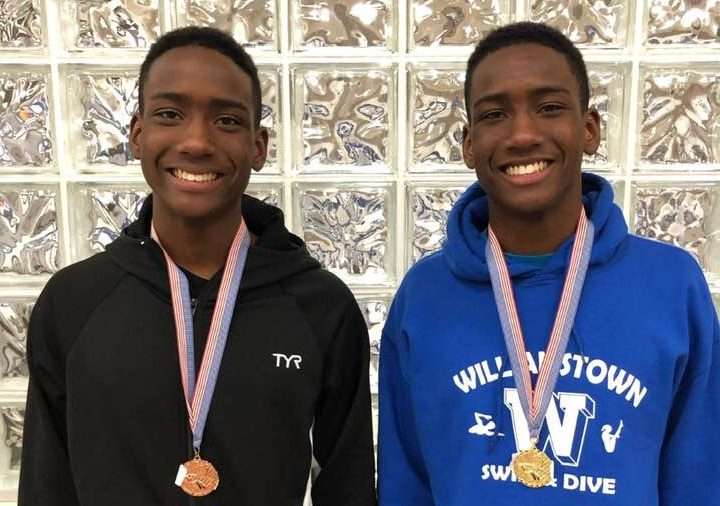 Meet Black Kids Swim's 2019 Summer Swim Scholarship Winners!
Meet the recipients of Black Kids Swim's 2019 Summer Swim Scholarship!
This summer, Black Kids Swim awarded summer swim team scholarships to eight amazing swimmers. Their essays clearly communicate a passion for the sport of competitive swimming and will inspire other Black kids to try the sport.
THANK YOU to everyone who donated in support of this program – we can't wait to do it again in 2020
REUBEN & AARON WILLIAMS, age 15, Williamstown New Jersey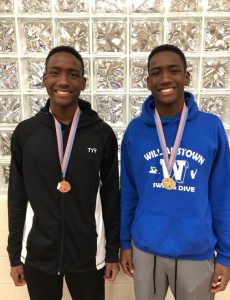 (Reuben) "Swimming teaches you determination, mental strength, and discipline. The thing I love about swimming is that you get out whatever you put into it… trying your hardest in practice then going to a meet and dropping time. You get up on the block and tell yourself I got this as you look out at the crowd. The starter tells you to get set and your muscles are screaming at the official to just press that button already. Finally, you hear that beep and you get to do what you've been waiting for…swim! You fly through the water kicking your arms and legs as fast as they can go while struggling not to take breaths. You approach the wall, increase your speed and do a quick flip turn. The last 25 meters is coming and you start to feel the burn. You think about everyone who is rooting for you, parents, coaches, friends and family. You touch first and can hear the rowdy spectators cheering for you. You are out of breath, but you can't help but smile at what you've accomplished. One of my biggest obstacles in swimming has been pool time. I don't get much time in the pool so when I do have time I work hard and fully take advantage of it. My twin brother Aaron and I push each other to become better in swimming and academics."
(Aaron) "Swimming holds a special place in my heart that cannot be filled with anything. It is an essential part of my life that I will always enjoy. ..If you train vigorously and with the mindset of a winner, you will excel at your next swim. However, if you do not do this you will swim very poorly. …Earlier in my swim career I used to be uncertain about if I wanted to go to practice or not but then I realized that I had to take the opportunities that presented themselves. I couldn't pass too many opportunities up or else my swimming goal would slowly slip away. The lessons that I learned through swimming are a big part of why I am writing this essay now… because an opportunity presented itself. I just hope you can help me make the most of this opportunity and not let it slip away." (Aaron Williams was the 2018-2019 NJ YMCA 100 yd Butterfly Champion and also qualified for the YMCA national meet in Butterfly, 50 &100 Free, and 100 Breast)
KHALID ALI, age 7, Fayetteville North Carolina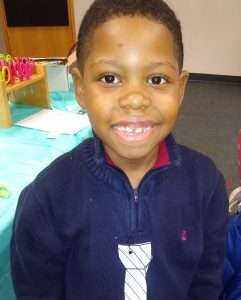 F.A.S.T.- Fayetteville Area Swim Team
"I used to be on swim team before and I really enjoyed it. I am still taking swim lessons. I am in Level 5 at the local YMCA. My goal is to make it to Level 6 by June 30. I believe that being on swim team will help me be a better swimmer. My dad bought me a book about Cullen Jones. He is Afrikan like me. That has inspired me to keep going with lessons even when it is hard. I hope to one day swim as fast and as good as Cullen Jones and Mike Phelps. I believe I can be a better swimmer if I have more time in the water. At least that's what my parents tell me. I just love being in the water."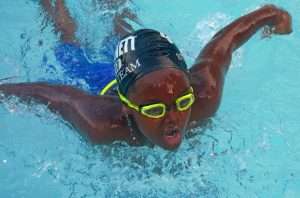 JOAH BELTON COFIELD, age 10, Aurburn Georgia
Edge Water Lightning Swim Team
"I love swimming!My favorite strokes have always been Breast and Back. I also like to swim the IM for some reason. One day I would like to swim and represent Haiti for my Papa. I would like to swim in the 2024 Summer Olympics like Naomi Grand Pierre did in 2016. She is one of my swim Idols.  When I watched her at the Olympics, I decided I wanted to do that one day soon. My mom and Papa would be so very proud of that.  Especially since none of them know how to swim, and they are from an island. I will be the youngest swimmer to represent Haiti in the Olympics. To do that, I definitely have to keep swimming.  Please help keep me swimming this summer on my summer swim team."
AARON FIGGS, age 14, Cypress Texas
"I swim in a city where Black kids, especially boys, are not expected to excel in the sport of swimming.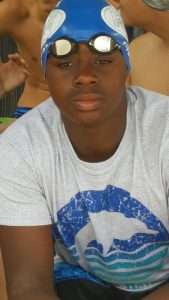 In fact, I was once told that "you should go play football because this is not your sport, go back to playing football where Black people do best". That comment motivates me to continue playing both sports which I love. In the fall, during football season, I would leave football practice and games with little or no rest in order to make it to swim practice. My swim coach told me "Hey boy! You're going to have to drop football if you want to be a swimmer because you can not excel in both!" These comments are  what motivates me to give it my all at everything I do especially swim because I know I can continue to improve my stroke techniques and ultimately continue to drop time if I continue my current regime. This is why I would like to receive this scholarship so I can continue swimming developing my swim skills with the Fairfield Area Swim Team summer league team."
CALEB DOTSON, age 11, Accokeek Maryland
"It makes me extremely happy when I swim and it can also can make me stronger. Also it means I can go water skiing and other water sports and games. Also it means I can go into the deeper side of the pool. And if I get good enough I could even go to the swimming Olympics or other professional swimming groups.  It is also a safety skill that everyone should have including young people like me. My grandpa goes to the YMCA  every day and he is 75 years old and sometimes I go with him.  He is a hero to me and I want to be able to swim like that when I am old."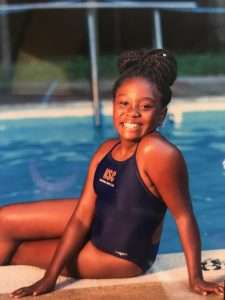 DE'JA FERDINAND, age 12, Upper Marlboro Maryland
"Swimming isn't just about playing in the pool, it is about gaining confidence and endurance as I swim.  Swimming  is a sport that has helped with my confidence and strength.I experienced decreases in my time and I improved my strokes and techniques.  Summer swim was a new experience for me.  It was very different from my fall and spring team. I dropped my times and getting up every Saturday morning for swim meets taught me to believe in myself more. The energy from the team, the support from the community taught me about the power of community.  Their energy gave me energy.  I was able to use the energy to be strong.  I want to join this swim team because I believe this experience from the past is what I need to continue to grow as an athlete."
EMANUEL FRANCIS, age 7, Baltimore Maryland
The Orokawa YMCA Blue Crabs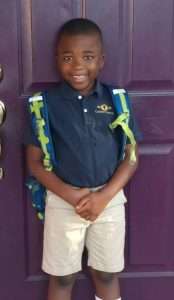 "At first, I was not sure why my mother was so serious about me swimming.  I liked the pool but I did not know what people did on the swim team.  I was so excited when I passed the swim test at the YMCA.  My only motivation to pass the swim test was so that I can go on the water slide.  I joined the Blue Crabs swim team last Spring for the first time.  I went because my mother was so excited for me to join.  But then I realized, after going to the Black Heritage Swim meet for the first time this year, there are swimmers who look just like me!  So, I want to take swimming seriously now by joining the Blue Crabs swim team for the summer.  It will allow me to swim competitively throughout the summer.  Another reason why I would like to join the swim team again this summer is that I need to show my 4-year-old sister that swimming in the water is not scary, it's fun! Pray for her because she is afraid of the water." 
Thanks to generous support from people like YOU who care about the Black Kids Swim community, these eight amazing kids enjoyed a summer of competitive swimming. We know they will continue to excel both in and out of the pool!