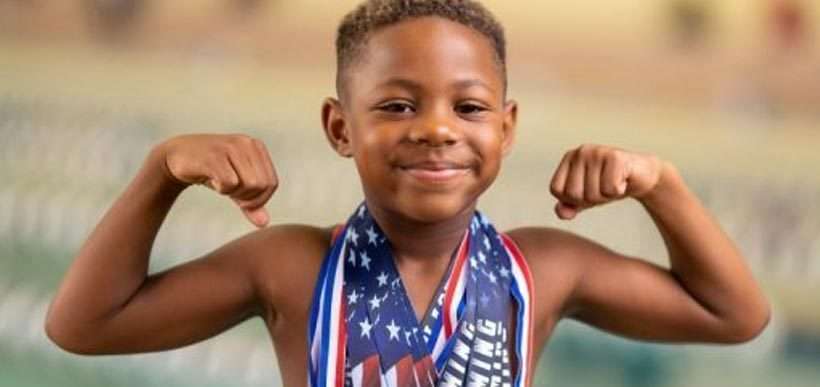 Meet Aaron Tinsley-Bradford: A Six-Year-Old Competitive Swimmer Making His Mark On The Sport
Meet Aaron Tinsley-Bradford: A Six-Year-Old Competitive Swimmer Making His Mark On The Sport
By: Brianna Rhodes
Aaron Tinsley-Bradford is a six-year-old Black competitive swimmer who has a bright future ahead of him. A City of Detroit Championship High Point winner and a Junior Olympic qualifier, the young athlete, also known as Baby Jaws, is a force to be reckoned with.
The Troy, Michigan native is a member of the majority African-American Razor Aquatics Swim Team in Detroit and has been committed to the sport since the age of four. His skill and drive has helped him reach many milestones in his two-year career, and based on his team records, it looks like this competitive swimmer is not slowing down anytime soon.
To celebrate the next generation of Black competitive swimmers, Black Kids Swim is highlighting a young star-in-the making and his goals for the future.
Aaron was introduced to swimming at just nine months old when his mother, Amber Tinsley, decided to enroll him in swim lessons to learn swim safety. Tinsley isn't a strong swimmer, but she did not want the fear of water instilled by her parents to affect her son. Aaron completed five levels of swim classes at his swim school, but his passion for swimming really developed when he joined Razor Aquatics swim team and officially became a competitive swimmer.
"The kids were very welcoming to Aaron because he was so young," Tinsley said. "The team pretty much made him the team's little brother! The parents were welcoming as well. They were very helpful in teaching me about swim culture as a whole."
"He was just happy to be around his teammates and always wanted to be around them," she added. "I knew Razor Aquatics was a good fit for us." Aaron enjoys swimming fast and he also likes to win, according to his mom. His favorite swimmers are Michael Phelps (butterfly) and Caleb Dressel (freestyle).
Aaron has already tackled some long distances and achieved some fast times at a very young age.
During USA Swimming sanctioned meets, Aaron has placed first in the 100yd Butterfly, 200 yd IM, second in 2000 yd Freestyle, 50yd Butterfly, and second 100yd Freestyle, 100yd Backstroke in the 8 and under age group – even though he is only six years old. He has also placed Top 10 in other age group competitions. Razor Aquatics coach, Jamal Roberts, requires all of his swimmers to compete in long distance races, a rarity for many young Black competitive swimmers.
"The team practices for two hours," Tinsley said. "Coach Roberts doesn't believe in limitations. When he feels that a competitive swimmer is ready to tackle a certain distance, he puts them in the race and they do great! Aaron has accomplished some other amazing feats in his career. At just six years old, he swam his first 1650 in December and he earned his third JO cut in the 200IM recently. These distances are intimidating for swimmers twice his age.
Tinsley said one of the goals he set for 2020 was to get close to a JO cut and he shocked everyone at the first meet of the year when he earned several. Aaron also qualified for Michigan's Junior Olympic meet in the 50 yd Butterfly and 100yd Butterfly. Even though Aaron was the only 6-year-old to qualify to participate, he placed 8th overall and earned 5 medals. Coach Roberts says that Aaron is a hard working competitive swimmer and he credits his success to his strong commitment to practicing. "He puts a lot of work and a lot of time into the pool," the Razor Aquatics coach said. "He does extra work more so than a lot of children his age are willing to put in. He caught on really quickly and two years later, as a 6-year-old, he's really at the top of the game."
Coach Roberts said his goal is to continue to keep Aaron and his swimmers motivated and interested in the sport. He says the young athlete's strong work ethic already proves that competitive swimming is really important to him.
"My goal is to just make sure that we keep up that enthusiasm, and I believe in challenging our athletes. That includes even the younger ones," the coach said. "I'm not big on babying any of our athletes. We'll keep on challenging them to take it to the next level and I believe he has what it takes to keep continuing to reach new heights."
Although Coach Roberts sees Aaron reaching major achievements in the future, he still takes his age into consideration. He finds it important to not pressure him into living up to a certain standard.
"He's doing fine and we just want to make sure that he knows that he's doing great right now. He doesn't have to prove anything to anybody," Coach Roberts said. "All he has to do is keep on doing what he's doing. Keep putting in the work that he's putting into the pool and just allow the results to keep on flowing his way."
We just want to make sure that we never have him thinking that he has to perform for anyone's sake or have to perform for fans," he added.
Roberts hopes that Aaron's behavior can be a model for other young Black competitive swimmers on the team and those who will join the team in the future.
Tinsley said she always encourages Aaron to put forward 100 percent effort in his competitions, even if he places last. "I try to keep him humble and to display good sportsmanship when he wins or loses," the swim mom said. "I always let him know he does an awesome job in every race," she added. "He knows where I sit and I always send him his thumbs up and a heart!"
Outside of the pool, swimming has also taught the young competitive swimmer some valuable lessons. His mother says he has become a better teammate and a well-rounded person. She also notices that his attention span lasts longer for certain subjects in school.
Inspired by what the late great basketball player, Kobe Bryant once said, Tinsley always tells Aaron to continue to be the best version of himself. Even though he's too young to understand how it feels to be a Black swimmer in a non-diverse sport, she continues to instill in him to be his true, authentic self as well.
"He's at the age where he doesn't understand the lack of African-American competitive swimmers on deck,"
Tinsley shared. "He's so used to being the only African American kid in his class and the different sports leagues by our home. He sees it as the norm right now. I try to explain to him that there are differences in the world and people will try to put certain negative labels on you. I'm trying to raise him to be aware, remain humble, and be true to who he is."
Tinsley said she personally enjoys the National Black Heritage Championship Swim Meet in Cary, North Carolina where Aaron is able to meet and compete with other Black swimmers across the country. "I just love coming into the meet and seeing all these AMAZING African American children in the pool swimming!" Tinsley said. "Like BKS called it, it's a huge family reunion for the black swim community! My son can see other swimmers that look like him in the pool! These kids make lifelong friends from around the U.S. and follow each other's progress!"
Tinsley said she doesn't force him to workout, but when he feels compelled to do so, he usually runs through different rooms in their home. He also participates in Black Kids Swim's Facebook Live workouts, does push ups, sit-ups and rides his bike. "We watch a lot of his races and replays of the summer Olympics TV," Tinsley said. "I just ask him to tell me about the races."
Since the impact of the coronavirus pandemic, Tinsley said that it has been a trying time for Aaron because he has not been able to follow his usual swim routine. Aaron tested positive for the virus, but fortunately did not have any symptoms and is now doing fine. Hopefully Aaron will be back in a swimming pool soon. Continue to be on the lookout for the young competitive swimmer in the future! Check out his 25 yd butterfly below:
Be on the lookout for this young competitive swimmer! Click here to check out his 25 yd butterfly !!