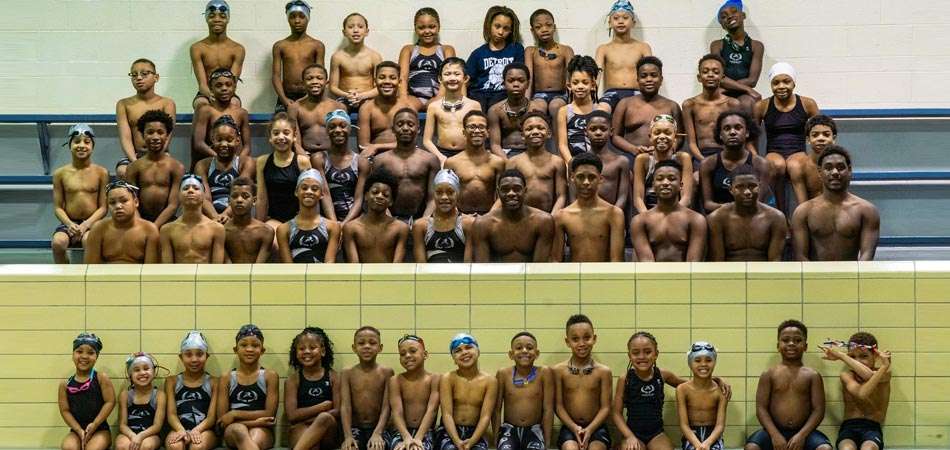 Razor Aquatics Coach Jamal Roberts Inspires More Black Kids To Be Competitive Swimmers
By: Brianna Rhodes
Competitive swimming is a sport that is rarely talked about in the Black community. Unlike basketball and football, competitive swimming is not a sport Black kids flock to. Razor Aquatics swim team coach, Jamal Roberts, is working to change this.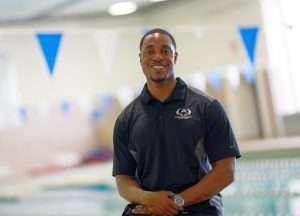 Currently leading a team of more than 70 swimmers, the former competitive swimmer has worked for more than 10 years to encourage Black kids to join the sport. Since its founding in 2008, Razor Aquatics has reached many milestones as a majority Black swim team, and this Black History Month, Black Kids Swim is celebrating the achievements of both Coach Roberts and his dynamic swim team.
Growing up in Detroit, Roberts was first introduced to swimming at the age of 12. He was first exposed to USA Swimming when he joined the Tiger Sharks swim team at the Adams Butzel Recreation Center. He enjoyed the sport and continued to swim through high school and at the collegiate level for Wayne State University.
Roberts discovered coaching was his calling when he was a teenager.  While working as a lifeguard he was asked to help out with the summer swim team. He specifically liked working with young Black kids and serving as a positive role model. 
"Swimming is a sport that I truly enjoy," Coach Roberts said. "Not just because I've participated in it, but because of what it can teach kids outside of the athletic arena. Swimming requires hard work, commitment and dedication."
"It's one of the most fearless sports you're going to find," he added. "You can't just get by off of talent. You just can't get to the top because you are the tallest, the strongest, or the fastest. If you don't put the work in, you won't get to the top. You don't get to become better than people just because of raw talent, you have to put those necessary ingredients into it." Roberts wants to see Black kids from his community in the sport "for the long haul." 
Over the years, Roberts has seen competitive swimming evolve and he has definitely seen more Black kids become involved in the sport. His proudest moments are seeing multiple Black kids on the podium at state championships. He sees that the face of competitive swimming is changing, but he knows there is more work to be done. Black kids need to be motivated to participate in competitive swimming.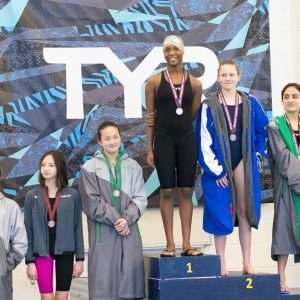 "We want Black kids to see swimming as a main sport just as much basketball, football, cheerleading or track and field," he said. "We still want swimming to be a top tier choice rather than something you see as an extracurricular activity"
Roberts' team definitely serves as an inspiration for Black kids who are interested in joining the sport. The team has made significant strides over the years. The team's membership has grown and retention has improved.
The Razor Aquatics team includes Junior Olympics Champions and the eight and under age divisions have performed well in their age division.
Besides reaching these milestones, Coach Roberts' ultimate goal for his kids is to be the best they can be in the sport. 
"I'm really big on encouraging all of our athletes to not settle," the coach said. "We don't hold back, we don't back down from challenges. We try to go out there and be the best version of ourselves and I teach my athletes that all of them are capable of being great at this sport."
"At the end of the day, it's about us trying to reach that level and not settling," he added. "If I see any of my athletes slacking off, I check them on it. If I see athletes that aren't working hard and that are not doing their best, I check them on it."
Roberts feels like as a coach, it is his job to pull out the greatness that they are not able to reach on their own. "If you don't challenge them, if you don't kind of push them to the next level and get them out of their comfort zones, then they will never get the chance to see how good they really could be," Roberts said. He ultimately aims to ensure his swimmers never settle. No matter how hard the challenges they face may be – whether in the pool, or in life.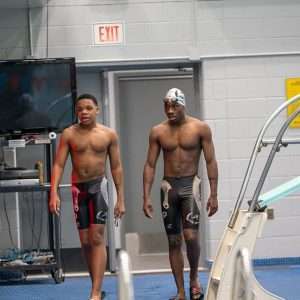 Coach Roberts also spoke about his challenges coaching in the Black community. He spends a lot of time encouraging kids to stick with the sport instead of switching to basketball or football.
Since many Black families lack competitive swimming experience, Roberts says he has to teach parents how the sport works and provide a time table of how quickly they can expect their child to see progress. He wishes swim parents would understand that they cannot expect immediate results from their child. It takes time for a kid to develop the necessary skills to become a "phenomenal" swimmer. He also tells parents to not compare their child's development to others, since every swimmer develops at a different rate. 
Roberts also touched on dealing with hair issues as it relates to African American female swimmers as well. According to the coach, many parents are hesitant about getting their kids involved in competitive swimming because they're concerned about how they will manage their hair.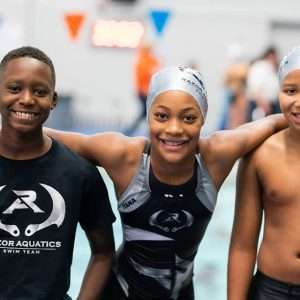 Despite these issues, Roberts thinks it's important to continue to hold discussions surrounding competitive swimming in the Black community because it can inspire more Black kids to become interested in the sport.
Representation matters and Roberts said he hopes to see more Black athletes competing at the elite levels of the sport. Hopefully it will attract other Black children to have the desire to swim competitively.
The Razor Aquatics Swim Team believes promoting competitive swimming in the Black community is important because the history of the sport is significant to Black history. According to Roberts, it has always been deemed a "white sport" and he says it's amazing to see Black swimmers like Simone Manuel and Cullen Jones breaking the stereotype. 
"We were not allowed to be swimming in public swimming pools in dark periods of our time," Roberts said. "To see that now, not only are we going into swimming pools and learning how to swim, we're taking it to the next level. We have Olympic champions now so I think that is really significant for Black History."
To learn more about the Razor Aquatics Swim Team, please visit their website
here
.