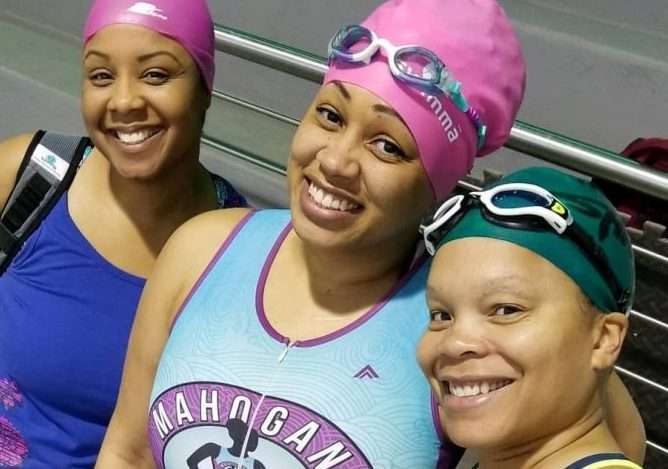 Mahogany Mermaids: Reclaiming Our Heritage Of Swimming and Overcoming Hair Issues
As Black women we all know what an ordeal dealing with our hair and chlorine can be.
From failed wash and go's, to twist outs gone awry, it can be a struggle to finally find a routine and hairstyle that works for you. When you factor in chlorine damage it can prove nearly impossible to have a regular swim regimen while also maintaining healthy hair.
I've experienced this issue first hand, I still remember being in middle school and avoiding the mandatory Wednesday swim lesson like the plague. I came up with increasingly creative excuses to avoid the pool in an attempt to save my hair. Today though, we have more options, silk lined swim caps made specifically for natural hair, new and innovative protective styles, the possibilities are limitless.
Nadine Ford, of Mahogany Mermaids, understands this, she's been carefully cultivating her swim care hair routine for years now. Mahogany Mermaids is dedicated to eliminating the gap between black and white swimmers. They seek to educate our communities in order to "reclaim and enjoy our heritage of swimming", but more than that, Mahogany Mermaids seeks to instill sisterhood, mentorship, and education into the communities they serve. Black Kids Swim was fortunate enough to sit down with Nadine to discuss the importance of increasing swim opportunities for Black communities and of course, doing it all while maintaining your natural hair.
Black Kids Swim: Black Kids Swim works to increase Black participation in competitive swimming. We recognize that if adults in our community don't swim, or avoid the water, the generational fear of water in our community will worsen. So first, how did Mahogany Mermaids come to be and what is your mission?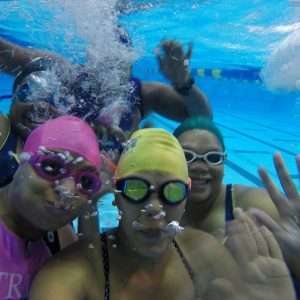 Mahogany Mermaids: MM came about out of necessity. I decided as an adult to resume swim lessons and really learn to swim. After each lesson, I'd spend another 45 minutes in the pool practicing. Well, after a while, that became boring. I reached out to some friends that had recently completed a triathlon and asked if they'd swim with me. They agreed and the group organically grew from there. Our overall mission is to increase the number of Black Women swimmers, as we reclaim and enjoy our heritage of swimming. We've branched out most recently to Albemarle, NC, where our mission is to decrease the number of youths that drown in their lakes by having at least one swimming adult in the home.
BKS: How does MM work to reclaim the Black community's heritage of swimming?
MM: We are constantly talking and researching the history of Black swim and Black swim segregation in the USA. From what we learn and gather, we then go out and educate folks. We believe in truthful and proper education. We educate by being visible. And to become visible, we get out into the community on different levels: sporting events, (runs/walks, bike rides, and triathlons..we haven't made it to a masters swim..yet!); community work (folks in my community gardens know I will talk about Black swim as we are planting peas in the spring, okra in the summer, and mixed greens in the fall!); our own social events (we support Black businesses and use these platforms to host our gatherings, and because we are Black Women, we have that air about us that draws others to us.) We constantly put it out into the Universe that swimming is our right and our heritage; not their privilege. And it works.
Reclaim and enjoy our heritage of swimming
BKS: Can you speak a bit about hair issues? How has MM so successfully overcome the obstacle of hair care for Black women swimmers?
MM: Our hair..whew! So..most of our members are natural, going natural, or have no-low maintenance styles. That makes life easier. With new swimmers we discuss the myths and truths of the swim cap, and pre/post swim hair care. We find that as long as women know what to expect up front, hair life becomes a little more forgiving. And we have a hair specialist as a member, so she keeps us straight! no pun intended.
BKS: So, what is your post swim regimen? And what are the myths about swim caps? We have to know!

MM: Goodness!! Hair is so personal, so I'll speak to my own regimen on this one. I have semi-short curly hair, about 4 different types. Immediately after a swim, I rinse well with warm water, and wash with a chlorine neutralizing shampoo…people can find one at hair care specialty stores..and liberally apply a deep conditioner. After about 3 minutes, I rinse that out and add a conditioner designed for my hair type. I'll let that sit while I finish my shower, rinsing that out last. once I'm out the shower, I towel blot my hair leaving it slightly damp. Now here is where I get picky, if it is a night swim, I'll apply coconut and shea oil and wrap my hair for the night. If it is a morning swim, I do my regular non-swim day routine of adding a curl enhancing product. The women with longer hair will wear silk caps under their swim caps, and I've seen a few incorporate a silicone headband around the bottom of the cap to reduce wetness. There's also a few protective styles and wigs. We make it work so we can do the work. Swim caps…oh hunee..swim caps are designed to reduce drag and keep hair out the face, swim caps are one size fits all (white) hairstyles. And heaven forbids if you used a latex one..goodbye edges!! Now we're fortunate to have companies like Swimma and Lock Journey that make high-quality silicone caps for bigger hairstyles..our hairstyles. Long live the edges!!
BKS: What is your vision for MM? In 5 to 10 years, what will your members be doing and what impact will you have had on the Black swim community?
MM: In 5 years we'll have chapters in a lot of smaller towns and cities where Black, Brown, and low income women of all cultures don't swim or know they have the opportunity to learn. We'll connect with local facilities, such as municipal pools, YMCA's and YWCA's, to encourage usage of the Swimming Saves Lives Foundation's Adult Learn-To-Swim grants to train instructors and volunteers. We'll work with staff and key figures in the community to reach out and educate on the benefits of swimming and/or aquatic fitness. In 10 years, we'll own the world!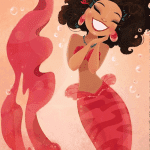 Taylor Williams is Black Kids Swim's Summer Writing Intern. A rising senior at The George Washington University, she is a Sociology major with a minor in Africana Studies. A self-proclaimed wellness junkie, you can find her journaling, day dreaming about life in Los Angeles and obsessively googling the next Wellness Trend.