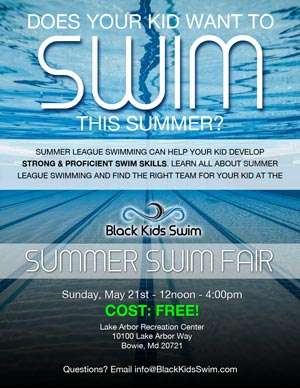 Sign Up for A Summer Swim Team in Maryland or Washington D.C.
Does your child love playing in the water? Would you like for your child to learn proficient swim skills? Then sign them up for a summer swim team!
Summer swim season is a unique opportunity for kids to make new friends while becoming excellent swimmers. And, because Summer League Swimming requires a lower time and financial commitment than year-round swim clubs, it is also a chance for families to decide if competitive swimming is the right sport for their child.
Register for Black Kids Swim's Summer Swim Fair! Summer swimming is your chance to learn about the sport, volunteer for your child's team, and meet other like-minded families in your community.
If you live in or near Prince George's, Montgomery, Anne Arundel, Howard, Charles or Calvert counties in Maryland or Washington D.C., you can find a summer swim team at Black Kids Swim's 'Summer Swim Fair.' The event will feature local swim teams and other swim related resources for your entire family.
Register today and get ready for a great summer!
Summer Swim Fair – Sunday May 21 12 noon – 4:00pm
Lake Arbor Community Center
10100 Lake Arbor Way, Bowie, MD 20721
10100 Lake Arbor Way, Bowie, MD 20721