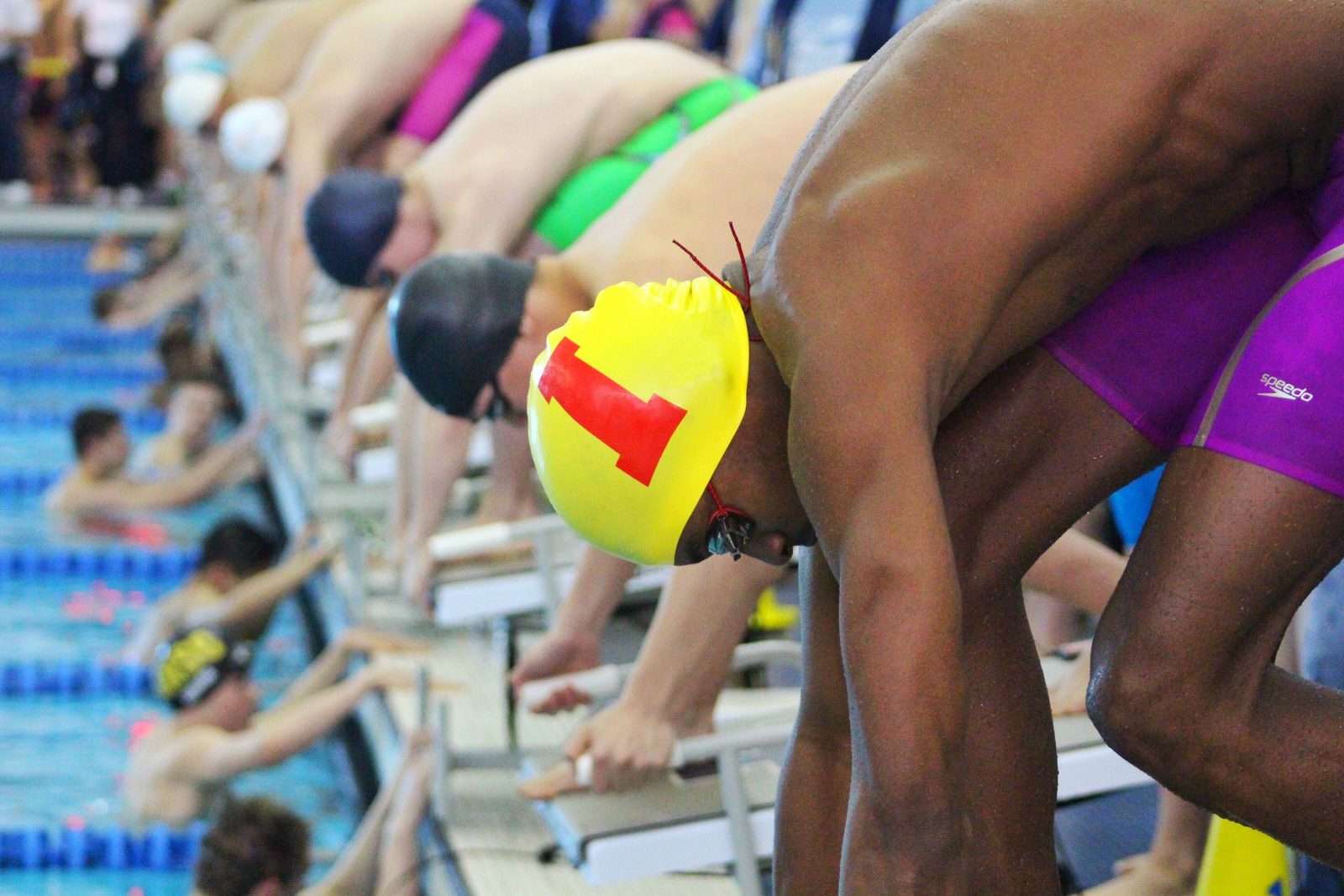 Robert Mangan: One of the Best African-American swimmers in NY
Robert Mangan is a successful African-American swimmer who swims for Ithica High School's Ithica Little Reds.  His swim coach told him about Black Kids Swim and he immediately reached out to us to say "Thank you for sharing the site with the public and supporting African-American swimmers!"  He wanted the opportunity to share his story with the Black Kids Swim community and, of course, we said "YES!"
For Robert, BlackKidsSwim.com empowers him as an  African-American swimmer on his High School varsity swim team.  Robert began swimming at 6 years old and during his 11 years in the water he could always count the number of Black swimmers he saw on one hand.  Robert did not allow the lack of diversity in the sport of competitive swimming to discourage him and he is now ranked 3rd in New York State for the 100 yard freestyle.  He is truly an elite swimmer.
Although both of Robert's parents know how to swim, they never swam competitively.  When the Mangan's signed Robert up for swim lessons at the age of 3, he screamed and clung to the edge of the pool prompting the instructor to suggest he leave and return a few years later.  The Mangan's did just that and re-enrolled Robert in YMCA swim lessons at the age of 6 in Poughkeepsie New York.  Robert remembers the water always feeling cold and not enjoying the lessons, but his parents kept making him go. A lesson to parents to never give up! At just 7 years old Robert began swimming competitively for the Dutchess Devilfish and he never looked back.
While High School swimming is a great way to improve swim skills and be a part of a team, many schools do not have pools and can only provide 2 to 3 hours of practice time per week in public pools.  Success in competitive swimming is directly related to how many hours of practice a swimmer can cram into a week – which is why swimmers striving for elite status practice twice a day (or more). For this reason, young swimmers who are nationally ranked commonly swim on both a school team and a year round swim club – mainly for the additional practice time.  Robert swims year round for iSwim and takes time off during his school Varsity season to focus on high school invitational swim meets.
As a sprinter, Robert has achieved much success in the water.  His team hasn't lost a dual meet since 2009.  The Ithica Little Reds face tough competition during invitational and larger meets.  During a December 2016 invitational at Shenendehowa High School with 15 other teams and more than 200 swimmers, Robert won first in two events.  In an even tougher meet in Long Island, NY Robert won first in the 50 yard freestyle and second in the 100 free style – helping his team to win third overall in the meet.  As a sprinter, Robert's favorite part of swim meets is participating on the relay teams – especially the 200 and 400 free style relays.  He told Black Kids Swim "I love getting pumped and ready to race when I anchor the relay."
As a result of his success in both the classroom and the pool , Robert was accepted into his top choice college, Champlain College in Vermont.  Robert will major in Graphic Design and Digital Media. He hopes to become a graphic designer and photographer. Although Champlain does not have a competitive swim team, Robert plans to continue his passion for the sport through the college's club team.  While he has thoroughly enjoyed his time swimming competitively in high school, he looks forward to the extra time in his schedule for exploring new activities.  After all, he has spent the last 11 years in swim practices!
When asked what advice he had for young swimmers, Robert said "commit yourself, dedicate yourself and motivate yourself.  If you commit to swimming, dedicate your time to learning, and motivate yourself to put in that little bit of extra effort, you can become one of the fastest swimmers in your area.  As much as swimming is about physical strength and endurance, it is also about mental.  Pushing through the hard sets and getting up early to workout is painful, but when you're in a race and you touch-out the person next to you who was seeded at a faster time – it'll be worth it."
And for parents, Robert advises we get our "kids started early. I have so many memories of my times in the pool when I was little, it helped me continue to practice when I was older."
Robert loves the idea of Black Kids Swim as an organization and our goal of encouraging more Black kids to learn how to swim and become confident in the water. He says "I am tired of being the only person of color at a meet, and have dedicated myself to swimming as a way of proving that we CAN swim, and we CAN be fast."
Black Kids Swim is SO PROUD of Robert and all that he is bringing to the sport of competitive swimming. Keep swimming fast Robert, together, we can, CHANGE THE TIDE.