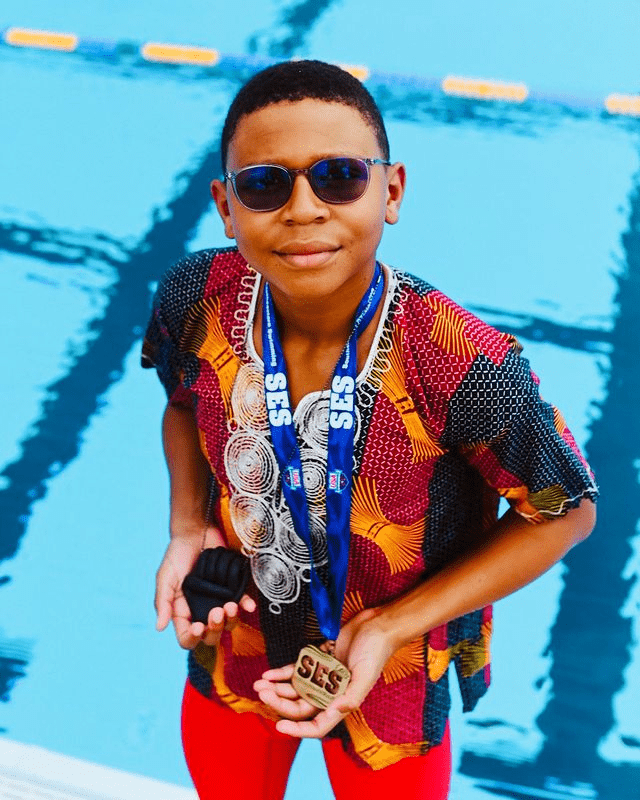 Meet Swimmer, Blair Wootson: A Bright Star In The Making
Whether it's at the pool or in the classroom, Florida native Blair Wootson strives to make a difference anywhere he can. From working towards his Olympic dreams to his activism, the 12-year-old competitive swimmer's presence in the swimming world hasn't gone unnoticed, and he doesn't plan on stopping anytime soon.
"My goal is to make it to the 2024 Paris Olympics, and then after that the 2028 LA Olympics," Blair said. "I would love to be able to compete with the best of the best and represent my country, represent my race, [and] represent who I am."
Representation is important to Blair since he entered the competitive swimming space as a toddler. While most of his teammates look up to swimmers such as Michael Phelps or Ryan Lochte, his role models include a range of individuals from Jamal Hill to Lia Neal and Caroline Burckle, which showcases the growing diversity in the sport.
His hard work and determination have led to milestone achievements in his burgeoning career. He became the first African American male to win a gold medal for his team, Panama City Swim Team Tsunamis. Blair placed in the top five swims in the 50, 100, 200-yard freestyle, 200 individual medley, and 100-yard butterfly at the 2019 Southeastern Swimming Long Course Championships in Huntsville, Ala.
He has currently obtained 15 gold medals and medallions from region and regional swimming competitions and two silver medals in short-course events. This past January, he set a team record in the 11-12 Boys 100 and 500-yard freestyles and 50-yard butterfly.
He continues to put in the same work ethic towards his advocacy efforts with his Swim 50 For Change challenge. Blair created the campaign last spring during the protests against racism and police brutality last year.
"When I heard about the George Floyd incident of police brutality, I, as a young kid said, "Hey, this isn't right. I want to do something," Blair reminisced.
With his love of swimming as the centerpiece, he asked swimmers to swim 50 yards or meters and think about ways they can benefit society in the process. He believed this is a great way of bringing people together while advocating for change .
"I'm using my Swim 50 for Change as a way to carry on and represent my community because I enjoy being who I am as a person, and I enjoy representing the Black community," Blair said.
The challenge has already grown substantially with competitive swimmers and non-competitive swimmers alike taking part in the action. Well known professional swimmers and figures from the swimming industry have participated as well, including Cullen Jones, David Curtiss, water polo player, Ashleigh Johnson, and Fares Ksebati, the CEO of MySwimPro.
For some, these major accomplishments are the end goal, but for Blair it's another day, another competition. Blair's father, Cornelius Wootson, believes it's important to enjoy your successes while also not forgetting there's more to achieve.
"We live in the moment when he wins things, but we try to keep our eyes down the road," Cornelius said.
Cornelius is one of the main driving forces in his son's trajectory into the sport. He taught him how to swim at 13 months. He did not expect Blair to gravitate toward competitive swimming in the long term, but he continued to support him.
"I knew when I had a child that [swimming] was going to be one of those priorities," Cornelius said.
Cornelius himself is no stranger to the water. After learning how to swim at 7 years old, he went on to teach his mother and other family members. He transitioned into conducting swimming lessons for others, becoming a lifeguard, and eventually became an aquatics director for a period of time.
It might be safe to say the swimming gene is hereditary.
Racism and Discrimination In the Swimming Community
Even when things appear to happen naturally, it's not always easy to manage. Growing up in the predominately white town of Panama City Beach, it's not uncommon for Blair to be one of a few or the only Black person in his class and swim team. Being in this environment has exposed Blair to several unfortunate racist incidents.
"Some kids wouldn't congratulate me when I won my gold medals. Even when I congratulated them, they didn't say anything back," Blair expressed. "Now that I think about it, it was pretty hard to go through. People just ignored me, and I didn't like that."
One particular situation caught Blair and his parents by surprise. They said Blair became the target of racist microaggressions and rhetoric while hanging out with his teammates. According to Cornelius, they allegedly displayed an Aunt Jemima-like character as an avatar on an XBOX game, espoused right-wing propaganda, and told him he should be fortunate they are associating with him because he comes from slavery.
"That's when we had to have a real hard talk with Blair about systemic racism and that kind of conversation," Cornelius explained. "On the swim team side, we wanted him to be an athlete, and they weren't really acknowledging him as a person."
Coaches refused to push Blair to the forefront by making excuses such as having a bad technique or being faster than his other teammates. His parents continued to fight behind the scenes to advocate for him as a worthy and competent swimmer, but pushback was constant. He eventually left the team, but issues are still present. For Blair and his family, it's a reminder that discrimination continues to run deep in the swimming world. Black representation is still not appreciated on the same level as white representation.
Inclusivity Is Essential
Fortunately, amid Blair's racially motivated experiences, visitors from other parts of the country flocked to the area for vacation. Many swimmers from the USA National Swimming team arrived in Panama City. Not only was this an opportunity to enhance his skills, but it gave Blair a chance to witness diversity.
"The systemic racism is, of course, all over, but the people who were visiting were used to being in big cities where you have to deal with diversity," Cornelius admitted. "He had a chance to actually talk to people who were used to diversity in their life."
"I met a lot of people and I think a lot of my technique improved," Blair added. "I think that all those people that came down helped with that, and I was pretty happy."
This experience helped propel his Swim 50 for Change challenge even further as he asked others to participate and spread the word.
"That helped people from across the country do it, and that's how it spread," Blair said. "It picked up steam kind of fast."
They have partnered with Chlorine Deckwear and Miracle Butter Cream to help raise funds. Chlorine Deckwear sells Swim 50 apparel, and Miracle Butter Cream has created a limited-edition signature cream for the campaign, Spiced Pear by Swimmer Blair. Swim 50 for Change will donate proceeds from products sold to causes that raise awareness for water-safety-related organizations and Diversity in Aquatics, respectively.
Blair received a nomination for Diversity in Aquatics' Cullen Jones – Athlete of the Year award for his work inside and outside the pool.
"I learned about different people throughout history that were Black and were athletes," Blair commented. "Before Swim 50 for Change, I would have never known about them." Some people include Marshall "Major" Taylor, the first Black American cyclist to break professional cycling records.
Looking Ahead
Outside of Swim 50 and competitive swimming, Blair continues to explore his other interests. He is currently working on receiving his certification in scuba diving, believing it to be a fun and essential skill for swimmers to learn.
"I want to make a splash in the diversity in scuba diving," Blair said. "Not only does it not have that many people of color, I really think it's a fun thing people should be able to do."
He wants to combine this with his interest in marine biology to study creatures in their natural habitat. The principal at his middle school announced his willingness to create a dive club as an extracurricular activity.
Blair continues to advocate for more accessibility to water for marginalized groups.
"When you make it affordable, and you put pools in areas where there aren't any pools, more people [learning how to swim] would gradually grow," Blair recommended. "When you make swimming mandatory, some kids might not like it, but at least it will reduce the amount of drowning."
Representation and access go hand in hand, and for Blair, it is the essential part of creating an inclusive setting. Black Kids swim agrees.
"Black excellence is showing the world what you can do," Blair expressed. "It's representing your community in the fullest way you can. That's what it means to me."