Black Girl Swimmers are 'Naturally Glamorous'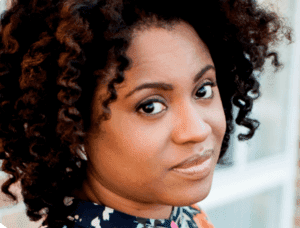 Jonna is a lifestyle, hair and fashion blogger for Naturally Glam 'Where being glam comes naturally'.  Her blog and YouTube channel is a  resource for women who want to be glamorous without spending a lot of time and money. Jonna's YouTube channel features lots of videos where she gives step by step visual instructions on how to take care of natural hair and how to do different styles.
Jonna believes black women are most glamorous when we enhance what we naturally already have in the way of hair, lifestyle, fashion. She says that black girls swimmers are naturally glamorous! Since Jonna has first hand experience in maintaining healthy and gorgeous natural hair we knew she'd have great tips for our readers. Jonna sat down with Black Kids Swim and gave us a real education on how to take care of our swimmers' hair.
I understand that Black Kids Swim readers have children who are in the pool 3 – 6 days a week and that is very hard on their hair.
[emaillocker]
Many people think that because we have thick hair it is super tough and resilient. But that is not true. It's exactly the opposite. Natural hair will not stand up to abuse just because it is not chemically treated. So parents have to take those extra steps to keep it clean and moisturized. Parents have to keep the chlorine off of the hair without completely stripping the hair of its natural moisture.
Just rinsing the hair and then adding conditioner after swim practice is not enough.
Make sure you get the chlorine out. A clarifying shampoo or a shampoo with sulfates will ensure you are really cleaning your child's hair. However, stylists differ on this so parents may want to consult with a cosmetologist. The sulfate-free movement is, in my opinion, not including people who are exposed to chlorine several times a week. Swimmers are a very special population.
Many shampoos include sulfates.
Sulfates are found in cleaning products, it breaks up oils. So sulfates work on your hair they same way they work on greasy dishes. They remove grease and dirt but they also remove all of the good oils from your hair as well. And doing that on a regular basis to your hair can be damaging. But there are cleansing shampoos that don't have sulfates
Use deep conditioning treatments to maintain the health of the hair.
In the natural hair community people talk a lot about co-washing just using conditioner. But for swimmers that is not going to be enough because you have to keep the chlorine off of the hair. Once or twice a week use a steamer to deep condition the hair so it can withstand the daily shampooing. And always follow the shampoo with a traditional conditioner for 5 minutes and then also use a leave in conditioner.
Involve your child in the hair process!
See how much your children can do themselves, get them involved in the process. They will feel empowered and getting them to help will take some of the pressure off of the parents. Just because you have natural hair you can't skimp on time spent maintaining that hair. Teaching your child how to do simple styles on their own hair will ensure they know how to take care of their hair – most teenagers want that control over their fashion and style anyway!
[/emaillocker]