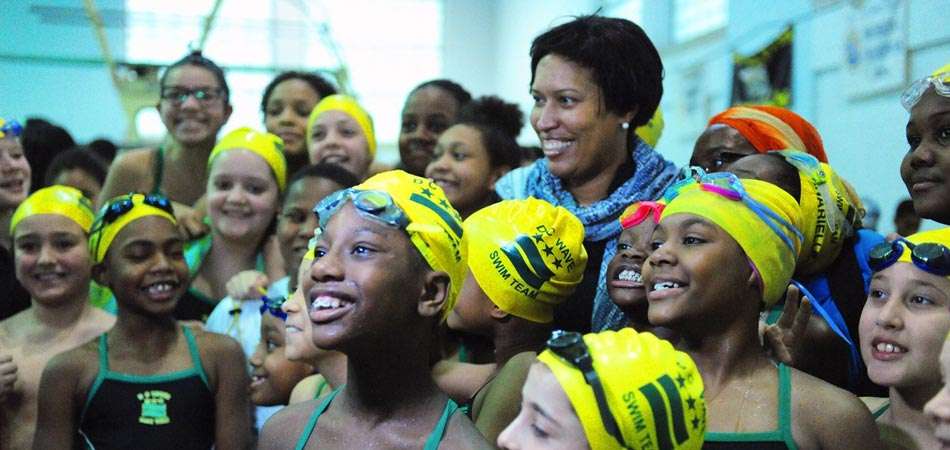 DC Wave Swim Team To Host 34th Black History Invitational Meet
By: Brianna Rhodes
The 34th Black History Invitational Swim Meet (BHISM) will take place at the Takoma Aquatic Center from Feb. 14th through Feb. 16th in Washington, D.C.
Sponsored by D.C Parks and Recreation, BHISM is held every year during Black History Month to recognize the significant contributions Black Americans have made towards the sport of swimming and the country.
The meet offers Black swimmers and community supporters the opportunity to come together and celebrate each other, since the sport unfortunately lacks diversity and representation across the United States.
Over forty teams are expected to participate in this year's meet, with some traveling as far as Michigan, New England, Ohio, and many other areas.
Black Kids Swim spoke with BHISM director, Robert Green, about what to expect from this year's meet. Green, who is also the head coach of the host team, DC Wave, shared his thoughts on the importance of the sport to Black culture and its impact during Black History Month.
Read about the meet's legacy and what attendees can look forward to at this year's meet below!
Black Kids Swim: What can participants and attendees expect from this year's meet?
Coach Green: This year's meet is a little different than the past years. We're running prelims and finals this year. The top 16 swimmers from each event in prelims will get an opportunity to swim again that evening at finals. This is typically how higher level championship meets are run. At the Olympics, they do prelims semifinals and then finals. So this being an Olympic year and the meet being 34 years old, it was always kind of a dream of the previous meet directors to do prelims and finals, because it just gives the athletes another shot at getting that qualifying time or breaking that record. So that's a new wrinkle that we're going to add this year to the meet. We're pretty excited about that.
Black Kids Swim: Why do you think it's important to continue to host this event for Black swimmers every year during Black History Month?
Coach Green: Black History Month is important because it highlights our history which is oftentimes overlooked and not celebrated, so this month is special to all of us in the African American community because it gives us a chance to celebrate our accomplishments and this meet  ties right into that. There's so many African American swimmers. Some are extremely famous like Simone Manuel or Cullen Jones, but there are so many more who went on to swim in college or who became coaches and have made major contributions to the sport – we want to celebrate them as well. This meet provides top level competition and it's well run and gives kids the opportunity to showcase the best versions of themselves. We feel like celebrating that history as well.
Black Kids Swim: There are situations where there are only a few Black swimmers on a team. How does it feel to have this meet be an instrument of outreach for underrepresented communities to come together and feel comfortable around one another?
Coach Green: I think it's extremely important. I mean, representation, it matters. When we see people who look like us, who come from where we come from and doing the same things that we want to do one day, it gives us encouragement and motivation to keep working. So for those kids who may be the only Black swimmer on their team, that's a hard life to live because you know you're constantly feeling like maybe you don't belong. Each and everyday you're reminded that you are different and that can weigh on the mind of a young person. So coming to a meet like this where you see literally hundreds of other swimmers that look like you, doing exactly what you love to do. I think for a number of parents and for swimmers it's refreshing, invigorating and reenergizing. It really helps to motivate them in the second half of the season to keep pushing for their goals.
Black Kids Swim: During Black History Month we talk about an array of topics, but can you share your thoughts about the significance of the sport when it comes to Black History?
Coach Green: You know, swimming has a very long and ugly history in our country. Enslaved Africans were brought over from Africa via ships and many of them drowned on the way here. Then over the generations African Americans were denied access to education, whether it's reading, writing and certainly swimming. As a community, we have been deprived of education, whether it be formal or you know recreational in terms of swimming and sports like that. So, to have an opportunity to reconnect with what was lost or what was taken away from us, I think it is important as well.
Swimming is the only sport that can save your life. I know it sounds cliché. People say it all the time, this is the one sport that if you at least know how to swim, you're not going to die when you get into the ocean, the lake or on a boat. For our community, it really is a lifesaving sport because for so many generations, Black and brown people were not even allowed to go to pools or learn how to swim. You have generations of families even to this day who don't know how to swim, never been to a pool or don't go to the beach. My own mother doesn't know how to swim. It does hit close to home, so this meet celebrates our history, but also our accomplishments and is inspiring others to learn how to swim and get into the water. I think it's important.
Black Kids Swim: Can you talk about the significance of the meet's legacy and how it has been able to last after all of these years?
Coach Green: I credit that to the teams who continue to come to D.C. every year. Without these teams and these coaches, many of whom are African American themselves (also parents and officials) supporting this meet, obviously we wouldn't be here 34 years later. The meet originally started as just a dual meet between the local team here and D.C. and a team in Baltimore. It was just a small get together meet and over the years by word of mouth, the meet started to grow. We started getting teams from Philadelphia and New York. The last 10 years or so we've had an excess of 1,000 swimmers at this meet every year.
I credit the teams and the coaches who are working with their athletes and communities of color across the nation for doing the work that they do each and every day. Also recognizing the importance of a meet like this and continuing to support it.
Black Kids Swim: How does it feel to know that many accomplished swimmers participated in this meet?
Coach Green: It's humbling I think just to be a part of this historic event. To be a part of anything that's greater than yourself, I think is really special. For this meet to be what it has been for so many people of color and for people that have gone on to swim at higher levels like Giles Smith and Cullen Jones. I think that being a part of this is extremely humbling. It inspires me to want to continue to make the meet as great as we can. [It also inspires me] to continue to make this meet a real destination for swimmers so that they know that when they come here, they're going to come to a really well run meet and that the community is going to help them get to the next level…It's inspiring and it makes me want to continue to do more.
Black Kids Swim: You all have had many notable honorees over the years, who will you all be honoring this year?
Coach Green: In the past, we've done a formal honoree ceremony, but with us changing the format this year, we still want to honor those who have made significant strides in the meet and in our community. We have two honorees.
The first is Simone Manuel. She is the superstar of the sport right now. We wanted to highlight her because this is an Olympic year. Also, what she did in 2016, I think was just a groundbreaking moment being the first woman of color to win an Olympic gold in an individual event. I mean we've done it in relays. We've gotten silver before, but we have never been recognized as the pound for pound number one, top person in that event. Her doing that, I think she is an inspiration to young African American girls across the country. They too can be the number one best in the world at anything they put their minds to.
Our second honoree is Mohamed Chouikha. Mohamed is a meet official and he is our meet referee. He's been our meet referee for the last I want to say six years (six meets). We wanted to honor him
because he's retiring. Also, without Mohamed we wouldn't be where we are today. There was a period where the meet was kind of on one leg…we didn't know if we would be able to continue to do the meet because we had a hard time finding officials, specifically meet referees. With USA swimming, you have to have a meet referee run your meet. We had all the other positions filled but we just didn't have a referee. Mohamed used to have two girls that swam for a local team here, but his girls are now grown up and they don't swim anymore. He stepped and he said, 'You know what, I want to join your team and I want to be your meet referee for this meet. I think it's really important.' So he came in almost at the 11th hour and served as our meet referee for the last five or six years and he's really brought a lot of insight to our organization and our staff in terms of what does it take to run a really top level meet. I credit a lot of the innovation and a lot of the things that we've done over the last few years in terms of making the meet a little tighter a little faster, little bit more well run, to his leadership. So we wanted to honor him as well.
Black Kids Swim: How do you think this annual meet will continue to change our community's views on swimming?
Coach Green: Change is slow and it takes time. Like I said, what was done to our people was done for a very long time and so change is not going to be over night. I'd like to believe that the kids that are at this meet whether they go on to swim in college or not, some of them most likely are going to get into coaching or teaching. Many of them will go on to have children themselves. So to see this many children of color swimming and swimming competitively, gives me a lot of hope for the future. For the next generation, those kids are going to grow up with parents who are swimmers and parents who are swimmers are more likely to get their kids involved in swimming. So that next generation that's growing up with parents who are swimmers, whether it's at the high school level, college level or international level, those kids are going to be the ones to watch out for because they will have grown up in the pool.
Black Kids Swim is a huge supporter of the BHISM. Since 1987, the event has made a huge impact on Black swimmers lives and will continue to do so for years to come.
Black representation matters. Black swimmers matter. Not only during Black History Month, but 365 days of the year.
This interview has been condensed, arranged and edited for clarity.
To learn more about how to support or attend the event this year, please click here.
*The event is an approved meet and is open for all swimmers. Swimmers do not have to be a USA swimming member to participate, but they have to meet the qualifying time standards to compete.