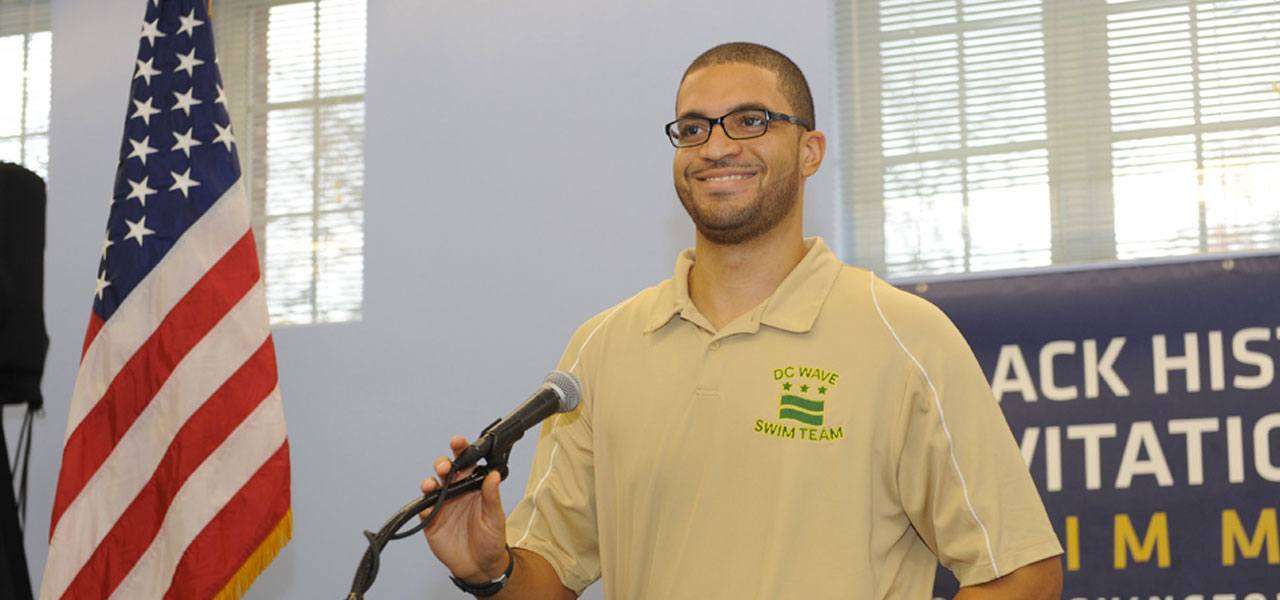 Coach Robert Green Speaks with BKS
Coach Robert M. Green is the head coach for DC Wave and the Competitive Swimming Programs manager for Washington D.C. Parks and Recreation. With over 10 years of coaching experience and practically a lifetime of swimming experience we thought he'd be a great person to interview. Coach Green sat down with Black Kids Swim to give us his take on black participation in the sport of competitive swimming and advice on how to ensure more black children succeed in the sport.
BKS: How were you introduced to the sport of swimming?
RG: I grew up surrounded by competitive swimmers. My father, Robert J Green, is the aquatics director for St. Albans school and has been since 1981. My aunt, Regina Hawkins attended Johnson C. Smith College on a swimming scholarship and swam competitively in the 1980's. She was the swim coach at Cardoza High School in Washington DC.
BKS: When did you learn to swim?
RG: I started swimming at a very young age. I was always in swimming lessons and attended swim camps during the summer. Swimming was just always a part of my life and it wasn't until I got older that I realized that most black kids didn't have the same experience.  Many black kids had never even visited a pool. One of the reasons I still do what I do is because I would like to share my experience with as many people as I can.
BKS: You are familiar with the statistic that 70% of African Americans do not know how to swim. What is your response? 
RG: It's true, it may be 70% or 65% – but it's true. My own mother doesn't know how to swim. Whether the cause is segregation or stereotypes, the truth is that many people never had the opportunity to learn how to swim and take part in aquatic programming and develop a love for it. The statistic is alarming but it is something that in this generation alone we can change.
[pullquote align="right" class="" link="" color="#066cb2″ size="20″]Wether the cause is segregation or stereotypes, the truth is that many people never had the opportunity to learn how to swim and take part in aquatic programming and develop a love for it.[/pullquote]
BKS: Parents and coaches in the DC metro area agree that opportunity and access are major barriers to black kids learning how to swim. How can we change things in one generation? How can we significantly reduce the number of African Americans who do not know how to swim?
RG: There are several ways. We can increase access to 'Learn to Swim' programs in communities where black people live and work. Promote and support those programs – which will require a commitment from local government and local swim teams. Swim clubs can offer low cost swim lessons or swim programs to get young people interested in the sport. If you start young it snowballs and feeds itself. If we try to interest high school or college aged kids – they have a lot going on in their lives and they won't always commit to learning how to swim. If learning how to swim becomes too difficult or time consuming they are quick to drop out and try something else. We have to start young and support initiatives by providing qualified instructors, open access to a wide variety of classes, and offer these classes in black communities so people without transportation can reach the classes.
BKS: When my parents grew up their extra curricular activities were largely free – offered by the church, YMCA or community centers. Our daughter swims and it is an expensive sport to participate in (about $130 per month) – swimming is cost prohibitive for many. What can we do to remove cost as a barrier to entry?
RG: Money talks in today's world. We can reach out to corporations to serve as sponsors of programs that benefit the community – taxpayers can't pay for everything. Cost as a barrier doesn't mean the lessons have to be free – but they could be more affordable. We have to think creatively – fundraisers, church groups. Churches are an excellent source of community activism and resources.
BKS: Do you know of any teams in the DC Metro area that have need based scholarships? How can we remove money as a reason to avoid the sport.
RG: DC Wave is run through the city government and DC residents can seek fee assistance. USA Swimming will waive the registration fee for 'outreach athletes' which can save you about $80. However, most teams are privately owned or coach owned and sometimes the owners are not in a position financially to give out scholarships. Sometimes larger teams are able to give scholarships. But swim teams are essentially run like small businesses and they don't always have the ability to give out scholarships while continuing to provide the necessary training and resources to their swimmers. Other city run teams that may offer fee assistance are Rockville Montgomery RMSC, PG Parks and Rec – PG Pride, Hearndon Aquatic Club – Hearndon Parks and Recreation, and the YMCA Sea Dragons – Silver Spring and Alexandria
BKS: Many parents hope that their child earns an athletic scholarship for swimming. Did you earn a scholarship?
RG: No. My parents were great and they never forced me to swim. Although I enjoyed swimming and swam competitively in high school  I was not fast enough for a scholarship. However, I did learn the fundamentals of swimming and during college I was always able to find jobs using my swimming skills. So swimming helped me feed myself and pay my college bills. Most importantly, I now have a career that I'm passionate about and that I love. Swimming is a life skill. It's a low impact sport, so unlike football or basketball where you have a short window of time to play, you can swim for your entire life.
[pullquote align="full" class="" link="" color="#066cb2″ size="20″]I did learn the fundamentals of swimming and during college I was always able to find jobs using my swimming skills. So swimming helped me feed myself and pay my college bills. Most importantly, I now have a career that I'm passionate about and that I love. Swimming is a life skill.[/pullquote]
BKS: What do you see as the major benefits earned through swimming?
RG: Swimming is more than a path to a college scholarship – it opens a world of job opportunities. I started as assistant coach of DC wave as a junior or senior in college and I've been here 10 years now. I fell in love with this career. The relationships you build with the parents and the swimmers is wonderful. The swim community is very close knit, you will build lifelong friendships. So there is tremendous value in being on a swim team. The 3 hours a day I spend on deck is the most fun I have at work. I couldn't walk away from it. Swimming is also a lifetime skill. If you can swim you're not afraid to get on a boat, you have confidence that you can survive in the water. If the boat tips over you know you'll live to see another day. You can keep yourself alive if you're ever in a dangerous aquatic situation. You also have a way to stay healthy and physically fit for your entire life.
BKS: How is the school system impacting the sport of swimming?
RG: Now that school systems are starting to take sports out of the curriculum, extracurricular swimming is a great way to get your kid involved in sports. Even if they never become a successful competitive swimmer. Sports is usually the first place you learn how to be a member of a team, how to accept others who are different, where you learn how to work together, develop a work ethic. It's where kids learn that the effort they put in directly relates to what they get out of it. It's where kids begin to understand; "What I put in is what I'm going to get out." I could go on all day long about the benefits.
BKS: As a coach and as part of DC parks and rec, what is your vision for black kids in the sport of swimming? What do you want the world of competitive swimming to look like in five years?
RG: More representation at the higher levels of the sport. For African Americans and Latinos, just more diversity in the sport overall. In the summer leagues, with young kids, I'm seeing a lot of diversity.  In the last 10 years I've seen many more African American and Latino children swimming. So, it's only a matter of time before these children are swimming at the collegiate levels and international level swimming and Olympic level swimming. And that's why I'm so confident that we can change that 70% statistic in one generation. In 5 years I'd like to see more black kids at zones and sectionals and nationals and junior national meets. That would be my vision, more of us at the bigger and faster meets.
RG: The one black swimmer that everyone knows is Cullen Jones from the 2008 and 2012 Olympics.  He does the 50 free event. But there are more young black swimmers coming up behind him. At the 2015 NCAA Swimming and Diving Championships we had three African American women on the podium for the 100 free event. Simone Manuel, Lia Neal and Natalie Hinds won first, second, and third place. It was an historic moment, there had never been a photo like that for NCAA swimming. Moments like that give me hope, it gives me hope that the face of the sport is starting to change. It is not going to be predominantly white for very much longer. In five years I'd like to see more of 'us' on the podium.
BKS: Why do you love swimming?
RG: I've been blessed to have great teachers and coaches throughout my life. At the time you don't always appreciate it because they are trying to make you do something you don't necessarily want to do. But when you grow older you realize 'Oh, that's why Coach was telling me to do this or that' and you learn to appreciate what they did for you. And I wanted to have that same impact on the lives of youth in my community. I wanted to impact peoples lives. And I think there's no better way to do that than to be a teacher or a coach; because you are working with them every single day trying to get them to become better swimmers and more importantly better people. I just feel extremely blessed. It's rewarding.  I know that what I'm doing every single day is going to change somebody's life. It may not change their life today or tomorrow but 5 or 10 or 15 years from now when they are going off to college  or starting a family of their own they will remember some of the lessons I shared when they were younger and hopefully those lessons will help them to become more productive people and more successful. I love it because I'm having a direct impact on peoples lives.