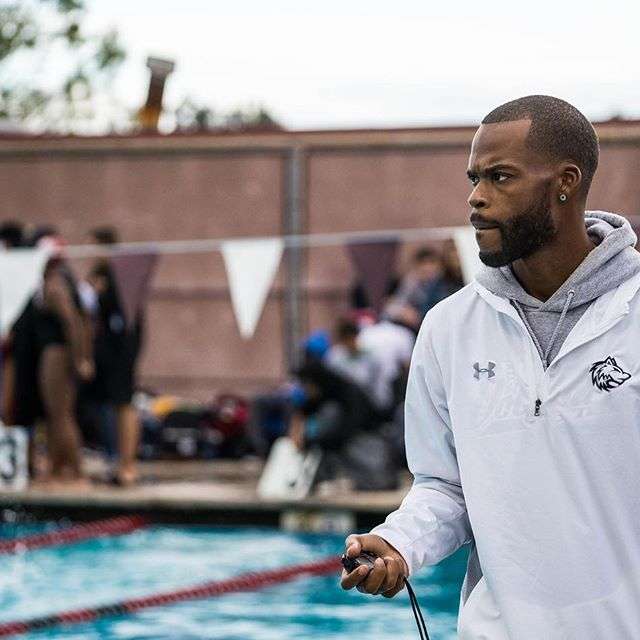 College Swimming Scholarship Advice From a Black Collegiate Swim Coach
If there's one thing you should know about Coach Nathan Harding, it's that he's an encyclopedia of knowledge.
Not only is Coach Nate a former swimmer himself, he began swimming competitively at age five, he's also currently the Assistant Swim Coach at the University of Redlands. Coach Nate boasts an impressive and enviable resume. He served 2 seasons as an Assistant Coach for Pomona Pitzer Swim and Dive – which is not your average competitive swim team, but a nationally ranked team and home to 16 NCAA qualifiers and 1 NCAA champion!
As we know, there is an exceptional amount of pressure placed on young athletes. From the actual competitions to competing for limited college scholarships. Additionally, swimming can be quite a lonely sport and it's not uncommon for competitive young athletes to experience burnout quite early in their swim career. Coach Nate has dedicated part of his career to preventing burnout in young athletes by educating young swimmers on alternatives paths to entering the world of competitive swim other than the competition side.
We were fortunate enough to sit down with Coach Nate to talk about competitive swimming, the importance of summer swim leagues, the realities of collegiate swimming and athletic scholarships, and ways to avoid burnout.
Black Kids Swim: Would you mind telling us a bit about yourself and how you came to coach at both Biola University and Wolfpack Swimming?
Coach Nathan Harding: Yes I just finished up my 2nd and final season as the Assistant Coach a Biola University. Biola is a private Christian University located in Southern California, located about 30 min from the beach and 40 minutes from Los Angeles. I was fortunate enough to serve as an assistant at Nationally ranked Pomona-Pitzer Swim & Dive for two seasons prior to me coming to Biola. My coaching career on the High School level and being blessed enough to be at the right place, at the right time, and talking to the right person opened the door for me to be able to coach on the College level. I have been coaching High School Swimming for about 7 years. I've coached three seasons as the Head Swim Coach at Claremont High. Prior to Claremont High, I was the head Aquatics Coach (Boys Water Polo, Girls Water Polo, & Swim Coach) at Carter High School in Rialto, CA. I'm happy to say that I recently began coaching for the University of Redlands Swim and Dive Team.
BKS: Congrats on the new opportunity! Looks like you've been coaching at various levels for quite some time. Were you always a coach or are you also a former competitive swimmer?
NH: Yes I am a former competitive swimmer. I started swimming competitively at the age of five. After breezing through a 2-week session of swimming lessons, my mother thought she was signing me up for advanced swim lessons but it was actually a summer league swim team. We decided to try it out and never looked back.
As far as barriers for Black swimmers; the biggest obstacle is just having a coach who understands culture, family dynamics, and the history of aquatics in the Black community.
BKS: So happy you mentioned summer swim! How did summer swim impact your growth as a swimmer? Do you find that there are noticeable differences between swimmers who've been on summer teams and those who have not?
NH: Summer league introduced me to the sport! I swam two seasons at age 5 and 6. I came back to the summer league at age 12 after swimming on a few high level year-round programs from ages 8-11. I believe that summer league teams are an excellent way for kids and parents to get involved with and learn about the sport of swimming. In my opinion, summer leagues can cater to the widest range of varying ability levels that a swim team might have. The year-round club experience can be intimidating for swimmers who haven't had at least a season or two of summer league swimming. The summer league swimmers that I have coached, are usually more eager to improve and have a hunger for the sport. This is probably because they've had an 8-10 week teaser of the sport.
BKS: And, in addition to summer swimming, did you also swim during the school year?
NH: I swam competitively off and on (because of financial reasons) until I got to high school. I swam all 4 years in high school, along with playing Water Polo and basketball. I had the opportunity to swim in college but could not afford to pay for a Division 3 Liberals Arts Education from the programs that were interested.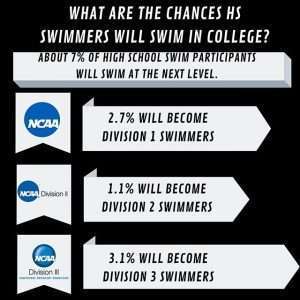 BKS: Swimming can be a very expensive sport – and the financial barrier can prevent some kids from swimming. That's why we started the Summer Swim Team Scholarship Fund, to put more Black kids on summer swim teams. Could you talk a little bit about Burnout, especially from athletes who are either competing or swimming year round?
NH: I talk to a lot of High School swimmers who suffer from burn-out! With specialization at an all time high in youth sports, it's important for our youth to take it back a notch every once in a while. I played all sports growing up. I swam the most, but also did other sports like Basketball and Water Polo. A lot of year-round swimmers would be surprised how refreshed and faster they would get if they just joined a summer league swim team while trying a new sport every other summer. Summer leagues offer a chance for seasoned swimmers to take a break from the grind of 2-2.5 hour practices 5-6 days a week and have fun.
BKS: Absolutely! And sometimes, parents unknowingly put a ton of pressure on their kids that can cause them to want to leave the sport. You spoke about how a team wanted you to swim, but didn't offer you a scholarship. How can swimmers and parents prepare for the realities of college recruitment?
Most parents are unaware that NCAA has scholarship limits placed on each sport, including college swimming.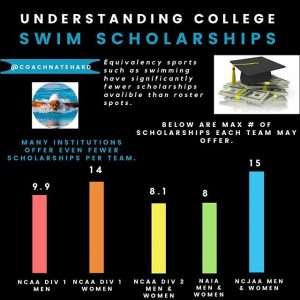 NH: If swimmers are interested in NCAA Division 1 & 2, both athletes and parents should lean more on academic scholarships for students with maybe an athletics scholarship added to the mix (if the student is fast enough) to help supplement college tuition. It is EXTREMELY rare for even the best of college swimmers to get a full ride Athletic Scholarship. It is difficult and rare in most occasions to receive a significant swim scholarship because each college swimming program has limits to the amount of scholarship money available. When people think of scholarships, they often think of scenarios like Basketball or Football in which most of the roster is on a "full-ride" or majority paid scholarships.
Revenue producing sports like basketball, and especially football, give full scholarships to the majority of the team members because these sports usually bring in money for the University. All other collegiate sports, such as college swimming, end up costing the university money. Most parents are unaware that NCAA has scholarship limits placed on each sport. For example for Division 1 Men's College Swimming the maximum number of scholarships allowed per team is 9.9. And most swim teams consist of around 28 swimmers. Even if everything were exactly even, each student athlete would receive a maximum scholarship of 35%. But in reality, scholarship amounts always vary and are usually never even. The athletic scholarship amount can range from covering just books to a full-ride scholarship.
These scholarship limits placed on Universities were set in place to give female student athletes an equal number of scholarship as male student-athletes. Most coaches depend on academic scholarships to help out with the cost of tuition. In fact, most students are more likely to receive a significantly higher academic scholarship than athletic swim scholarship if students have good GPA and test scores!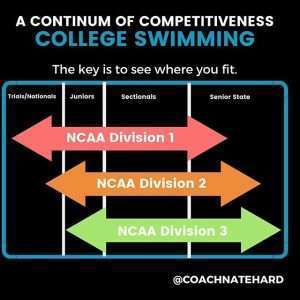 From my own experience in dealing with parents during the recruitment process, parents just aren't aware how college sports work.
Add that to the fact that we as a culture have had countless young men and women receive full-ride scholarships for their football, basketball, and on rare occasions other sport talents. This has been a wonderful opportunity for our talented Black student-athletes and at the same time has been the cause for a lot of misinformation about college sports scholarships
BKS: So, after college, what are some career opportunities available to kids with competitive swim skills?
NH: Honestly in 2019, The possibilities are endless. Where there is a need, there is an opportunity for a lucrative career in Competitive Swimming, Aquatics Services, and in Athletics. Competitive swimming also usually opens the door for jobs and sometimes careers in Aquatics. Tens of thousands of teenagers work their first job as lifeguards or swim instructors during the summer months. I started teaching swim lessons and lifeguarding in the summer months during high school. Being a part of competitive swimming gave me the confidence to teach young kids how to swim. Some potential career opportunities that I can think of are:
Jobs in Fitness such as Aquatics Fitness coordinator,Water Aerobics Instructor, Red Cross Lifeguard Instructor,
Non profit Aquatics Directors & Coordinators for organizations like Boys & Girls Club YMCA & Salvation Army
University Aquatics Coordinators/Directors for Colleges that run club swim teams and college swimming teams out of their facilities along with offering Aquatics classes for college students.
BKS: In your opinion, what are the barriers specifically faced by Black swimmers? And, where do you want the sport to go from here?
NH: As far as barriers for Black swimmers; the biggest obstacle is just having a coach who understands the culture, family dynamics, and history of aquatics in the Black community. Familiarity and experience with these things may encourage a smoother college recruitment and college athlete experience for swimmers and families involved. I know there aren't very many Black coaches or Black swimmers competing in college swimming. We are making progress and the number has definitely grown but we have a long way to go!
Having a coach who understands what it's like to be a Black age group swimmer, or a Black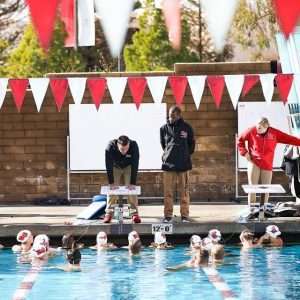 college swimmer in a predominantly caucasian sport can go a long way. I would like to go to championship swim meets at the age group and college level and see the level of diversity that our country represents. This starts at the learn-to-swim level. If more of our kids are becoming water safe, then more of them will try competitive swimming, ultimately affecting the number of Black college swimmers. I plan to continue to teach swim lessons in our communities as well as recruit and inform prospective student-athletes and parents on the realities of college swimming! I would like to see Black parents become more knowledgeable about the sport and aquatics in general. Sports have always been an integral part of our culture. My hope is that the Black community will continue to grow to achieve new heights in the sport of competitive swimming.
You can find Coach Nathan Harding on deck as Assistant Swim Coach for @uredlandsswimdive and on Instagram @coachnatehard