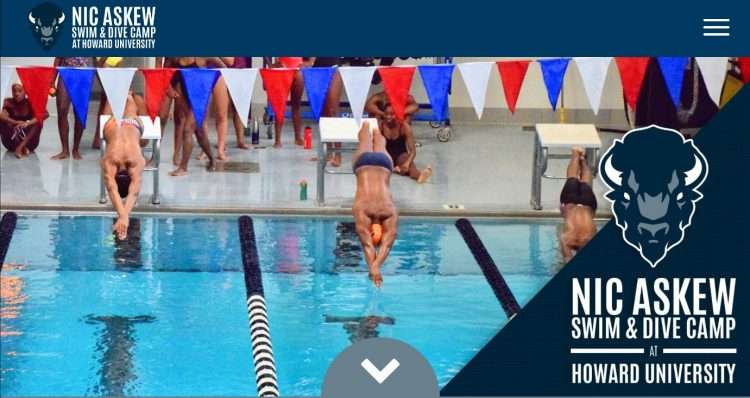 Register for the Nic Askew Swim and Dive Camp
In 2018, the Nic Askew Swim and Dive Camp at Howard University welcomed its first group of swimmers.  The camp was created to serve both competitive swimmers and those who do not know how to swim. As the only Historically Black College/University (HBCU) with a Swim and Dive team, Howard University is uniquely positioned to provide quality training to the next generation of competitive swimmers.
The camp offers a range of opportunities for swimmers of all skill levels. Swimmers who participate can  learn how to swim, refine their stroke technique, or gain the competitive edge necessary to succeed at the elite levels of the sport. The beginner level is for those children and teens who have never touched the water or are uncomfortable in the water. Advanced beginners are comfortable in the water but lack sufficient swim skills to swim one lap without stopping. Intermediate swimmers can swim, and are working on strengthening their technical base in the four competitive strokes as well as starts and turns.
For competitive swimmers with experience, the Nic Askew Swim and Dive Camp offers a three day elite camp and day camp option. This is a high intensity training opportunity for swimmers who are ready to take their technique and competition to the next level. India Jackson attended the elite camp the summer after she graduated from high school. As a Freshman at Howard University, she broke a 19-year-old record in the 100 breast during conference finals.
India says participating in the Nic Askew Swim and Dive Camp renewed her passion for the sport. Participating in the camp set her on the path to breaking the long held school record. "Coach Nic runs the camp exactly like he runs practice for HU swimmers. Being surrounded by Black kids and Coach Nic who love the sport is amazing. HU is the place where everyone wants to go – especially if you're a swimmer."
Towards the end of her high school career, India lost excitement for the sport and felt like she was "just going through the motions." The camp "increased my confidence and passion for the sport. By being with a group of Black swimmers I got excited again, and I began to train harder."
Support for the camp continues to grow. Initially, Coach Askew anticipated the majority of swimmers would come from the surrounding D.C metro area. However, last year, swimmers came from across the country and even Trinidad and Tobago traveled to Washington D.C. to participate in the camp. Howard University President Wayne Frederick is personally fundraising for the camp to ensure tuition cost will not be an obstacle for kids who want to attend. Those interested in scholarship opportunities should reach out later this month.
For Coach Nic, the camp is more than a swim skills camp. "Our desire is to give kids an opportunity to train in an environment that they don't have access to every day. They get to be on an HBCU campus and see college life first hand. Kids are interacting with coaching staff and HU swimmers – and that's a powerful experience. It allows them to envision themselves on the path to college."
Registration for the Nic Askew Swim and Dive Camp is open now!
Camps begin June 7 and run through July 12. Register before March 16th and save $50. Questions? Contact Coach Askew at nicholas.askew@howard.edu.