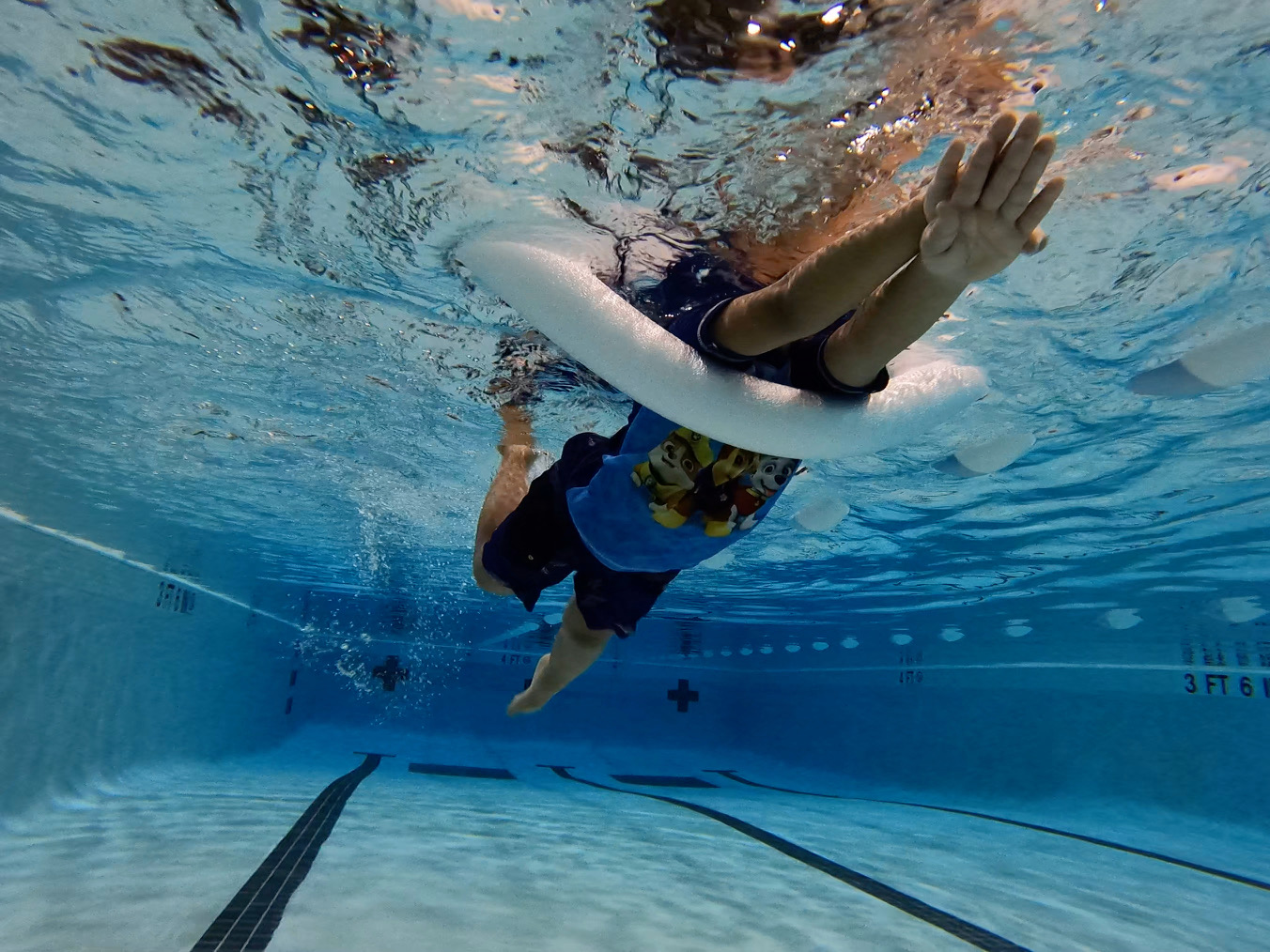 Learn How The Founder Of NotYetPro Is Developing A Premiere Swim School For The Black Community
When he was five or six years old, Tyree Powell remembers being afraid to open the front doors to the building where he took swimming lessons. Every time he smelled the first whiff of chlorine, he would start crying on the inside and say, "Oh my god, I have to go in here again." 
Even though he mustered up the confidence to finish the program, Powell underwent two near-drowning experiences before turning 11. Still, his rough start did not determine his future.  Over 30 years later, the now swim school instructor is the founder and CEO of NotYetPro, a 501c3 non profit focused on assisting amateur athletes with access and exposure to sports opportunities. NotYetPro is also a swim school that offers lessons and training to help people gain access to aquatic sports and activities. 
Powell's Swim Journey
Athleticism is in Powell's DNA. The Philadelphia native grew up as an all-around athlete participating in many sports such as basketball, tennis, and soccer. It wasn't until he turned 11 that he decided to return to swimming as a sport, thanks to his sister, who was taking swimming lessons at the time. When their mom asked her what sport she wanted to play, she said she wanted to be a swimmer, and Powell decided he wanted to be one too. 
"My mom did what she did and found us a team," Powell recalls. "Luckily PDR (Philadelphia Department of Recreation) swim team was in our neighborhood, and she got us started with them."
The NotYetPro head coach started his swimming career practicing with 5-year-olds under PDR swim coach Elwood "Woody" Madison. He learned all of the swim strokes including freestyle, backstroke, breaststroke, and butterfly.
It didn't take long for Powell to build his stamina and endurance. He worked his way up to compete at higher levels under his second coach Tracy Freeland. Powell then began swimming in high school at Central High School while still swimming for the PDR swim team. At that time, he started training under Black legendary swim coach and PDR swim team founder Jim Ellis. The movie Pride is based on Ellis's story. Powell says that he wouldn't be where he is today without Ellis.
"Swimming for PDR was pretty serious," Powel said. "You're practicing six days a week, sometimes twice a day – for 50 weeks of the year – versus a high school team, which is only one season of sports in school. When I came to Central, it was in the middle of a swim team dynasty. I think they had won the championship maybe seven or so years prior.  Powell shared, "although in my senior year, we lost a regular season meet for the first time in 10 years, I was fortunate to continue the Central High School Swim Team's championship dynasty for all of my four years."
Powell received many college swimming scholarships and accepted a scholarship to Towson University in Towson, Maryland. He decided to attend the university because of its diversity and large Black community. 
Creating NotYetPro
After college, Powell took a break from competitive swimming and enjoyed life as a young professional – even living and teaching overseas in Shanghai, China. As years went by, Powell started thinking about his life's legacy. He decided he wanted to return to his passion for swimming by teaching lessons and providing opportunities for swimmers. 
In 2018, Powell began teaching kids ages four and up swimming lessons, committing to teach kids how to become comfortable in the water, learn effective swim skills, and build stamina. 
"Being a Black swimmer, in particular, affords some professional opportunities," Powell said. "Teaching my kids how to swim has led me to teach others how to swim again. People saw me teaching and began to inquire. I think there is an unspoken level of comfort when taking swim lessons with someone who looks like you" Powell stated.
Powell discovered he had a true gift for swim instruction while working in Philadelphia one summer. A mother was looking for someone to teach her 3- and 5- year old sons how to swim, and Powell volunteered to help. He provided one-hour lessons three times a week. According to Powell, after just six weeks, the brothers were swimming about 10 laps at a time, kicking with the kick board, and doing flip turns.
"I was like, this is amazing. I gotta do this again," Powell said. "I never stopped teaching lessons after that. It was always something I loved to do."
Powell had his first lesson with an adult in 2018. He taught swimming lessons to a woman in her fifties. She revealed to Powell that she was not afraid, but she also wasn't comfortable. So they started from scratch by helping her feel comfortable breathing and helping her relax in the water. Over the past two years, Powell has increased his instruction for adults, including triathletes and people in the military. 
These initiatives are what helped NotYetPro become what it is today. The swim school has since been the leading swim lesson provider in Laurel, Maryland, and surrounding areas. 
Powell mentioned that he received helpful advice from Ellis in 2019 while developing NotYetPro. 
"I said, coach, I know you're a swim coach, but I'm venturing away from coaching and trying to start this lessons program. Do you have any advice?" Powell recalls. "And he's like, 'Number one. You're going down the right path.''
NotYetPro became an official nonprofit in 2021 to help people explore different physical opportunities outside of mainstream sports, such as whitewater rafting, scuba diving, and more. 
"It just opens up new opportunities for people who may not have historically done those types of things," Powell said. "It's a necessary skill. I always say swimming is the only sport that will save your life."
The swim instructor says most of his clientele are Black, and he hopes to continue serving his community with experienced and talented instructors who look like the community he wants to serve. 
Powell highlights that he is very passionate about connecting Black people to the water because it has many benefits, and he wants to dispel past negative relationships we've had with the water. 
"We have a long history as Black people with water" he reflects. "Africa as a continent has a lot of water and coastal countries. If everybody else can swim, we should be able to swim, too."
The swim veteran also shared how learning to swim and developing skills can open doors for multiple career opportunities. Some include becoming a lifeguard, running an aquatics facility, providing lessons, scuba diving, underwater photography, search and rescue, conducting research, and more. He wants to expose people to these opportunities through NotYetPro.
Future Plans For NotYetPro
He has a lot more in store for the company's future. Powell is not only actively hiring more instructors but also developing an app to help athletes gain more exposure in the sports world. He's combining his professional career in web development and his passion for sports to build an app that will allow amateur athletes to have an athletic profile on the app. He compares it to Instagram, but it focuses on athletics.
"They could use it not only for being recruited if they were at that level as a high schooler but even at just 5 years old, they can share pictures and videos with their family," Powell said. Even at 10 or 12 years old, they can share those same pictures and videos with their friends at school."
"Everybody's not going to make it to college and beyond, but if you can, then you can use this curated database of all your stuff to help coaches decide if they want to bring you on to their team," he added.
Now, on his day-to-day with NotYetPro, Powell is recruiting more clients for the swim school, and he's also scouting for support in further developing the app. 
Overall, Powell looks forward to helping more people gain exposure in the swimming world. He mentions that far too often, certain communities are priced out of the option to swim in a pool, let alone take swim lessons. 
The swim school is expanding its reach to communities throughout the Washington, D.C. Metropolitan area through partnerships with aquatic centers. He considers the sport one of the few competitive sports offering lifelong health, safety, and fitness benefits. He's a big advocate for all people to learn how to swim.
"If it is with NotYetPro or with somebody else, just make the ability to swim a priority in your life," Powell said. "It gives you a lifesaving skill and a lifelong fitness activity. And who knows, you might have a little more fun the next time you go on vacation. 😎"
To inquire about swim lessons or job opportunities with NotYetPro and NotYetPro Swim School, please visit here.