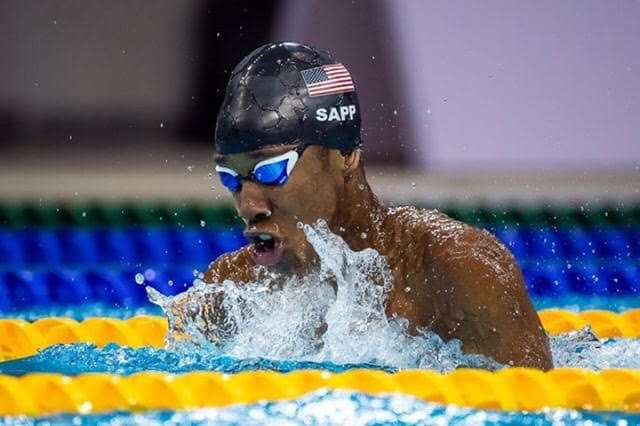 Meet Lawrence Sapp: An International Star Swimmer In the Making
At just 18 years old, the Waldorf, Maryland resident has achieved many accomplishments in the sport of competitive swimming. Lawrence Sapp is truly an international star swimmer in the making!
The championship athlete has received many gold and silver medals across the world competing in events such as the 100m Butterfly, 200m Individual Medley and 200m Freestyle. He has also broken many records including five at his high school on the varsity team and won the coach's award in his first season. At such a young age, he has already received many accolades and it looks like he will be receiving many more in the future. 
Lawrence Sapp is a swimmer to be on the lookout for in the coming years.
Sapp was diagnosed with an intellectual disability when he was young. Although he has autism, his mother Dee Sapp says he doesn't like being defined by autism because he's so much more. Sapp has an excellent memory and is described as being extremely athletic, hardworking and honest, according to teamusa.org.
Sapp is an inspiration to others and Black Kids Swim spoke with him about his background in swimming and plans for the future.
Check out the interview with Lawrence Sapp below!  
This interview has been condensed, rearranged and edited for clarity.
Can you tell me about your background as a competitive swimmer?
I have participated in high school swimming, I compete with NCAP (Nation's Capital Swim Club) and I am a member of the U.S. Paralympic Swim Team.
How did you get introduced to the sport? 
I started swimming when I was around four or five on a summer swim team.
Why do you love the sport?
It is something that I am good at. In a lot of other sports, if the coach doesn't put you in, then you don't get to play and only certain players get to shine. In swimming, the strokes are the same for everyone and the rules are the same for everyone. You get to sign up for what you want to swim and then do your best.
Why did you choose to swim competitively?
As I got older, I got better at competing. I started meeting new people and I was able to start traveling.
You've won a lot of awards, broken records and traveled internationally. Can you tell me about your accomplishments and how it made you feel?
My biggest accomplishment so far was earning a silver medal in September 2019 at the World Championships in London. I was seeded sixth in the world going into the meet and placed second (winning a silver medal). This swim also earned the U.S. Team a slot for the Tokyo 2020 games. It made me very happy and I knew then that I had a solid chance of making the U.S. Tokyo 2020 team because of how well I did. I've traveled to Berlin, Singapore, Australia, London, Mexico as well as several places around the U.S. to swim. I know that traveling so much and so far is rare [for many], so I am very appreciative of all the opportunities that I have been given.
How does it feel to swim in other places in the world compared to the U.S.?
It's fun to see how other countries train and what their facilities look like. A lot of other countries seem to train pretty hard to get a lot of yardage in the pool.
You've set an American record in the 200 freestyle (2:05.29) and defended your 100 butterfly. How does it feel to break records in general? 
My fastest record for the 200 freestyle is 2:04.37. I like breaking records because it gives me something else to strive for. Sometimes I don't know that I broke a record until someone else tells me, so that's always nice.
What is the most challenging aspect of the sport?
Getting up at 3:00 a.m. for practice.
How often do you practice? 
Six days a week.
Where do you train? 
I train with Nation's Capital Swim Club in Alexandria, Virginia.
How have you been training in the midst of this pandemic?
All dryland. I run in my neighborhood at least three days a week and do strength training at least three days a week. I still maintain my healthy eating habits too.
How does your family support you? 
They pay for my training and everything else that comes with swimming. They take me to practice and meets, and they travel to watch me compete.
What is your ultimate goal? 
To compete in at least two Olympic/Paralympic Games, with Tokyo being my first stop.
BKS is on the mission of inspiring more Black kids to participate in the sport of swimming. There's already a low number of Black kids who swim in general. How do you think we increase Black participation in the sport? 
To make it easier for them to access a pool. Let them see how much fun the sport is and how successful other Black Kids have been in the sport.
Sapp is a great role model for other young Black swimmers to look up to in the sport. He has continued to set the bar high for himself, and when he does, he always surpasses his goals.
The star swimmer will be attending the University of Cincinnati in the fall, so be on the lookout to see him break more records and attend the Olympics in the future! 
Continue to shine, Lawrence! The world is yours.