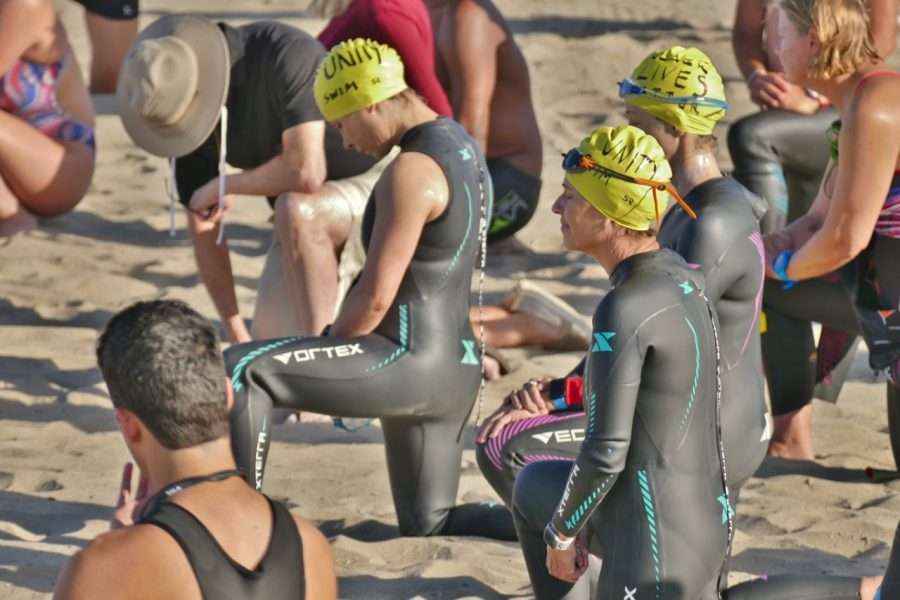 Swim Teams in Solidarity Gather at the Inkwell in California
When the going gets tough the tough start DOING!
The past 3 months have literally turned the world upside down. When many wondered how to react and where to begin, several swim teams stood up, took a knee, and swam to make their voices heard. Black Kids Swim is thankful to several Swim Teams in Solidarity who reached out to show their dedication to social justice.
In Santa Monica, California on June 15, 2020 Donna Oda and her group of open water swim enthusiasts organized a Unity Swim. They chose to gather at the Inkwell, a small stretch of beach where African Americans could safely swim during segregation. Donna wrote:
The Unity Swim took place at 7:30 am this morning at Tower 20 in Santa Monica, CA. About 75 swimmers showed up to show solidarity with the Black community. We started by taking a knee for 8 minutes 48 seconds. Then we entered the water and swam to Tower 26 and back.The swim took place at The Inkwell, a historically significant location.
As a group that swims regularly at Tower 26, we recognize that we have the privilege to enjoy the water at this beach—and any other part of the Southern California coast—without fear of harassment or violence. We want to acknowledge that this entitlement was not always afforded to black people: The Inkwell (Bay Street) at Lifeguard Tower 20 is a stretch of beach where Black people found a reprieve from the racial discrimination they were subjected to at other Santa Monica beaches (https://www.blackpast.org/african-american-history/inkwell-santa-monica-california-1905-1964/). Further, we want to stand with the Black Lives Matter community in fighting for social justice and ending present-day racism, hate, and police violence. And we don't want to ever forget the murder of George Floyd and so many others.
If you want to make a donation, we are especially fond of Black Kids Swim a non-profit whose mission is "to provide access to an increased range of opportunities for Black children by encouraging the development of proficient swim techniques."
It was a beautiful, peaceful swim!
Donna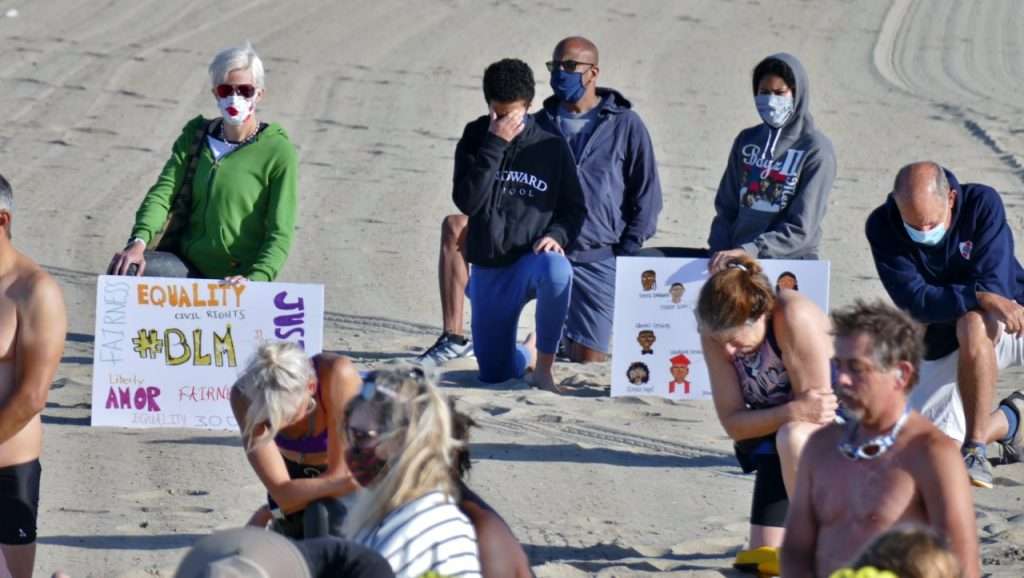 On the opposite side of the country, in Virginia, The NOVA of Virginia Aquatics Swim Team organized a Swim-a-thon to advocate for social justice. All pledges were gifted to Black Kids Swim to continue the work of diversifying the sport of competitive swimming.
The actions of these teams demonstrate what we love so much about competitive swimming. The emphasis of the team over the individual. The understanding that we are so much more powerful when we come together!