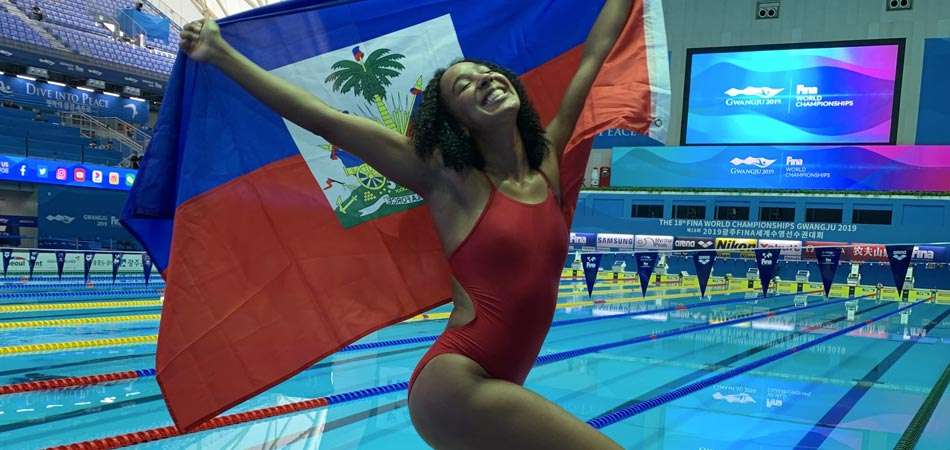 Meet Naomy Grand'Pierre: Haiti's First Female Olympic Swimmer
At just 23 years old, Naomy Grand'Pierre has reached many milestones as a Haitian American swimmer. The Canadian-born, American-raised Olympic athlete has used her platform to inspire many young Black swimmers to participate in the sport, including fellow Haitians.
Naomy Grand'Pierre was first introduced to swimming after her mother witnessed her struggling in the water at a pool party when she was young.
Sadly, three of her cousins drowned in water because they didn't know how to swim, and her mother didn't want her to share the same fate. Just a day later, Grand'Pierre's mother decided to put her and her four younger siblings in swimming lessons as a safety precaution and eventually swimming naturally became a family sport. 
Now, many years later, the 2016 Olympic swimmer is proudly representing Haiti in and out of the pool. 
Grand'Pierre spoke with Black Kids Swim about her journey as a swimmer and why she decided to represent the country in the 2016 Olympics.
"There was no official swim team back [in Haiti] in 2016," Grand'Pierre said. "So I was like, not only would I be able to pursue my dreams and go to the Olympics, but also be able to make a huge impact in my family's country and introduce swimming to the country."
"Now, I'm happy to say four years later, swimming is a huge part of the culture and people are talking about it," she added. "There's this discussion around it. A lot of people are understanding that there are more ways to represent Haiti, not just through football, but also through swimming."
The history making swimmer also said it was a surreal experience representing Haiti in the Olympics internationally.
"It was just awesome to represent an entire country, especially since it is often portrayed negatively in the media," Grand'Pierre said. To get to represent Haiti in a way that was positive and uplifting meant the world to me because it meant that I was able to help other people that are struggling with their identity as being Haitian and show them NO, there's nothing wrong with being Haitian. There are so many positive traits and aspects of it. I felt like I was able to do that on a global scale which is like absolutely mind-boggling, so it was really cool to me."
Naomy Grand'Pierre says she is happy that more conversations are being held surrounding the awareness of drowning numbers and statistics in Haiti. The country is collectively working towards improving sports development, but also safety surrounding the sport. 
Now the star athlete is using her platform to help the next generation of Haitian swimmers and athletes achieve their dreams through her #RoadtoTokyo project. She has teamed up with the Haitian Federation and they're working to provide more support for the athletes and prepare them for what it's like to represent an entire country. Her YouTube channel and Vlog, The Undercurrent, is a wonderful resource for swimmers looking for encouragement and advice on hair and skin care for swimmers.
Through her work, Grand'Pierre hopes to serve as a role model, pioneer and a leader for those who want to follow her footsteps. She aims to continue to use her platform, naomygrandpierre.com, to encourage sports development and expose more people to the plethora of opportunities that are out there in the world.
Naomy Grand'Pierre will join Black Kids Swim

during a virtual chat session on Wednesday, June 10, at 1:00 p.m. She will talk about her experience representing Haiti in the 2016 Olympics, her advocacy and more. 

Be sure to check out her interview with Black Kids Swim on Facebook Live!