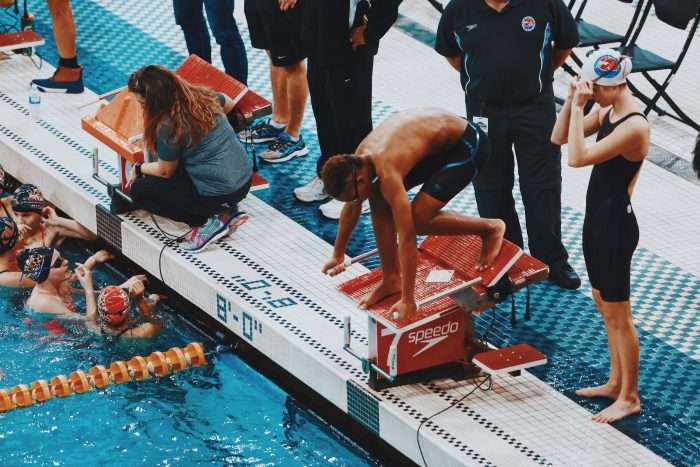 Kris Lawson: Fastest in the Nation
Kris Lawson is a 13 year old swimmer from Maryland. At 12 he was ranked #1 in the country, for his age, in the 50 back with a time of 25.52. He broke his own record when he participated in the Mid-Atlantic Age Group Championships in November of 2018 and swam #1 times in the country in the 100 Fly (53.58) and 50 Back (25.01). 
He's now in training for the upcoming Speedo's Sectionals meet in Virginia where he's made qualifying times for the 100 back, 100 free and 100 fly.
Kris is literally one of the fastest kids in the nation, for his age, in the water. Black Kids Swim had to meet up with him to learn why he loves swimming and how he came to dominate the sport.
Black Kids Swim: So, tell us about Kris! How would you describe yourself?
Kris Lawson: I'm "sped" (quirky or eccentric) but in a good way. But I can also be chill too. I'm funny and easy to crack a joke with, but also easy to get work done with.
BKS: Why did you choose to swim competitively? 
KL: My parents started me in swimming as a baby. They wanted to feel safe with me around pools as a kid. My parents both know "how" to swim but neither swam competitively. When I started to show some talent early on, they decided to keep me in the pool. I also played other sports, soccer, basketball, and even football. I still play basketball on a Rec team that my father coaches. Our basketball team has won the Championship a couple times already.
BKS: Your older brother, Kyle, also swims. What's it like being brothers who are both elite swimmers? How do you encourage and support each other?
KL: We're very competitive even at home. We have contests on who can do the most pull-ups, jump highest, stuff like that. In the pool, I try to have a better record for each age milestone than my brother.  For example, I look at his best times at 13 years old and make those a goal to beat. Kyle made Jr Nationals at 14 so I am trying to get there at 13!  At swim meets, we cheer each other on as much as possible and challenge each other to do our best.
BKS: When did you know that you were developing into an elite swimmer? Was there a specific moment?
KL: I don't know if there was a specific moment, but the team you're on is important. A few years ago, I was on a team that had too many swimmers and the coaches didn't have time to give everyone attention.  Only the top swimmers got a lot of attention.  The other developing swimmers just swam tons of laps. The team I'm on now takes time to meet with swimmers to talk about individual strengths and goals and helps us achieve them. Once I found a group of coaches that really worked with and for me, that's when I started to make Invitational meets.
I remember making my first Finals at Turkey Claus Meet at University of Maryland and walking out behind someone holding a "50 Back Finals" sign and hearing my name announced as the TOP SEED. That was awesome! I also remember barely making my first Eastern Zones meet because my friend couldn't go and I was an alternate.  But then I not only swam, but made the medals stand a couple of times. That was a proud moment.
BKS: When you go to swim practice what is your goal? Do you incorporate dry land into your workouts?
KL: My goal is to improve every day on technique like underwater kicking, reaction time, and to build strength and stamina…and of course, to get faster every day. Dry lands are important because it is another way to build strength.  We work on core strength a lot… Lots of ab work with sit-ups, medicine balls, planks, squats and lunges (to build leg strength).
BKS: What are some things your parents do (or don't do!) that you most appreciate as a competitive swimmer?
KL: They make sure we get up at 4am and get us to swim practice and all our meets.  At meets they video tape our races, volunteer to time at swim meets, and are our biggest supporters.  They don't put too much pressure on us but help us set goals and encourage us to talk to our coaches.  Mostly, they are just very supportive. This sport requires a ton of patience because there's a lot of ups and downs on the way to success in swimming.
BKS: For your most important meets, how do you prepare yourself? 
KL: The most important thing I try to do is get a good amount of rest the night before.  If it is an early meet, I try to get up in time to get a decent breakfast… nothing too heavy, but some good protein, fruit, etc.  As far as music, Ski Mask is one of my favorite artists to listen to. He has a lot of energy and is very aggressive. That puts me in "attack mode." 
The night before a meet I like a good steak, or ribs, plus rice…lots of rice! During a meet my favorite snacks are Cheerios, apples, nutri-grain bars and Gatorade chews. Swimmers should never eat heavy food right before meets. We also have to avoid donuts or lots of sugar before a meet. They give you a quick rush but your energy crashes shortly after you eat it. But donuts after a meet? YESSIR!
BKS: African Americans are just over 13% of American's population, yet we are only 1.3% of the USA Swimming membership. How can we increase Black participation in the sport?
KL: Swimming is not sport that gets a lot of exposure.  Swimming only really has screen time during the Olympics.  Also, there are not a lot of elite swimmers that look like us to be role models like there are in other basic sports (Basketball, football and track). 
BKS: In 10 years, what should the sport of competitive swimming look like – and how can we make that happen?
KL: In 10 years, there should be a much larger number of Black stars in swimming.  Simone Manuel and Cullen Jones winning Olympic medals have helped that already. Now lots of up and coming swimmers have potential to make it even bigger. After the most recent Jr Olympics, a younger Black kid asked me for my autograph – I don't even have an autograph!  
Reece Whitely swam with my brother and I at a Jr Olympics meet two years ago and now he is being called the "future of US Swimming".  Maybe my brother and I, my friend Jordan Evans (amazing breaststroker) and some other young swimmers will be role models for some young swimmer who has yet to land on the scene. That would be cool.
We absolutely agree! Black Kids Swim is SO PROUD of Kris Lawson, fastest in the nation! We wish him continued success in and out of the pool.