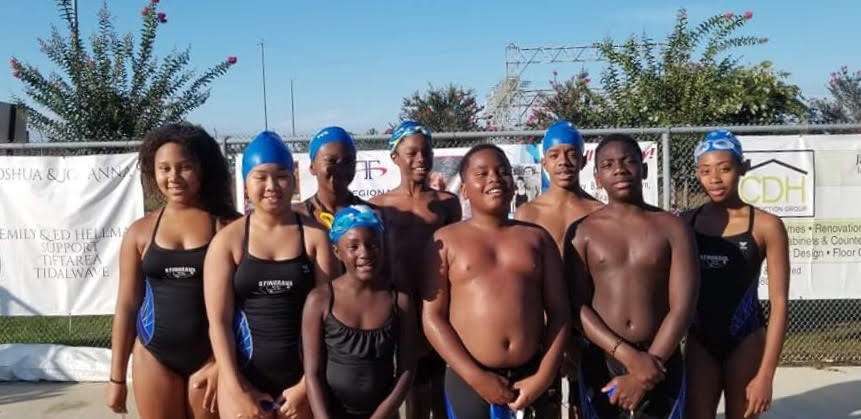 Coach Kennedy Albany Stingrays into: The Champion Factory
Richard Kennedy, also known as the Underwater Educator, is the Head Coach of the Stingrays in Albany Georgia. He calls his team the "Champion Factory" and after just two years of coaching, eight of his swimmers qualified to compete in the Georgia Recreation and Parks Association State Meet in Cumming, GA.
Coach Kennedy knows how to help swimmers excel in the sport. He is also a dedicated member of Black Kids Swim!
After hearing his excellent advice during BKS conference calls and enjoying his regular posts to the BKS Facebook page, we just had to interview Coach Kennedy and share his thoughts on how to develop Black competitive swimmers with our readers.
Black Kids Swim: So Coach, how did you hear about Black Kids Swim?
Coach Richard Kennedy: I heard about Black Kids Swim after looking for information on the Black History Invitational Swim Meet that was held in DC recently. I've been involved in the sport of swimming for over 15 years now, and had no idea that such an event existed. It is my goal to take my team in 2020. I was really impressed with how Black Kids Swim is focusing on breaking the negative stereotypes regarding African-Americans and water. We can and do excel in the sport of swimming and other aquatic sports!
BKS: Why is it important to you that more Black kids enter the sport of competitive swimming?
RK: As a Black coach, it is important to me that more Black children swim competitively to further break the negative stereotypes. In my two years of coaching I have seen so much growth in my swimmers. Every day they prove that we belong in the water.
"Less than 2% of NCAA swimmers are African-American. I think that in order to change this, we need to start early by teaching our children not to be afraid of water…I believe in a healthy respect for the water, but we should not program our children to be afraid of the water."
BKS: Absolutely. So, how did you get into swimming? Do you come from a family of swimmers?
RK: Swimming was the only sport that worked for me. First, I tried basketball and track, and discovered that I hated running. Next, I tried football. But after being tackled one time, I was done. I fell in love with the sport of swimming in high school after watching an NCAA national meet and the 2004 Olympic Trials.
My high school did not have a swim team, so I was determined to compete in college. Unfortunately, I was cut from the college team my first year for "not being able to keep up with the team."
I spent the next year training with a local club team. Even though I was the oldest swimmer with the least amount of experience, I did not care. Swimming was something that I wanted more than anything else at the time, so I worked hard. No, I do not come from a family of swimmers at all! I don't know of anyone else in my family who swam competitively.
BKS: You were definitely determined. What happened? Were you ever able to join your college team and compete in the NCAA?
RK: Yes, I was able to rejoin my college team, and even went to NJCAA Nationals as part of my school's relay team. We received All-American honors in three of the relays.
BKS: What do you think can be done to increase Black participation in NCAA swimming?
RK: Less than 2% of NCAA swimmers are African-American. I think that in order to change this, we need to start early by teaching our children not to be afraid of water. So often, the parents of children that I give lessons to tell them "You'll drown if you get in the water." I believe in a healthy respect for the water, but we should not program our children to be afraid of the water. My team is predominantly African-American, and I work very hard to make my African-American swimmers aware of those who have been successful in the sport (Anthony Ervin, Cullen Jones, Simone Manuel, etc.).
BKS: In addition to the Olympics, there are tons of opportunities for people with proficient swim skills. How were you able to make a career in aquatics?
RK: As far as my career, it pretty much fell into my lap. I applied to lifeguard at the YMCA a couple of summers ago. One day, I was turning in paper work, and my supervisor and I ended up talking about a swim team. The person who was coaching at the time was about to leave for the military. Once she discovered I had a swimming background, I was interviewed on the spot for the coaching position, and the rest is history.
I'm now enrolling in a Master's in Sport Science program at the United States Sports Academy. My goal is to coach full time at the college level, and one day be an Olympic coach. My kids have even inspired me to compete again, as I have now joined US Masters Swimming.
BKS: We'll definitely be cheering for you at the meets and hope to see you on deck at the Olympics soon. In your opinion, what can the Black swim community do to get more kids interested in the sport?
RK: As far as swimming, I think it's important that those of us involved in the sport do a better job of promoting it. In my opinion, swimming is the most underrated sport. It does not get the attention or respect that it deserves. I love the line from the movie Willy Wonka and the Chocolate Factory, "We are the music makers, and we are the dreamers of dreams." WE have to be the music makers for our sport.
BKS: We LOVE that movie! Well said. You've brought your team a long way in just two years. What are some of the accomplishments that they are most proud of?
RK: Last summer, I was fortunate enough to have eight swimmers qualify for the Georgia Recreation and Parks Association state meet in Cumming, GA. This was a first for the team. I was going into my second year of coaching at the time, so it just showed how hard we'd all been working. Although no one placed at the meet, it was an awesome experience for the team, and it gave us an idea of how we needed to train going forward.
BKS: If one of our readers wanted their child to join your team and become part of the "Champion Factory" what should they do?
RK: Any parent wanting to try out can contact the Aquatics Department at the Albany Area YMCA, or come in to speak to us directly. The number for the YMCA is 229-436-0531. I can also be contacted by email at rkennedy2814@yahoo.com
BKS: And, what's the process for joining the team?
RK: For children wanting to join the Stingrays, I have a simple, but valid tryout process. Swimmers must complete a continuous 50 yard freestyle without stopping, pushing off the bottom, or grabbing the lane lines or wall. After that, I like to see if the swimmer knows any of the four competitive strokes other than freestyle. If not, it's not a problem because I can teach them once they join the team.
Finally, I have the swimmer go through at least 30 minutes of practice with the team to assess their fitness level. The only thing that would stop me from allowing a swimmer to join the team is if I don't feel safe with that swimmer in the pool.
We have three ability groups: Bronze, Silver, and Gold. I also provide lessons for swimmers who are not successful in their tryouts, but would like to try out again in the future, as well as those interested in learning the necessary strokes in order to try out.
BKS: Tell us about your team the Stingrays, what is your favorite part about being their coach?
RK: The team name is the Stingrays (Albany Area YMCA). The team was and still is predominately Black.
I worked with children for a very long time as a teacher, camp counselor, and youth leader at church. I can honestly say that my swimmers are the most respectful group of children I've ever worked with. They are hard working and coachable. They are always asking for advice on ways to improve.
Some of the swimmers on the team had previous swimming experience, but many were new to the sport with less than a year of swimming experience. Coaching was always a goal of mine, but not an immediate goal. I just happened to be in the right place at the right time.
BKS: We share the successes of elite Black swimmers on our website and social media to hopefully encourage more Black kids to try competitive swimming. In your opinion, how does learning about elite Black swimmers impact the swimmers on your team?
RK: I believe that learning about elite Black swimmers makes them work that much harder because those swimmers look like them. It gives them something to work towards, and shows them that they are capable as well!
Thank you Coach Richard Kennedy for your work in expanding the Black Swim community. We wish the Stingrays every success and can't wait to see you race in the next Master's meet!