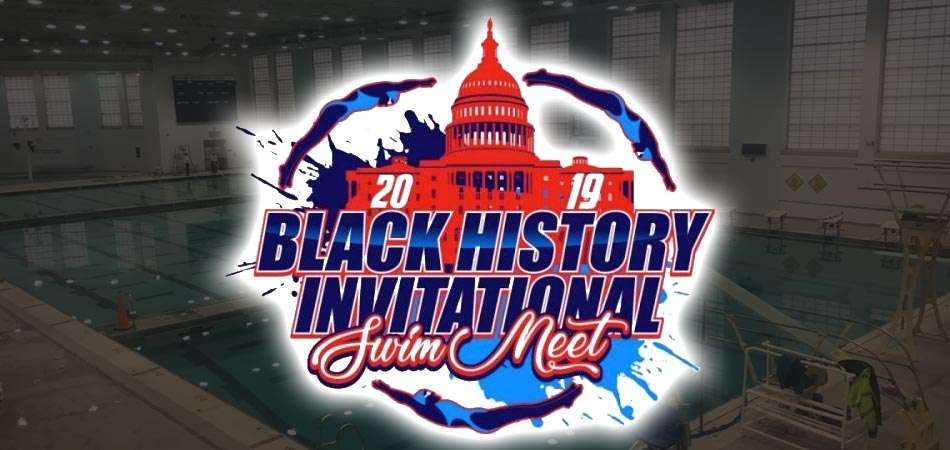 The 33rd Black History Invitational Swim Meet
Thirty-three years ago in February, two swim teams from D.C. Parks and Recreation and Baltimore City competed in a dual meet as a Black History event. Both teams were predominantly Black. 
Although it was just a small local meet, word spread quickly about a special event for Black swimmers.  Soon, Black swim teams from Philadelphia and Delaware asked to join.  Eventually, the Black History Invitational Swim Meet (BHISM) became the meet that every Black swim team wanted to attend.  More than a competition, the BHISM became an opportunity for swimmers and their supporters to meet, reconnect, celebrate being Black and excel in a sport that lacked diversity.
Later this month, February 15 – 17, 2019, the D.C. Wave swim team will host the 33rd annual Black History Invitational Swim Meet  sponsored by D.C Parks and Recreation.  For swimmers who are the "only one" on their team and never get a chance to swim alongside other Black kids, the meet is a welcomed opportunity to be the majority.  To, for once, not stick out in the crowd.  For those who've never participated in a sport where most of their body is exposed, the weight of being visibly different is difficult to imagine.  This mental hurdle (in a sport that many say is won with mental toughness) is something only swimmers of color have to grapple with.  Yet Black families, who are continually in the extreme minority on deck and in the stands, worry about how their child's physical appearance will impact how they are treated.  Black parents worry constantly about what a fellow swimmer, timer, or official may say to, or about, their kid. 
Thankfully, the BHISM lifts all the weight and worry off of the shoulders of Black swimmers and their families.  Participants get to be kids, swimmers, and Black all at the same time.  Coach Robert Green, head coach of the host team DC Wave, says "At least one meet a year they [Black kids] can just race and have fun and breathe a sigh of relief knowing they are not being looked at or singled out."
The experience is so rejuvenating that it inspires kids on the verge of quitting to continue swimming into college and on national teams.  BHISM gives kids the confidence to keep pushing forward. Not surprisingly, many well-know African-American swimmers; Sabir Muhammad, Cullen Jones and Giles Smith, were first recognized at the BHISM before they ever  stepped onto the national stage.  Nevertheless, while the BHISM began with only Black swimmers, the demographic is changing.
In 2018, BHISM welcomed their largest of number of swimmers, more than 1300.  As the meet has grown in size, it has also grown in diversity.  "The meet is not what it used to look like in the 90s" says Green.  However, with USA Swimming's African-American membership standing at less than 2%, the meet is more than necessary.  Even in 2019, when some are still debating the value and purpose of events and institutions dedicated to serving African-Americans, Green advocates for the continuation of the BHISM as an event focused on celebrating Black people and their contributions to the sport.  "The BHISM is not a 'Blacks only' meet.  The meet is open to everyone, and the meet is a celebration of Black history and the contributions of Black people to the sport of swimming.  White, Asian, Hispanic and all swimmers can celebrate Black history too, and in fact, they should."
"At least one meet a year they can just race and have fun and breathe a sigh of relief knowing they are not being looked at or singled out."
Every year, D.C. Parks and Recreation chooses to honor a Black swimmer, coach or official.  This year, the honoree is Coach Nick Askew.  Askew is the head coach of the Division One Howard University Swim and Dive Team.  Currently, Howard is the only Historically Black University with a competitive swim team. Green says "It's important to honor swimmers as wells as those who support our swimmers. We chose Nick because of his leadership at Howard, they are the only   HBCU [Historically Black College or University] with a swim team, so we wanted to highlight that and give recognition to his program. For swimmers who want to swim in college and want an HBCU experience – HU is the choice. We wanted to recognize his efforts in bringing his program back from the brink of extinction.  His swimmers excel in academics and have broken records.  An HU diver, Christian Nickolas, qualified for NCAA's and Latroya Pina will represent Cape Verde in the 2020 Olympics." Askew and several of the HU swimmers will attend the BHISM and volunteer to help support the swimmers.
Regarding the importance of the BHISM, Green says "It's about representation, it's about feeling like you belong.  That's why parents put their kids in sports, so they can have a social network, a place with friends where they belong."  Green recognizes that although African-Americans have made significant achievements in the sport, swimming is not a common choice for Black kids.  "A lot of African-American swimmers are dealing with that double life.  If you go to your swim team and it's predominantly white, you feel like the odd person out every day at practice.  And then you go to school smelling like chlorine, and your hair is looking crazy, and no one understands your life.  So black swimmers never really feel like they belong – they face that challenge every single day.  This meet lets you be around others who understand your struggle – dry skin, wild hair, early morning practice -all of that.  And you don't feel like you're alone."  
Black Kids Swim supports the Black History Invitational Swim Meet as a necessity for Black swimmers.
The event applauds and embraces young Black swimmers, providing a much needed social network and the rare opportunity to experience being in the majority on deck.  Events like the BHISM increase Black representation in the sport of competitive swimming and move us closer to equitable representation in the NCAAs, and on the US National, USA Swimming National, and U.S. Olympic Swim teams.
Black Kids Swim applauds the dedicated DPR staff, employees, pool staff, volunteers and parents who make the BHISM possible every year.  This long standing meet would not be possible without the support of Mayor Muriel Bowser, the new Director of Parks and Recreation Delano Hunter, and the Aquatics Director for D.C. Parks and Recreation James Washington.
BKS looks forward to meeting all of the talented swimmers and their families at the meet and we hope you'll stop by the BKS booth to say hello!