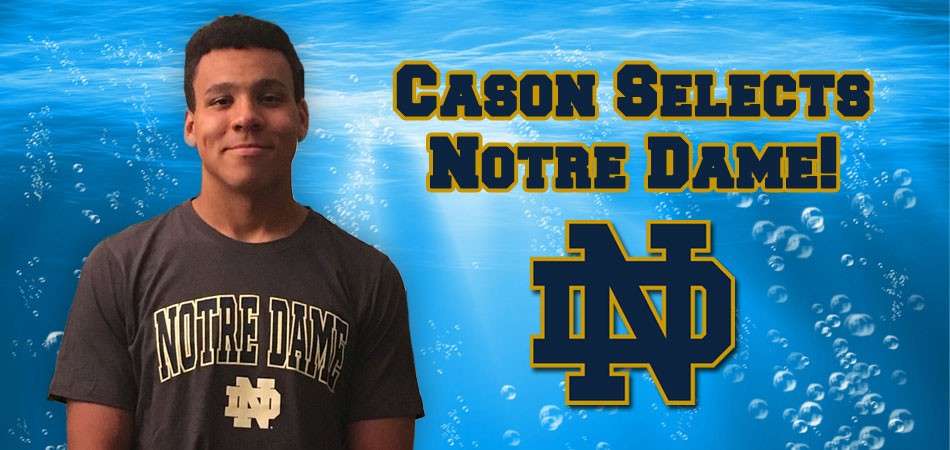 Cason Wilburn Selects Notre Dame!
Cason Wilburn is one of the fastest high school swimmers in the U.S.A.  Black Kids Swim is proud to announce that Cason has decided to attend Notre Dame beginning in the fall of 2019.  Cason will swim for coach Mike Litzinger who has led the Irish to break a total of thirty-two Notre Dame Records in two seasons, produce seven NCAA All-Americans, and qualified fourteen women and fifteen men for the NCAA Championships.
Cason Wilburn is currently a junior at First Colonial High School in Virginia Beach, VA.  In January, he won two state titles, finishing the 50 Free (SCM) in 20.57 seconds and the 100 Free (SCM) in 44.86 seconds. He is also a four-time All American in swimming and finished in the top 16 at Winter and Summer Junior Nationals. Cason most recently competed in the National Black Heritage Championship Swim Meet (video above) where he won the high point award for Men aged 15 and over.
Not only is Cason a phenomenal swimmer, he is a violinist and an honor roll student. Cason maintains a 4.2 grade point average and is in the running to be Valedictorian of his Senior class. Black Kids Swim is SO PROUD of him and we look forward to following his success at Notre Dame.