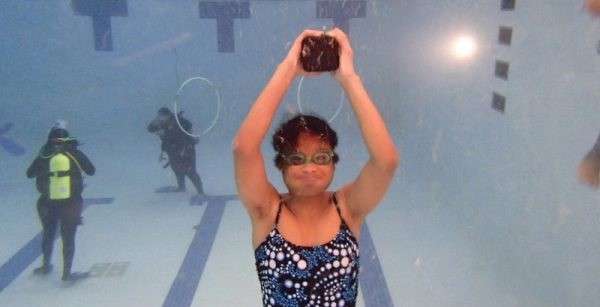 Young Black Scuba Divers in Tennessee are Preserving History
Ken Stewart is the founder of the Tennessee Aquatics Project (TAP) Diving with a Purpose, and Youth Diving with a Purpose.  His passion, and the mission of the organizations is "Restoring our Oceans, Preserving our Heritage." He has worked for more than 22 years to empower the African American community through swimming and diving skills that increase employment options and enable African American history research. He is creating more Black swimmers and more Black scuba divers and changing lives in the process.
Ken's children played football and baseball and, in supporting those sports, he met many gifted athletes who lacked life skills.  He set out to do something different in the African American community: train young Black scuba divers and prepare them for maritime archeological research.
TAP is a 22 year old program. it serves youth aged 8 – 18. Children in TAP are taught how to swim and dive. Typically younger participants come without swim skills. But as they progress through the program they become master swimmers (able to swim 10 laps using all 4 strokes and tread water for 15 mins). Participants learn to dive starting at age 11.  Many young people go on to become lifeguards, others leave as soon as they learn to swim. The Tennessee Aquatics Program has served 300 kids over 22 years, and is responsible for training 26 lifeguards, 45 open water scuba divers, 17 master scuba divers. Their participants boast a 99% high school graduation rate and 90% college graduation rate.
The TAP program begins every year in August and ends in June, with a break over the summer. They meet every Saturday unless they are doing community service, wilderness survival, or a holiday.
Wilderness survival activities take place four times a year.  The kids go on camping trips, learn how to build a fire, how to put up a tent, and navigate by the stars.  Children who stay with the program for several years can become counselors and lead camping trips.
Off shoots of the TAP program include Diving with a Purpose.  Diving, while fun, can become boring after a while. So Ken partnered with the National Park Service to develop a maritime archeology program.  Adult Scuba divers learn how to identify and map underwater ship wrecks.  The program is in its 14th year. 8 years into the program, Ken invited TAP students into the program. Now, Black kids aged 16 and 17 are helping to map underwater ship wrecks.
With funding from the National Park Service Ken started Youth Diving With a Purpose (YDWP) for youth aged 16 – 21; a one-week program that teaches diving and typically takes place in the Florida Keys. Participants receive 2 days of classroom training and 3 days of diving. YDWP is in its 13th year they accept a total of 16 kids.  Some come from TAP, half come from the Harbour School which has a marine curriculum and a 4 year diving program, and the remainder come from around the country. The program offers not only training but the opportunity to identify and map ships involved in the transatlantic slave trade.
Ken used to be the regional rep for the National Association of Black Scuba Divers.  He met a film producer creating a documentary called 'The Guerrero Project" which investigates the Guerrero ship which transported enslaved Africans in the transatlantic slave trade. The Guerrero had 561 Africans on board when it ran aground in the Florida Keys in 1827.  There are detailed records of what happened to those who survived but the ship has not been found. DWP and YDWP continue to look for this ship.
To support or join the Tennessee Aquatics Project contact:
Kenneth Stewart
Www.TennesseeAquaticProject.org