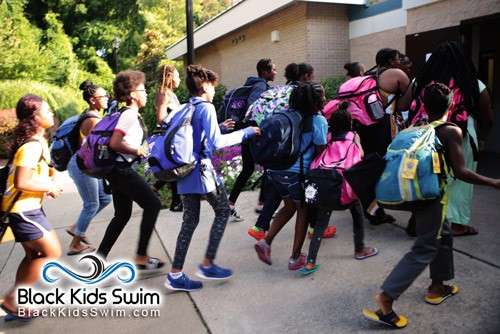 What to Expect in 2019 from Black Kids Swim
It's a New Year and we are excited to announce a ton of new events, offerings, and products created especially for the Black Kids Swim community!
The 2019 BKS Challenge!
To permanently change the relationship between the Black community and the water – we have to make some serious changes.  Join us in completing the 2019 BKS Challenge to end the legacy of fear and create more Black swimmers.
Products

Black Kids Swim, with our partner EBAN Living, launched a new line of hair care products specifically designed for swimmers. Check out the Swimmers Ultimate Hair Care System today!
More Exciting Interviews

We've tracked down the next generation of elite Black swimmers and we can't wait to share their stories with you! Kris Lawson, the fastest 13 year old in the USA, shares his experiences and offers advice on how to how to excel in the sport.  Varsity Swim Coach Ja'Von Waters Sr of Cass Technical High School explains how he is building a swimming dynasty in Detroit Michigan. And the Howard University Swim and Dive Team reveals how they're making waves as the only HBCU with a swim team.
Resources for Elite Swimmers

We have lined up a series of articles and videos to help you get your swimmer to the next level.  This year we will be focusing on Nutrition and Dry Land.  Those things your swimmer can do outside of the pool – with your assistance and support – to improve as a competitive swimmer. We are so excited to have Benetta Rodgers of Swimmer's Bag on board! Every month Benetta will share new recipes and strategies to help your swimmer 'Eat for Energy' and sustain their energy for every race. Stay tuned for our special series on Dry Land exercises as well.
Events
This May Black Kids Swim will host our first ever BKS Skills Camp! This one-day event will provide swimmers and parents with everything they need to understand the sport of swimming and succeed. We will also host our annual Summer Swim Fair to ensure more Black kids enjoy the experience of swimming on a summer swim team.  We hope to see you there!
Videos
Follow BKS on YouTube for Inspirational videos and Q&A sessions with elite swimmers, swim parents, and coaches.  These videos are designed to help you and your swimmer get all of your questions about competitive swimming answered by those with the most experience.  This video features Karl and Kim Whitley – parents to Sports Illustrated's  2015 SportKid of the year Reece Whitley.