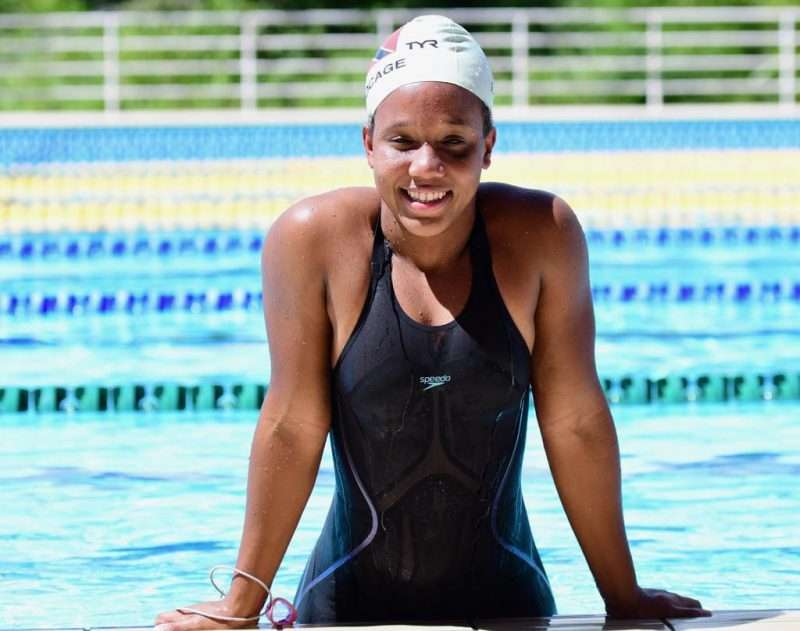 Ileana Bocage Competes at CARIFTA Aquatics Championships
Ileana Bocage is a competitive swimmer from Trinidad and Tobago. She holds the national record for the 50 meter breast stroke. Ileana spoke with Black Kids Swim to share her thoughts on competitive swimming in the Caribbean.
Black Kids Swim: To get started, tell us a bit about yourself. 
Ileana Bocage: I live in Trinidad and Tobago and I have been swimming competitively for 6 years. I'm  what some may call a late starter. I initially started swimming because my father wanted me to know how to swim but with no intentions of me becoming a competitive swimmer. I reluctantly started to swim and instantly fell in love with the sport. Which led me to joining competitive when I was about 13 years old.
BKS: Trinidad and Tobago is a twin Island nation – so, does pretty much everyone there know how to swim? 
IB: Surprisingly, there are actually a lot of people in Trinidad and Tobago who don't know how to swim; both young and old. There are a lot of competitive swimmers in Trinidad, but I would not say that it is considered one of the major sports in Trinidad and Tobago.
BKS: What do you like most about competitive swimming? What are your hopes for your swimming career?
IB: I love swimming for several reasons but mainly because for me it is a break to get away from the stress of school and also because I enjoy competing. My dream is to swim in college and to one day go to the Olympics but even if I do not achieve all my dreams I will still be proud of myself once I am giving my best and not giving up.
BKS: You've accomplished quite a lot for a "late starter."  We heard about your performance at the 2018 National Open Short Course Championships. 
IB: I broke the national record at the National Open Short Course 2018 in the Girls 15-17 and Open 50 SCM Breaststroke with a time of 33.90. The record was 11 years old, Kimba Collymore went a 33.93 in 2007. I also got the opportunity to represent Trinidad and Tobago at the Goodwill Swim meet 2015,2016; and at the CARIFTA Aquatics Championships in 2017 and 2018. And last year I placed 5th in the 50m Breast stroke at CCCAN.
BKS: In the U.S. swimming is not a diverse sport and Black swimmers can sometimes feel alone at swim meets. Can you describe what it's like to participate in CARIFTA and CCCAN?
(Note: The CARIFTA Aquatics Championships is an annual, age-group aquatics championships for the Caribbean. The event is held under the auspices of CANOC, the Caribbean Association of National Olympic Committees. The Central American and Caribbean Amateur Swimming Confederation, CCCAN, holds swimming competitions and championships throughout the year.)
IB: CARIFTA aquatics championships and CCCAN are swim meets for swimmers within the Caribbean and Central American region. They provide opportunities for many age group swimmers to represent their country for the first time and to become exposed to competition against other countries within the region. It also encourages team building and team spirit as swimmers stay together in hotel rooms for the duration of the swim meet which allows for greater bonding between teammates and creates an unforgettable, enjoyable experience. Unfortunately, because it is a regional meet, U.S. swimmers would not be able to attend.
BKS: Do you have any words of advice for young swimmers? Any training or motivational tips?
IB: I just want to say never give up on your dreams no matter how impossible they might seem.  Don't let anyone discourage you or tell you that you can't do it. Just believe in yourself and don't take on any negative comments.
Even when it gets hard, and it will get hard but that's all a part of it, just don't give up. Making it through the hard times will make you a stronger and better person. You might very well surprise yourself on what you can achieve. You can do it! 
Black Kids Swim is SO PROUD of Ileana and all of her accomplishments. We hope her success will inspire other Black kids to excel in the sport of competitive swimming.