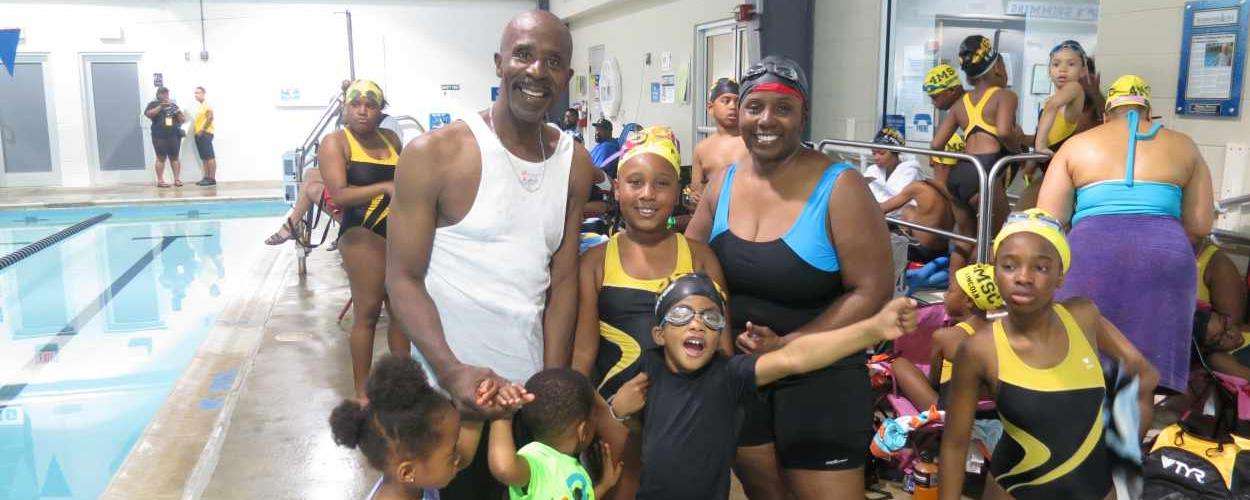 Baltimore Swim Club 4MSC hosts Parents vs Kids Swim Meet
Parents on deck during a swim meet is normal, but parents in the pool is a rare occurrence.
Marvin Thorpe, coach and owner of the 4MSC competitive swim team and learn-to-swim school, believes that parents should learn first hand how rewarding (and demanding) the sport can be.  He hosts the PvK, or Parents vs Kids, swim meet every year to allow his young swimmers to race their parents.  The event is an opportunity for parents and kids to become familiar with the procedures and technical elements of a swim meet so they are prepared for larger USA Swimming meets in the future.
This year, 4MSC became an official USA Swimming team.  The team has 38 swimmers between the ages of 5 and 16 and they practice three days a week (Tuesday, Thursday, and Saturday) on Notre Dame's campus in Baltimore Maryland.  Some families travel from as far away as Fort Washington or Crofton MD to be a part of this unique swim club.
The 'Parents vs Kids' event is only for the swimmers and families of 4MSC and has the feel of a family reunion, complete with a DJ and food.  Before each race, Coach Thorpe takes the microphone to introduce each competitor by name, and to warn his team "Do not let the parents win!" During the swim meet, Black Kids Swim spoke with several of the 17 parents and grandparents who volunteered to compete. Cherisse, who learned to swim in Baltimore as a child, has one child on the team.  After her race she was greeted with hugs and high fives from everyone while she exclaimed "that is tough!"
Grandfather Donnail Williams Sr. swam against his 9 year old granddaughter Pheonix Johnson.  Last year 13 year old swimmer Anthony was not able to swim against his mom because she didn't know how to swim.  In December of 2016 his mother, Sceana, took swim lessons from Coach Thorpe  specifically to be able to compete against her son.  The mother-son embrace following the 25 metre free was heartwarming to say the least.  Sceana said "Last year Anthony didn't have anyone to swim against, not this year!"
Aaron Roberts, an engineer and former football player for Morgan State, stole the show when he came in first in his heat in the 25 meter free.  Cheers  of "Parents win! Parents win" from the huge crowd of family supporters were nearly deafening.
4MSC is a regular participant in DC Parks and Recreation's Black History Invitational Swim Meet and the North Carolina Aqua Blazer's National Black Heritage Championship Swim Meet; now that the team has officially joined USA Swimming, the team can participate in more meets during the year.  From what we witnessed, they are more than ready.
To learn more about Coach Thorpe and his swim team visit: http://www.4mswimandrecreation.com/mrthorpe.html