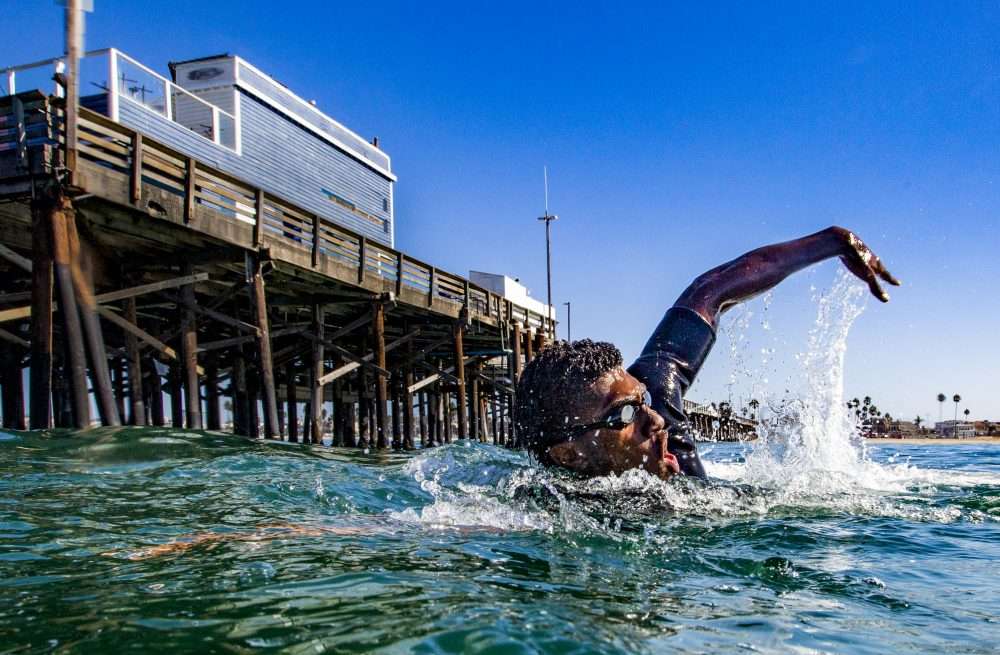 Jamal Hill: Journey to 2020 Paralympics
Black Kids Swim first noticed Jamal Hill or, @SwimUphill, on Instagram. We caught up with Hill on his daily one-hour morning drive to swim practice from Inglewood California to Altadena.   During the long drive, Hill spoke freely about challenges in collegiate swimming, struggles with the degenerative disorder Charcot-Marie-Tooth, recent success on the US Paralympic swim team, and his work with David Weck to revolutionize swim start techniques.
Hill started swimming as a baby and continued with swim lessons until he joined a competitive swim team. He swam through high school and college and is now a member of the USA Paralympic swim team looking forward to competing in the 2020 Paralympics.
BKS: That's insane that you drive an hour each way for swim practice! Many families spend a great deal of time trying to find the right team, coach and environment to bring out the best swimmer in their child. What advice can you give on choosing a team and coach?
Jamal Hill: Parents should not look for a coach to make your kid faster. That's an esoteric idea. All kids need private coaches outside of their team to be learning the sport. But it comes down to caring. Find someone who cares about your child's mind body and spirit. That's what my coach Wilma Wong has. She wants me to get faster but she treats me like a person with a mind body and spirit. If I show up to practice in a fog she's asking me what's going on whats the root of this? When you have love for each other that's the root of everything. They are family. Like when you're in a relay you want to do your best because you care about the people around you and you push yourself harder. My coach is really family. The coach's care for you inspires you – 1000%. When I met my coach I was near my wits end.
BKS: So, what got you interested in the sport of competitive swimming?
Jamal Hill: I did mommy and me swim classes and then age group swimming a pipeline to swim team. Swimming was my sport, I was good at it and I was fast and it was fun. At nine years old I dislocated my right shoulder from swimming. The injury was a result of improper technique and a genetic disorder Charcot-Marie-Tooth (CMT). CMT damages the nerves in the arms and legs and, for me, reduces mobility in my legs. And I never told anyone about it for years. So my right shoulder was messed up and doctors thought they'd have to amputate my right arm. My family assumed swimming was over for me. For months, I was in children's hospital paralyzed. I had to learn to write with my left hand because my right arm was completely immobilized. Eventually, I recovered. I started playing basketball and got back into swimming my sophomore year of high school.
BKS: After your injuries and diagnosis, why did your parents allow you to return to sports?
Jamal Hill: My parents were scared to death of me returning to swimming. Sophomore and Junior year I only swam 3 months out of the year. I didn't really excel – I was not an outstanding swimmer by any means. In the fall of my senior year I joined a club team and I trained all year and worked really hard. We only had 3 meets during the high school season so whatever you were going to do you had to get it in. I was a one trick pony – my only event was the 50 yard free. I won first place in my division but I was 2 100ths of a second off of a qualifying time for state's. And that was the fastest i'd ever swam in my life. And that was a defining point in my life.
BKS: What made that event so important for you?
Jamal Hill: The officials gave me the opportunity to do a time trial after the meet to try and qualify. But I was scared. I didn't want to be the only one in the pool with everyone looking at me – I wanted to leave as the winner of the day. So I didn't even try. So now, it doesn't matter what the odds are. Now, at the very least I have to give it a shot.
BKS: Great life lesson for you. Did you continue to swim after high school?
Jamal Hill: I was able to get a small athletic scholarship to Hiram college. My coach was a 70 year old white guy from the mid west and I was a young black kid- and we were unable to bridge that gap. I didn't have the maturity and he didn't have the knowledge. The cultural gap was too big. My junior year I performed so poorly I was legitimately embarrassed. I told my parents I had to leave the school. Then, I started looking at the best coaches in the world and I found Dave Salo at USC. I called Dave in February of my junior year. Here I was, a kid from a Division 3 college he's never heard of and I said "I'm leaving college to swim with you" and he said absolutely do not do that that's a terrible idea. And I called him for a few weeks until he got it in his head that I was coming and I was not asking for permission. So my senior year I returned to California and I never enrolled at USC I just joined their post grad swim team – the Trojan Elite which has many Olympians on it. And I thought that would be the key to my success.
BKS: That's real determination! How was your experience with the Trojan Elite team?
Jamal Hill: I spent a year there reading and working. And in May I wasn't that much faster. Just one or two tenths faster. And I was insanely frustrated – I asked myself "what am I doing wrong?" And that's when I started to realize what I needed in a coach. And I needed a personal coach. I need someone who is paying attention to me swim. I need a partner. And I found Wilma Wong through another swimmer. And she was the first one that recognized that I had CMT. I never told anyone because I was ashamed of it. Motor function for me stops at the knee caps.
BKS: How has CMT affected your swimming? What advice can you give to swimmers with similar disorders?
Jamal Hill: I have diminished motor function in my arms and legs. So, like this there's no way I'm
going to make it to the Olympics. But that's not a bad thing. Wong told me I could go to the Paralympics. In the training we noticed that my dives needed improvement because my legs weren't functioning. And we finally started talking about it openly. And I wish I'd started sooner. As soon as I stopped treating it like a curse blessings and opportunities just started flowing. I had my first Paralympic swim meet in September. I swam the 50 free and now I'm ranked #1 in the US and13th in the world for the 50 free. And I plan on taking gold in 2020. I'm also training in the 100m backstroke – a new event for me. Dec 14 is the Paralympic nationals so I'm working towards that to make sure I perform well.
BKS: We'll definitely be cheering for you in December and will look to see you compete in Tokyo in 2020. Outside of swimming, how do you spend your time?
Jamal Hill: On Jan 1, 2017 I launched a digital marketing company. I've marketed for health and fitness brands, insurance and medical practices. And now I have an emphasis on swim brands. My mission is to teach 1 million people how to swim. And I now work with swim schools all across Los Angeles to help the schools facilitate more lessons for lower cost to the customer. I was hired by Arena for their 2019 swim suit photo shoot. I'm not sponsored by them. TYR sponsors my team in Burbank "Golden Rebels" and Wilma is our coach. It's the elite offshoot of Golden Road Aquatics.
BKS: We noted on your Instagram feed that you're developing a new one-armed starting technique. Can you share anything about that?
Jamal Hill: The way people train always looked so slow to me. And no coach was ever open to new ideas. David Weck, the inventor of the BOSU ball, has a new method for fighters and runners called coiling and its driven by lats. You coil one side and fire with rotational power. And its brilliant. He made a video showing how track athletes should be coiling off the blocks and I applied it to swimming. Most swimmers try to mimic an elastic band; they load their arms and try to slingshot themselves off the blocks and it doesn't work because we are not elastic bands. Bio-mechanically it's impossible. The energy systems of an elastic band are in no way mimicked by the human body because it doesn't stretch like that. You can't stretch to get an increased compressive force. Think of stretching a rubber band and trying to do the same thing with your arm. If you pull on your arm like you pull a rubber band you will not get the same result- your arm will not recoil and snap. The technique is very new and it will be quite some time before I use it in a swim meet. We can't emulate an elastic band but we can emulate a coil. The video on IG is the very early stages. I like to think of this technique as the 'Fosbery Flop' of swimming.
Black Kids Swim is SO PROUD of Jamal Hill and we can't wait to see him compete, look for him in the Paralympic Nationals on December 14!!